What We Know About All American Star Samantha Logan's Dating Life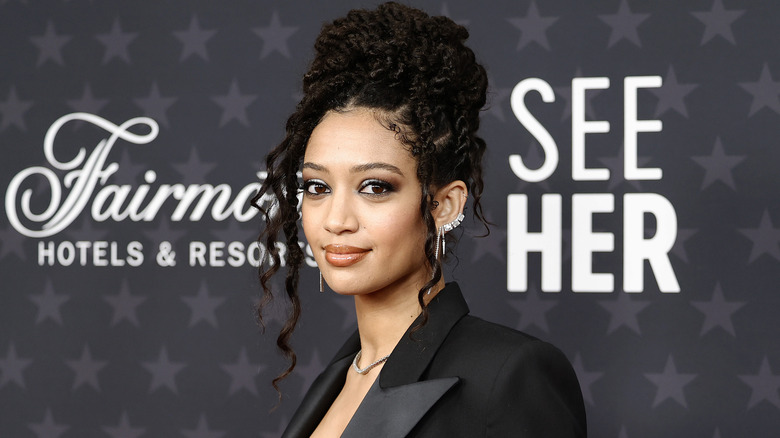 Frazer Harrison/Getty Images
Actor Samantha Logan has been in shows such as "NCIS" and "Teen Wolf," but she is best known for her roles in "13 Reasons Why" and "Polaroid." Her breakout role was that of Olivia in "All American." During the Season 5 premiere of the CW show, Logan's character and Daniel Ezra's character, Spencer, decided to end their rocky relationship. Although it was hinted in the episode that the breakup wasn't forever, it still devastated fans, as they grew attached to the two characters and their undeniable chemistry.
And Logan has previously talked about what she thinks about the fan's reaction to Olivia and Spencer starting a romantic relationship. "The fan reaction has been very passionate," she said in an interview for the CW.. "I'm also passionate about [Olivia and Spencer]. I think they've come such a long way since episode one. It's kind of surreal to see them together and happy." She goes on to say that she believes the two characters "deserve to be together" despite the faults they have. There's no doubt that fans of "All American" absolutely love the relationships onscreen, but what has Logan's dating life been like offscreen?
Samantha Logan and Dylan Sprayberry dated for two years
Samantha Logan and Dylan Sprayberry met during the filming of "Teen Wolf" in 2017, and they started dating while the "13 Reasons Why" actor was filming for the fourth season of the popular MTV show. For about two years, fans got to see cute Instagram posts of the two, as they didn't shy away from showing each other off on social media during the time they were romantically linked to each other.
But the relationship didn't last, as it is rumored that the "Man of Steel" actor and the "The Empty Man" actor broke up around 2019. The two never confirmed or commented on their split, indicating that they privately went their separate ways. It is still safe to assume that the two did officially break up, as they deleted their Instagram posts with each other at the time.
Sprayberry — who portrayed Liam in "Teen Wolf" — has dated Adelaide H. O'Brien. He was also linked to Joey King in 2016. Most of the time, the actor shares project-related things on his social media accounts, indicating that he prefers to keep his romantic life private. And it looks like Logan is the same way, as she hasn't given any hint that she's been in a relationship since breaking up with Sprayberry.
Samantha Logan is close to her All American co-star Daniel Ezra
Samantha Logan's Instagram indicates that she is not in a relationship at the moment. It seems that she is choosing to focus on her work, as her career and popularity have been on the rise since "All American." She enjoys taking pictures with her fellow cast members, though. Fans believe that she and co-star Daniel Ezra look good together off-camera as well, but it seems that they are just good friends.
Furthermore, Ezra seems like he is a very private person, as not much is known about his personal life or even his family. It's clear that he and Logan are good friends, as the "Polaroid" actor has posted multiple pictures with him on Instagram, but neither of them has given any indication that they are romantically linked. Ezra also seems very quiet about what his dating life is like in general, giving fans no hints that he's with anyone.
Although Logan and Ezra aren't romantically involved with each other offscreen, they still have a lot of respect for each other. "Honestly, the biggest thing was it just [improved] my ability to navigate those scenes with Sam," Ezra told Deadline about his experience in directing an episode of "All American," adding, "Me and Sam have such a shorthand that we've built up over the last five years that directing her was such a breeze."