Beyoncé And Jay-Z Sparked Many Conspiracy Theories Over Blue Ivy's Name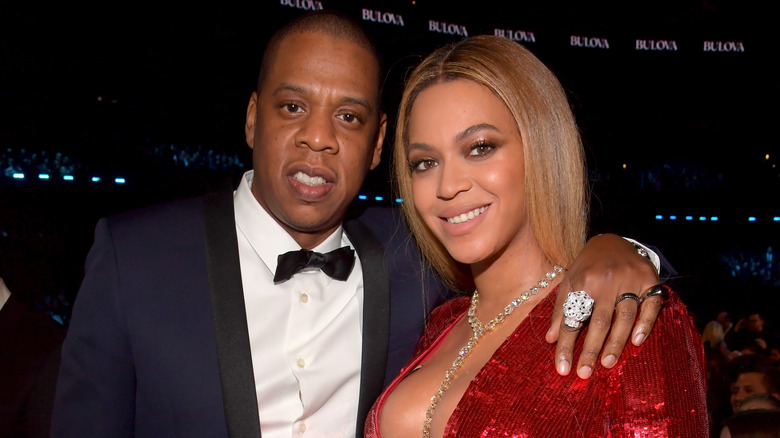 Lester Cohen/Getty Images
Blue Ivy Carter gained the world's attention before she was born, thanks to Beyoncé spectacularly unveiling her pregnancy during her 2011 "VMA" performance. While most wondered if she would be a boy or a girl — or which parent she'd look like — others got to the most important question: Would her name be as unique as her famous mother's — the origin of which is super sweet. 
"People don't know that Beyoncé is my last name," shared Beyoncé's mom, Tina Knowles-Lawson, on the "In My Head with Heather Thompson" podcast. "My name was Celestine Beyoncé, which at that time was not a cool thing to have that weird name. I wanted my name to be Linda Smith because those were the cool names."
Of course, Bey and Jay settled on a name that couldn't be more fitting for a couple of A-listers, who've been known to lean rather heavily into rare (and sometimes wild baby names). And though it first seemed that Blue's name would afford her the right to walk amongst the world's wealthiest kids, the public reacted to her moniker, not with an appreciation or shock. Rather, they concocted outlandish conspiracy theories about Blue and the meaning behind her unique moniker.
Conspiracy theories claim that Blue Ivy's name is linked to the illuminati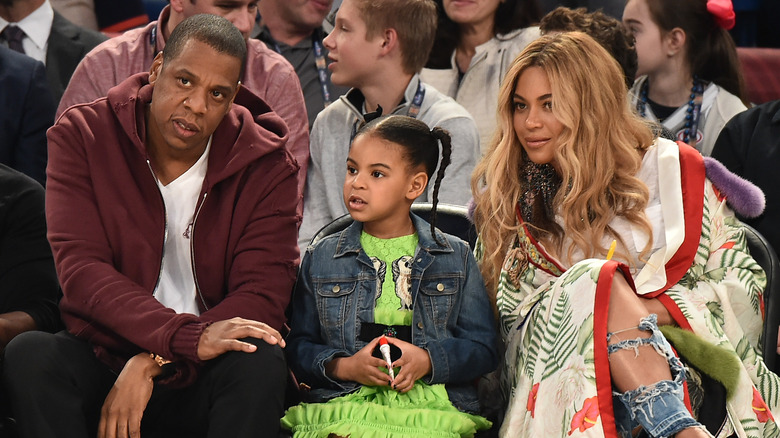 Theo Wargo/Getty Images
It's no accident that Beyoncé used the opening lines of her song "Formation" to address the "haters" who spread that "Illuminati mess." Before YouTube got serious about limiting conspiracy video accounts,  some theorists spent their time spouting off about how Beyoncé earned her otherworldly fame by making under-the-table deals with ... the devil. Yeah, that devil. Even though Beyoncé's supposed Illuminati dealings preceded the birth of Blue Ivy, they wasted no time weaving her into their narrative once she made her grand arrival in the world. 
The second the public got wind of Blue Ivy's name, they started dissecting it and looking for nefarious meanings. One particularly enduring theory was that the reversal of "Blue Ivy" translated to "Lucifer's daughter" in Latin. However, as E! News pointed out, Blue Ivy backward doesn't translate into any identifiable Latin word. You can also rule out Ivy being an acronym for "The Illuminati's Very Youngest." Aside from the fact that this theory is absolutely bizarre, it wouldn't even be practical given that new celebrity kids are born every day that would dethrone her. In all seriousness, however, this theory was definitely one for the books.
Beyoncé's no stranger to conspiracy chatter
As stated above, conspiracy theorists love Beyoncé. While not all the conspiracies about the hitmaker are alarming, they can still be damaging and hurtful. In 2011, some individuals propagated the offensive theory that Beyoncé did not carry her daughter Blue Ivy, despite publicly displaying her growing belly for nine months. This theory gained traction after Beyoncé's stomach appeared to "fold" during an Australian interview, leading some to speculate that she was using a surrogate.
Unfortunately, this is one conspiracy that Beyoncé felt she had to shut down directly. "To think I would be that vain — I respect mothers and women so much and to be able to experience bringing a child into this world, if you're lucky and fortunate enough to experience that, I would never, ever take that for granted," she said during her "Life Is But A Dream" documentary, according to USA Today.  Beyoncé's mom, Tina Knowles-Lawson, also debunked the noise to People. "I thought it was very unfair and very cruel that someone would think that someone would be that diabolical to keep up a charade like that for nine months," she said. "As a mother it was painful for me to hear the crazy rumors."