Why Melanie Lynskey And Jason Ritter Had A Tough Start To Their Relationship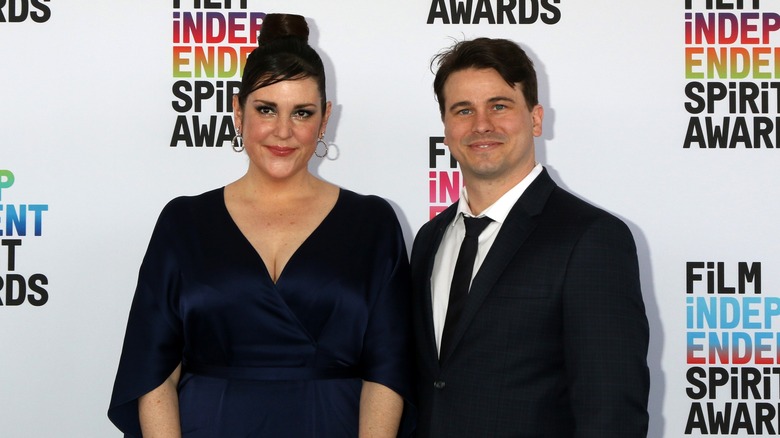 Kathy Hutchins/Shutterstock
Melanie Lynskey and Jason Ritter are two of Hollywood's favorite leading actors and it's no wonder they ended up together. The two met on the set of 2013's "The Big Ask" and soon fell head over heels for each other. In February 2017, Lynskey announced her engagement to Ritter on an appearance on "Hollywood Today Live." She shared, "Now he's my fiancé. Yes I know, I'm announcing it" (via People). The following December, they welcomed their daughter and Lynskey announced on Twitter in January, "We feel lucky to have been able to have our news just be for friends and family for a while, but I guess the story got out, so! Yes! @JasonRitter and I had a daughter in December. We love her so much; she's perfect. Thanks to everyone for your sweet messages."
Lynskey and Ritter got married in 2020 in a small ceremony with just two other friends present. The "Two and a Half Men" star explained her reason for abruptly tying the knot with Ritter. "Honestly, I got married because someone was like, 'Jason won't get into Canada unless you're married,' which just wasn't true. I was going to Canada for 'Yellowjackets,' and I was on the phone with somebody, and they said, 'Oh, he won't be allowed in,'" she shared on Jess Cagle's Sirius XM show. While the two have settled nicely into their marriage and their roles as parents, their relationship wasn't always so smooth.
Lynskey and Ritter had a rough start together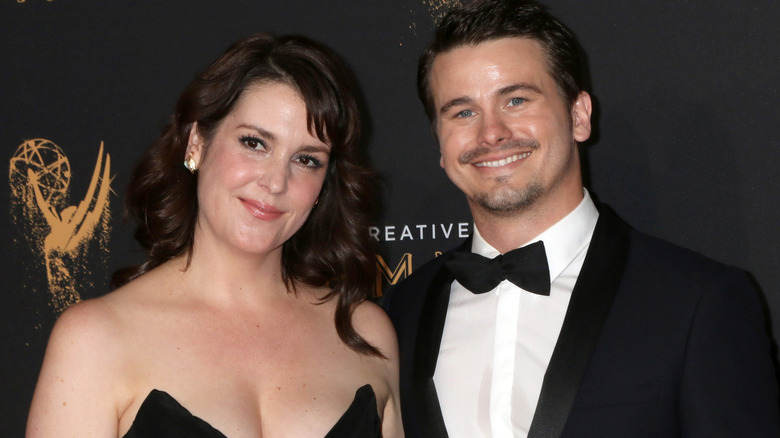 Kathy Hutchins/Shutterstock
Melanie Lynskey and Jason Ritter have a rock-solid marriage, but it took a while for them to get there. Lynskey explained on The Drew Barrymore Show, "We were both going through very difficult times in our lives. We were both going through breakups. It was a very tumultuous time." Ritter, who appeared alongside Lynskey, shared that his alcoholism during that period caused the onset of their relationship to be "messy." 
Choking up, he explained, "I thought she would be incredible for someone, someone who deserved her, basically, and I didn't feel like I was that person. I felt a little bit too crazy." After a year of not drinking, Ritter thought that maybe he could be a good partner to Lynskey, who admitted that the two had started couples counseling three weeks into their relationship. Despite their bumpy start, the "Yellowjackets" star knew Ritter was the one after seeing how willing he was to talk about their issues. "Even in our darkest and most difficult moments, which there were a few, he would always talk about it," she shared.
When Lynskey received the Critics Choice Awards in 2022 for her role in "Yellowjackets," she couldn't go without mentioning Ritter. "My husband, Jason, the love of my life. The greatest support. Our daughter. I love you both so much," she declared (via Harper's Bazaar). The two not only continue to support each other publicly over the years but also in their careers as well.
Jason Ritter has made several guest appearances on her shows
Emma Mcintyre/Getty Images
Although Jason Ritter is a multi-hyphenate Hollywood star, he is not above appearing in small roles alongside his wife Melanie Lynskey. In the true-crime Hulu drama series "Candy," Lynskey starred alongside Jessica Biel as a woman who was murdered in 1980. Biel's husband Justin Timberlake wanted to play the deputy and they had the idea to recruit Ritter as his partner.
Ritter also made a surprising cameo in "The Last of Us" as a "clicker." Lynskey shared on "The Tonight Show with Jimmy Fallon" that Ritter appeared in just one episode but was unrecognizable. "He got put in the makeup and he came out of the ground and was falling over and doing all of these ... I shot him once," she revealed.
Lynskey and Ritter celebrated their third wedding anniversary on April 2. Ritter shared a small clip of the two toasting in front of a cake. "Happy anniversary to several time best person award recipient @msmelanielynskey for deciding it might be okay to get married to a guy who loses his ring ABSOLUTELY right away on our wedding day ... I am the luckiest guy on the planet, and our daughter has the greatest mama of all mamas," he gushed. Lynskey shared a snap of her and Ritter standing alongside their two friends. "Happy anniversary to my love @jason_ritter, you wonderful kind beautiful man. I still smile every time I remember our very tiny wedding," she wrote, proving that they are Hollywood's couple goals.