Emmy Rossum And Sam Esmail Welcome Son After Keeping Pregnancy Private Yet Again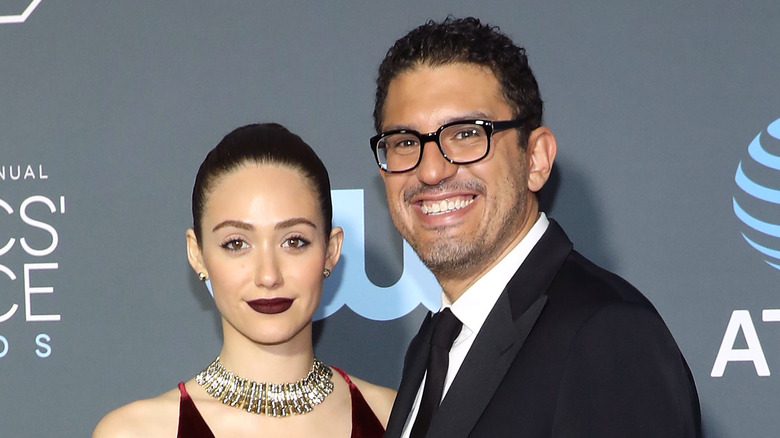 Taylor Hill/Getty Images
Emmy Rossum and her husband Sam Esmail have been extremely private about their family life, including Rossum's first pregnancy. Now it appears that they have kept another pregnancy out of the spotlight.
On May 24, 2021, Rossum took to social media to announce that she gave birth to a baby girl. This was the "The Phantom of the Opera" actor and Esmail's first child. "On a sunny Monday morning, at 8:13 am, we welcomed our daughter into the world," Rossum tweeted, alongside a photo from her pregnancy shoot. It was reported that Rossum and Esmail both kept the pregnancy a secret from the world until the baby was born. After the "Shameless" actor shared the news, fans were so shocked that her name was trending on Twitter.
Rossum shared more about her daughter's birth on an episode of "Live with Kelly and Ryan," mentioning that she almost gave birth to her daughter in the Uber on the way to the hospital. "We were driving and we were a couple of minutes away from the hospital and I was fully in contractions and I didn't realize I was actually nine centimeters dilated at that point, so real close," she said (via Us Weekly). "I was basically 10 minutes away from having a child." She added that the Uber driver knew the birth was happening quickly, but wanted to get her to the hospital safely. Now the couple has quietly welcomed another baby.  
Emmy Rossum secretly gave birth to a son
On April 6, 2023, Emmy Rossum took to Instagram to announce her second child's birth. "04.05.23," she captioned the post, alongside a slide show that revealed the measurements of the baby, a picture of Rossum's belly, and a glimpse of her newly born child. "On a foggy Wednesday morning, our son was born." Much like the birth of her daughter, the "Angelyne" actor and her husband Sam Esmail kept the pregnancy under wraps until the baby was born.
The pair has a history of keeping things a secret from the world. Back in 2016, it was known that the couple was engaged. But in a series of tweets congratulating Esmail on his six Emmy nominations for "Mr. Robot" — which he wrote and directed — "Shameless" actor Shanola Hampton congratulated the director on "marrying [her] girl," implying that Esmail and Rossum secretly married.
Esmail has also spoken about media and technology, as "Mr. Robot" surrounds that topic. However, it could also be an inside look at how he views the world today, and explain why he prefers to keep things as private as possible. "The world is so heavily influenced by technology and it has started to feel like it's not on solid ground," he told The Guardian. "The world has become unreliable, unknowable. Facts are vulnerable and things you have come to rely on are no longer there."