How Jamie Foxx's Youngest Daughter Anelise Is Following In His Musical Footsteps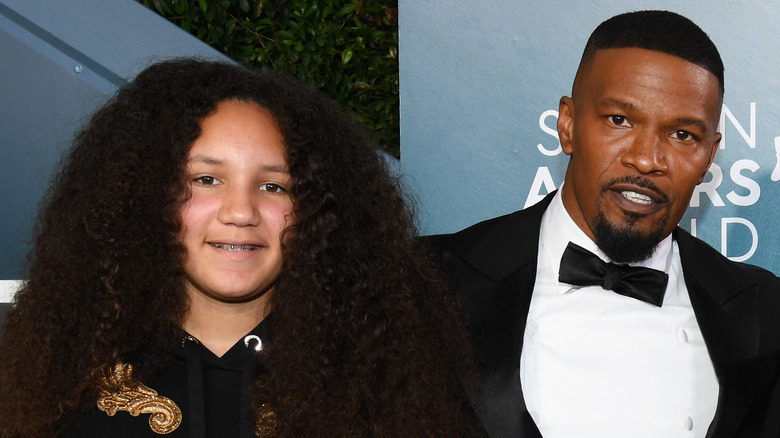 Kevin Mazur/Getty Images
Jamie Foxx is the proud father of two brilliant daughters: Corinne Foxx and Anelise Bishop. Both young ladies are chasing after their goals, and Foxx is determined to help them go as far as they can. "I take them to places, let them see women handling jobs in high places and empowering them in trying to unlock what has been locked for so many years with women," he shared in a SiriusXM interview in 2021.
Corinne — whom Foxx shares with ex Connie Kline — has followed in his footsteps and forged a path in the entertainment world working as an actor and producer. She most notably appeared in Season 2 of Hulu's series "Dollface" and earned a Creative Arts Emmy for her role in the ABC special "Live in Front of a Studio Audience: Good Times." She was also credited as the executive producer of her father's Netflix comedy "Dad Stop Embarrassing Me!". The show, which ran for only one season, was inspired by the father-daughter duo's real-life relationship. 
As for Foxx's youngest daughter, Anelise, it's clear that the now 14-year-old has inherited her father's musical chops. And just like her dad, it seems as though she, too, is destined for the spotlight. 
Anelise Bishop has gotten good at piano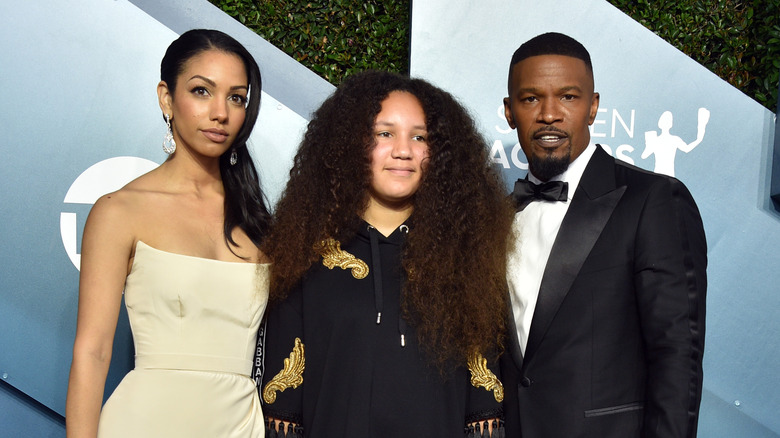 Gregg Deguire/Getty Images
Like father, like daughter! Anelise Bishop takes after her old man Jamie Foxx when it comes to her love of music. The "Fall For Your Type" singer proudly shared with Entertainment Weekly in 2020 that his youngest daughter is skilled at playing the piano. When speaking about his life in quarantine, Foxx said, "My daughter played her piano at 4 o'clock in the morning, 11 years old, and holding. That's what's been good is we have been able to connect like that." At the time, Foxx said Anelise — whom he shares with ex Kristin Grannis — had already expressed interest in performing with him. "[Anelise] now knows how to play the piano so well, she actually plays my songs while I sing to them. She said, 'I am going on tour with you,'" he said.
And that she did. In 2022, Anelise joined her father as he put on a private show in Texas while cheering for the Dallas Cowboys and promoting his whiskey brand. Anelise showcased her talent for playing the piano as she and her dad performed his song "In Love By Now." Following the performance, the "Django Unchained" actor showed his love for Anelise by planting a sweet kiss on her forehead. At the time, a source told the outlet, "Jamie is a really sweet father. He was by his girl the entire night and left the party to put her to bed." Aww.
Anelise Bishop is also great at sports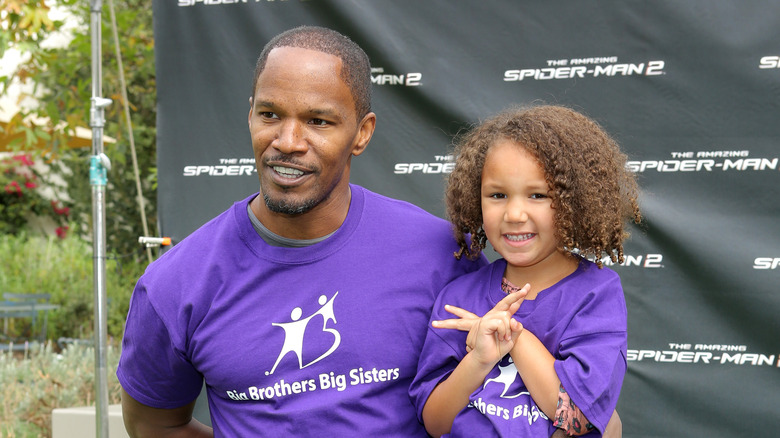 Mike Windle/Getty Images
Not only is Anelise Bishop a natural musician, but she's also very athletic. The youngest daughter of Jamie Foxx has developed a love of sports, specifically basketball and football. 
Appearing on "Live with Kelly and Ryan" in 2018, the "Dreamgirls" actor said Anelise was "killing it" at flag football. "She's playing football with all the boys. She's playing flag football. She's the only girl in the league," the proud father said. He also bragged about Anelise's football skills, sharing that she had three touchdowns and that her team was on their way to a championship. "When she [got] on the football field, at first they didn't want to throw it to her," Foxx revealed. "But I said, 'Anelise when you're out, [wave your hands]. She waved her hands and they threw it to her, and she hit for like a 60-yarder. It was crazy."
Explaining Anelise's passion for sports, Foxx said it runs in the family and they are all competitive. "My pops was a coach, her cousins, they all play. So, at the house, we are constantly playing," he shared. "We don't mention girl or boy, we just get after it." Foxx also talked about his daughter's love of basketball in an interview with "Good Morning America" in 2019. "Her last game before COVID, she's playing with the boys. She had 21 points, 17 rebounds, [and] 5 blocks," he boasted.