Nathan Fillion Has Never Been Married, But He Was Engaged To Brian Austin Green's Ex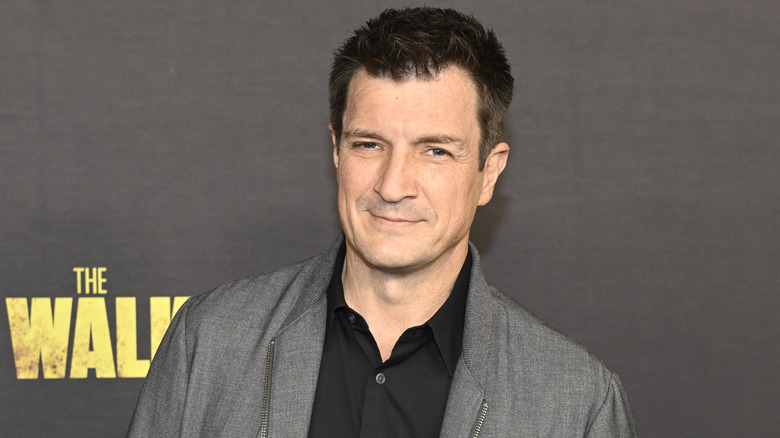 Timothy Norris/Getty Images
Nathan Fillion has come a long way since leaving his native Alberta, Canada. While now an accomplished actor, the "Firefly" alum never believed his passion for films could ever translate into an actual income. As the son of two English teachers, Fillion opted to follow in their footsteps. "I said, 'I'll get my degree and then I'll see what happens, but I'll always have that to fall back on,'" he said during a Q&A with Warner Bros. in 2009 (via Collider). "So if anybody were to look at me and say, 'Oh, you're an actor,' I could always say, 'Hey man, I'm a teacher!'"
The "Castle" actor never had to use it. Thanks to his craft, Fillion went on to be worth millions. By the time he was 23, Fillion had moved to the U.S. to star in "One Life to Live" in 1994. "I felt like I was an imposter, like I didn't belong," he told the Edmonton Journal in February. From there, he poured all his energy into making it work as an actor. His career has always remained the focus of his public life, with Fillion choosing to keep his personal life away from the spotlight.
Fillion also didn't give the media a whole lot to explore. Now in his 50s, "The Rookie" star has never been married and kept his relationships largely low-key. But while he remains among Hollywood's eternal bachelors, Fillion did come close to walking down the aisle to a "General Hospital" star.
Nathan Fillion was engaged to Vanessa Marcil for a short time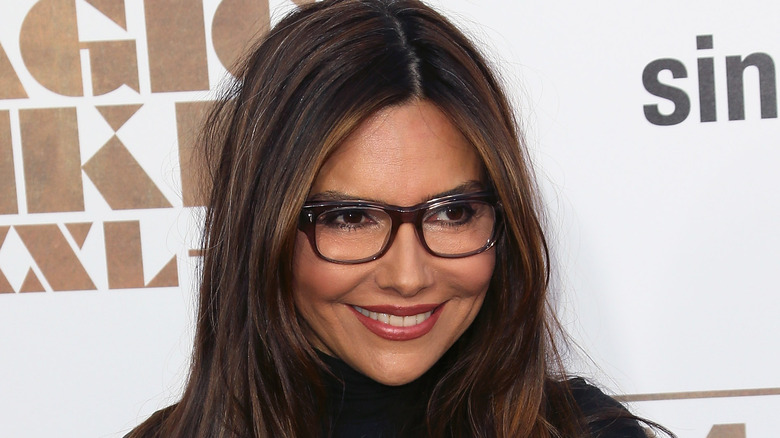 David Livingston/Getty Images
In 1995, Nathan Fillion began dating Vanessa Marcil. Just eight months into the relationship, Fillion asked Marcil to marry him — and she said "yes," according to Hello! But the engagement had been called off by the fall of 1996, a year Marcil described as "the toughest year of my life" in a May 1997 interview with Soap Opera Digest. Her split from Fillion wasn't the sole reason for it, but contributed to how she was feeling. "I lost two really close friends to drugs. Nathan and I broke up. That was really hard for me," she said.
The romance didn't end on bad terms, though. "We stayed very dear friends after we broke up," she said. One of the reasons the relationship didn't work was their busy schedules. In 1996, Marcil was shooting the film "To Love, Honor and Deceive" in North Carolina while still working on "General Hospital" in Los Angeles. "You really have no time for a social life when you're doing this. Especially if someone lives that far away," she said, as Fillion lived in New York while working on "One Life to Live."
In 1999, Marcil moved on with her "Beverly Hills, 90210" co-star Brian Austin Green. After getting engaged in 2001, Marcil and Green broke up in 2003, later igniting a messy custody battle over their son Kassius. Fillion also went on to become engaged again, though his didn't end as dramatically as Marcil's.
Nathan Fillion was also briefly engaged to Mikaela Hoover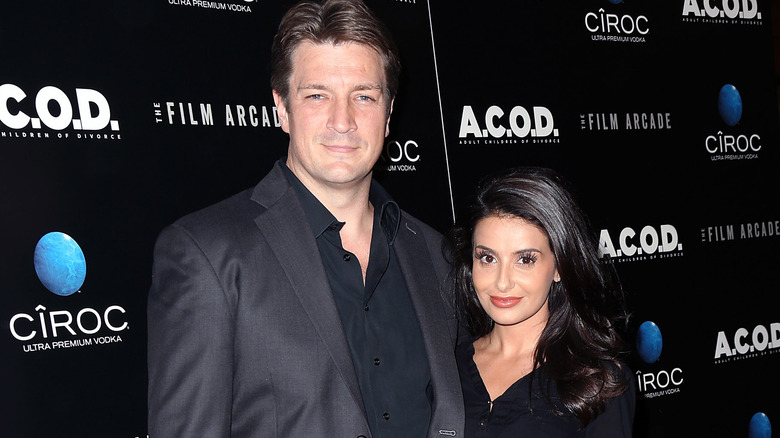 David Livingston/Getty Images
Nathan Fillion fell for Mikaela Hoover in April 2013. He was so sure of what he felt for the "How I Met Your Mother" actor that he proposed just months later, according to Hello! However, it it wasn't meant to be. Fillion's romantic life is murky after that point. While he has been linked to several of his co-stars over the years, Fillion has remained officially single ever since. He also isn't worried about whether he finds someone that makes him want to settle down.
Marriage simply isn't at the top of his priorities. "I don't feel pressured," Fillion said on the "Inside of You with Michael Rosenbaum" podcast in 2020. His parents have already made peace with the fact that their youngest son might not have any children. "They already have two spectacular grandkids that they're really, really pleased with, so that took a lot of pressure off," he added. Fillion isn't against marriage, but he isn't interested in trying to guess what the future may hold. "I look at my life and I think, I never once imagined my life would be exactly what it is right now."
Vanessa Marcil isn't the only former lover he has remained friendly with after breaking up. "I'm still in touch with about 90 percent of my exes," he told Women's Health in 2010. His single status isn't due to a lack of trying. "They would describe me as being unlucky in love," he noted.