Who Is Jamie Foxx's Daughter Corinne's Less-Famous Mom, Connie Kline?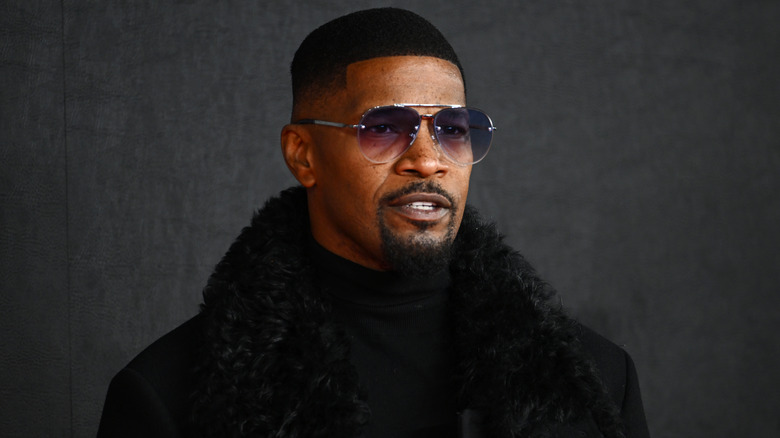 Joe Maher/Getty Images
Jamie Foxx and his daughter Corinne Foxx share a passion for performing. Corinne is an actor and model who's already led a prolific and impressive career. She's modeled for high-profile brands like Ralph Lauren and Dolce & Gabbana. As far as her acting career, she's appeared in the comedy series "Dollface." She also starred in the musical game show "Beat Shazam," which her dad actually hosts.
Jamie and Corinne, who have appeared in many interviews together, have a close and playful relationship. In a 2019 appearance on "Jimmy Kimmel Live," the dynamic duo discussed collaborating on "Beat Shazam." Jamie gushed, "I'm just so excited to be working with my daughter. It's just like — sometimes, I'm just in there thinking 'Jesus' for two hours." Over the years, the father-daughter pair has captivated the public with their electrifying chemistry. Meanwhile, there's one family member in the picture who's received far less attention. Corinne's mom, Connie Kline, has remained on the outskirts of stardom.
Connie Kline inspires her daughter Corinne Foxx
So, who is Connie Kline? According to Distractify, Kline was a member of the Air Force for five years. Currently, she's an accountant at CK Financial. Not much is known about her personal life, as she keeps a low profile. However, it is known that she briefly dated Jamie Foxx in 1993. Although the pair cut romantic ties, Jamie and Kline are reportedly on good terms. An insider close to Kline told the Daily Mail, "He looks after her well. They get on together and they have an agreement. It is a mutual thing, and they get on well." Apparently, Jamie even purchased a house and a Mercedes for Kline.
Jamie isn't the only family member who's deeply fond of Kline. Evidently, Corinne looks up to her mom and is incredibly proud of her. On Veteran's Day in 2016, the star dedicated a post to Kline on Instagram. She wrote, "Your strength, perseverance and endurance inspires me everyday. You have shown me that women can do anything and everything. I am who I am because of you."
Connie Kline's daughter has followed a different path than her mom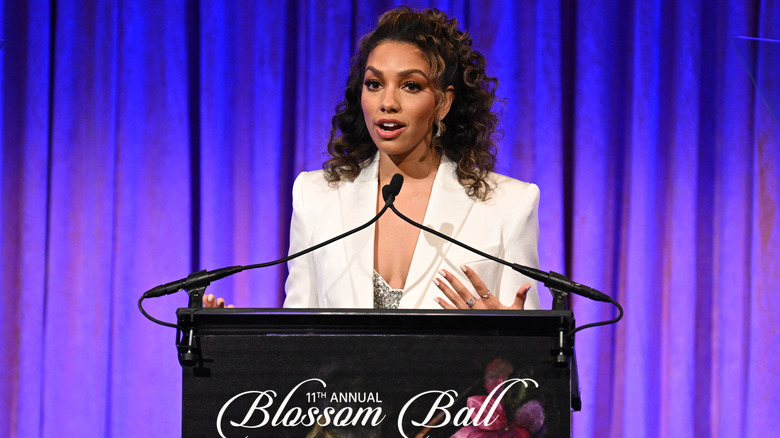 Bryan Bedder/Getty Images
While Connie Kline has opted to stay out of the spotlight, the same can't be said for her daughter, Corinne Foxx. In addition to her acting and modeling accomplishments, Foxx co-hosts a podcast called "Am I Doing This Right?" Each episode provides analysis on a topic related to mental health or adulthood. For instance, one episode offers tips on how to improve sleep.
Foxx is also outspoken about endometriosis, which hits close to home. Foxx, who lives with this serious medical condition, has made it her mission to educate people about the disease. She was an executive producer on "Below the Belt," a 2022 documentary film that centers on several women and their challenges with endometriosis, per Today. Foxx discussed the purpose of the documentary, saying, "The goal of the film is education and awareness and also advocacy to get more research dollars for endometriosis so that we can find more affordable treatments, more affordable and effective imaging so you don't have to do a surgery to find out if you have endometriosis."
As noted in her Instagram bio, Foxx is also an ambassador for the National Alliance of Mental Illness and the Endometriosis Foundation of America. Through these endeavors, Foxx is using her celebrity status in a powerful and influential way.