Why Jack Nicholson's Relationship With Rebecca Broussard Didn't Last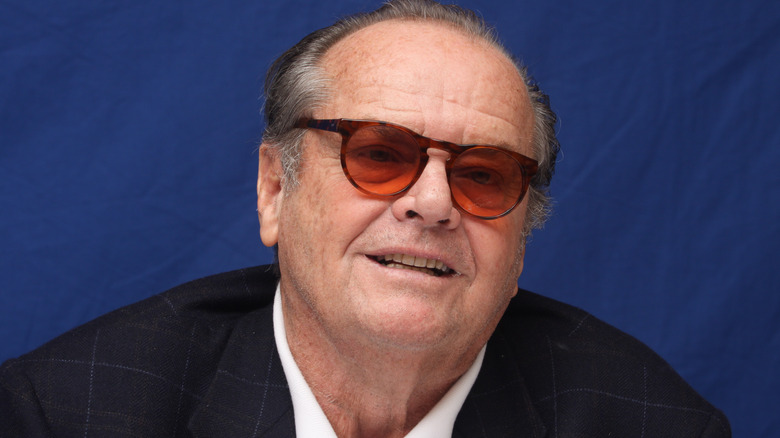 Fotos International/Getty Images
Besides being known as an incredible actor, Jack Nicholson is also a notorious ladies' man. Even Nicholson himself is aware of his bachelor status behavior, per The U.K. Sun (via Yahoo). He said, "If someone says: 'Jack, you are a womanizer,' I don't deny it." The "Few Good Men" actor only proved his "womanizer" life after he began a relationship with fellow actor, Rebecca Broussard.
The beginning of Nicholson and Broussard's relationship was quite controversial. According to The New York Post, the actor had cheated on Anjelica Huston with a much younger, Broussard. What made the situation even worse was that Broussard ended up getting pregnant with Nicholson's child. Huston detailed how she felt about the affair in her memoir, "Watch Me," she wrote, "There's only room for one of us women in the picture, and I am going to retire from it." 
After the couple's breakup, in 1989, Nicholson quickly moved on with Broussard. He and the actor welcomed their first child, Lorraine, in April 1990, per People. Just two years later, the couple added a new addition to their family when they welcomed Nicholson's youngest son, Ray. Although the couple had two children together, they never considered marriage. And after five years of being in a relationship, surprisingly, Broussard was the one to call it quits. Just like Nicholson, you will probably be shocked as to the reason behind their breakup.
Rebecca Broussard reportedly left Nicholson for another man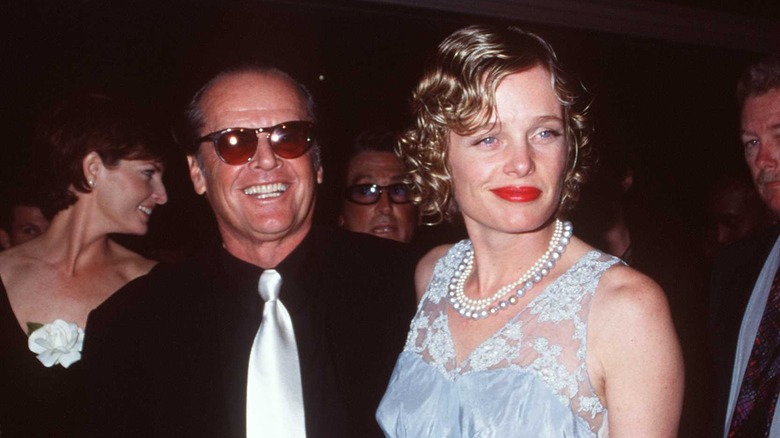 Brenda Chase/Getty Images
Rebecca Broussard may have taken a page out of the Jack Nicholson handbook because, like Nicholson, she reportedly left him for someone else. According to Vanity Fair, Broussard was the one to break up with the actor after meeting a younger man. Just like the rest of the world, "The Departed" actor heard all the speculation and stayed in his cool demeanor as the outlet asked about Brousard's reported new beau. He said, "I don't know about him and I never asked. You shouldn't ask me. If I'm weak in any area, it's 'I don't want to know.'"
However, as much as the actor tried to shrug off the situation, it was evident that the breakup really affected him, per Vanity Fair. Talking about Broussard leaving him, he said, "It's the hardest lesson. You're left. You're abandoned. And you're not going to be over it for another year—whatever the f*** you do. . . they do. . . she do. If it takes that long, I'm willing. I don't think I got the time, but I'm willing to do the time." The actor even revealed he will always love the "Die Hard" actor, regardless of their split.
As for Broussard, she shared that after she had her kids, she changed as a person. She said, "There is another man now, a 31-year-old actor. He is a very important person in my life. He has nothing to do with Jack and my reality."
Nicholson and Broussard became great co-parents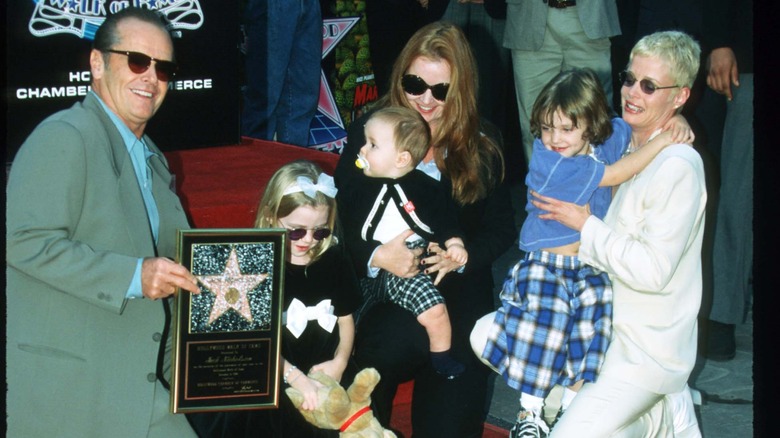 Russell Einhorn/Getty Images
Although Jack Nicholson and Rebecca Broussard ended on not-so-great terms, they still made their two children their focus moving forward. Nicholson and Broussard had two children together, Lorraine and Ray, and they wanted to make sure they grew up with as much of a normal life as possible. The "As Good As It Gets" actor gave some insight into his and Broussard's co-parenting when he spoke about their family dynamic to People. He said, "Well, it's a divided parenthood, with their wonderful mother and myself. We've always gotten along. I want to be inspirational, or some kind of good influence on them without overburdening them."
Of course, Nicholson is a world-famous actor, and that can greatly affect the way his children see him. But, Broussard worked hard to make sure Nicholson was not the famous actor to their kids, but that he was just dad, per the Sunday Mirror (via The Free Library.) She said, "The only time living in a goldfish bowl starts to bother me is when it affects our kids. It is frightening when you go out and there are 40 photographers coming at you. At home, I hide papers and magazines when there's stuff about Jack. What matters is that the kids love their father and he loves them." While she admits that she and Nicholson weren't a great couple, she recognizes that he's an excellent father and they have a "great arrangement" as parents.