Jack Nicholson Has A Close Relationship With His Lookalike Son Ray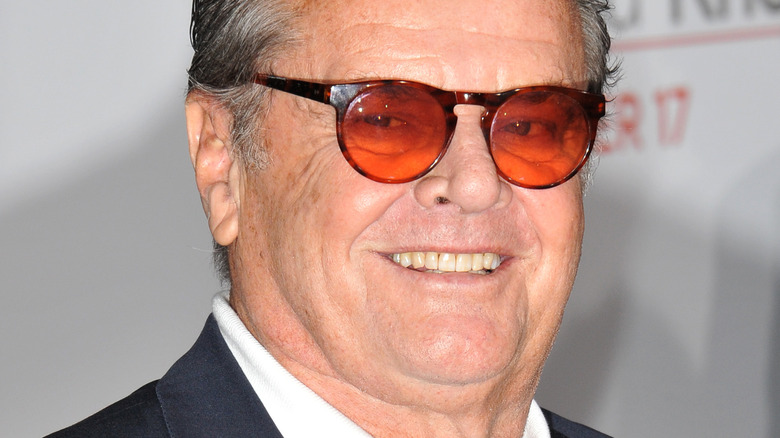 Featureflash Photo Agency/Shutterstock
Jack Nicholson's estranged daughter may have spoken out about their non-existent relationship, but when it comes to his youngest son, Ray Nicholson, they're as close as can be. 
First, a note on Jack's parenthood. The legendary actor is the father of six to Jennifer Nicholson, Caleb Goddard, Honey Hollman, Lorraine and Ray Nicholson, and Tessa Gourin. Granted, not all of his kids grew up with him, or had the honor of being called what he termed his brood in a 2008 interview with AARP, his "set rats." In the case of Goddard, for example, his mother told Los Angeles Times that Jack didn't communicate with him much during his formative years. That said, in a letter sent to Vanity Fair, she insisted that, "Jack and Caleb have a very warm relationship." Unfortunately, the same can't be said for Gourin. In an op-ed published by Newsweek in early 2023, Jack's youngest daughter revealed that, although he'd taken care of her financially, "He wanted no part in my life."
Things couldn't be more different for Jack's "set rats," however. Far from it, as he told AARP he played an active role in Lorraine and Ray's lives and took great pleasure in simple things, like reading them stories. "I think that's a father's responsibility," he said at the time. He also had particularly sweet words for Ray, describing him as "fab." It's pretty clear they're close, then — but what else do we know about their bond?
Jack is super proud of Ray's work ethic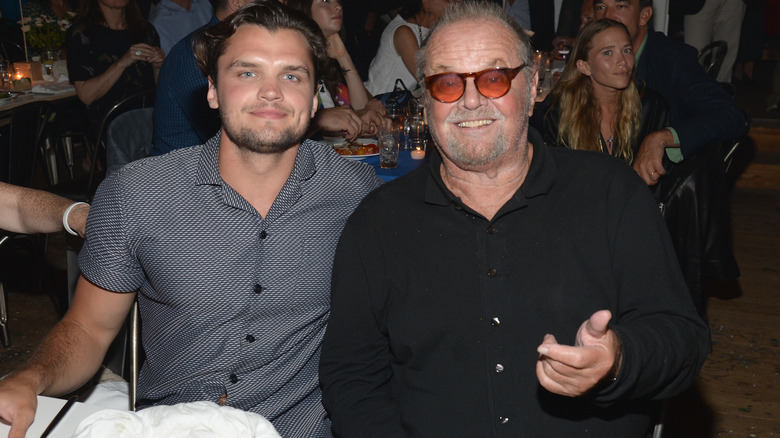 Kevin Mazur/Getty Images
"Fab" wasn't the only kind remark Jack Nicholson had for his youngest son when speaking to AARP. Au contraire, when asked how he would describe Ray Nicholson, Jack was quick to laud his work ethic. 
Pointing out that Ray had sacrificed a vacation abroad to focus on his football training, Jack shared that he was the youngest player to get into his high school's varsity team — and that even an injury wouldn't hold him back from reaching his goals. "Ray might not tell you exactly what he's up to, but once he's got his mind set on something, he's gonna stick to it and take care of business, no matter what me or anybody else says," Jack gushed. 
That certainly seems to have been the case with Ray's latest goal: success in Hollywood. Far from shying away from following in his legendary father's footsteps, Ray has carved out a career for himself as an actor. Perhaps not all that surprising — after all, Jack did tell AARP that, as kids, both Ray and Lorraine Nicholson were "very comfortable around show business." As an adult, that's translated into a number of roles in impressive projects — from Amazon Prime's "Panic," to his lead role the 2022 Diane Kruger and Hank Azaria co-starring, "Out of the Blue." Something tells us, Jack is one proud papa!
Jack and Ray love watching basketball together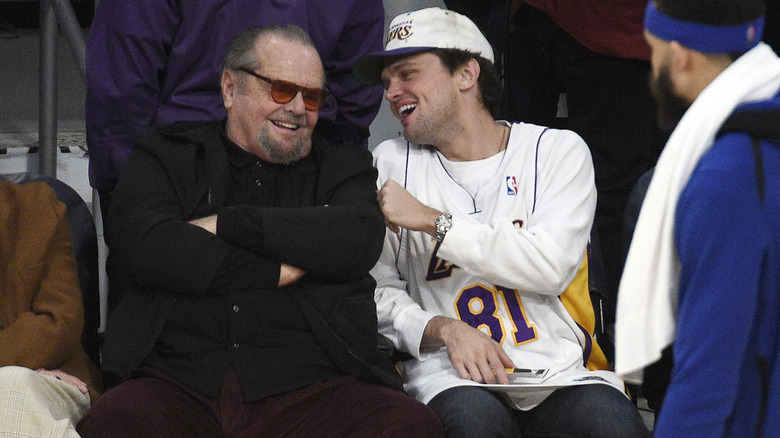 Kevork S. Djansezian/Getty Images
A shared love of acting isn't the only thing Jack and Ray Nicholson have in common. Both are avid Los Angeles Lakers fans and can be seen regularly catching a game together. 
That bonding over basketball is the father and son duo's thing isn't exactly a surprise. As Jack told AARP, in addition to taking Ray and Lorraine Nicholson to cultural events, like the opera, he also made a point of getting them tickets to Lakers games. "They like going to the ball games with me," he said. More than a decade on since the interview took place, that seems to still be the case. In fact, as numerous outlets have pointed out, Lakers games are one of the only places Jack's fans can hope to catch a glimpse of the "The Shining" actor these days. That only makes his routine date of choice — Ray — even sweeter. Then again, we're not shocked that Jack would want to bond over the game with his doppelgänger. After all, speaking to Vanity Fair back in 1994, he described his then-toddler son as "my man Ray." 
One thing's for sure: from shared genes to shared interests and talents (and, some might argue, a shared face!), these two are as close as can be.