Savannah Guthrie Broke Up With Husband Michael Feldman The Day They Got Engaged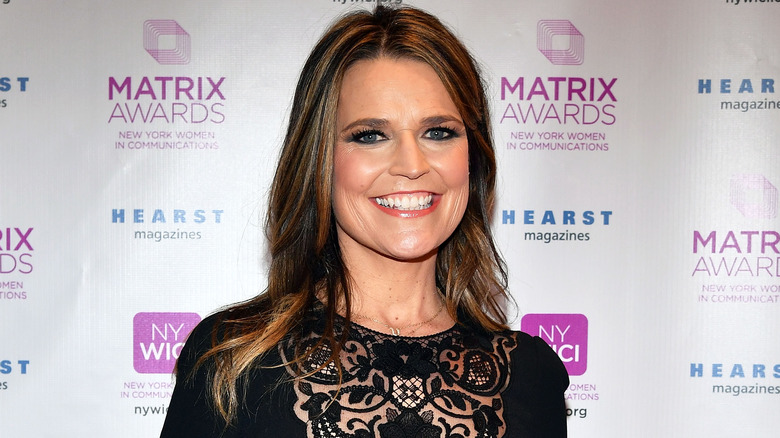 Slaven Vlasic/Getty Images
As much as you can prepare for a proposal, you never truly know how it will go. Will they say yes? Will anything go wrong? Is the ring the right one? A lot of things are up in the air and can make the day stressful and nerve-wracking. Especially if your partner is questioning your relationship like Savannah Guthrie was with Michael Feldman.
Guthrie and Feldman began their unexpected romance back in 2009 after they met at his birthday party, per Us Weekly. Having been married before, it didn't take long for Guthrie to realize that the former political aide was the one for her. She told Guidepost, "I met a man named Mike Feldman at a party, a political consultant who made me laugh. We fell in love." Although the "Today" co-anchor knew she deeply loved Feldman, she began questioning their relationship as she was getting older. In 2013, the couple decided to go on vacation, and Guthrie didn't know if her relationship with Feldman would result in marriage. The journalist knew that regardless of how much she cared for Feldman, she didn't want to waste her time in a relationship that wasn't going anywhere. What she didn't know was that Feldman already had big plans for their future — and Guthrie nearly messed up their engagement.
Savannah Guthrie nearly ruined her engagement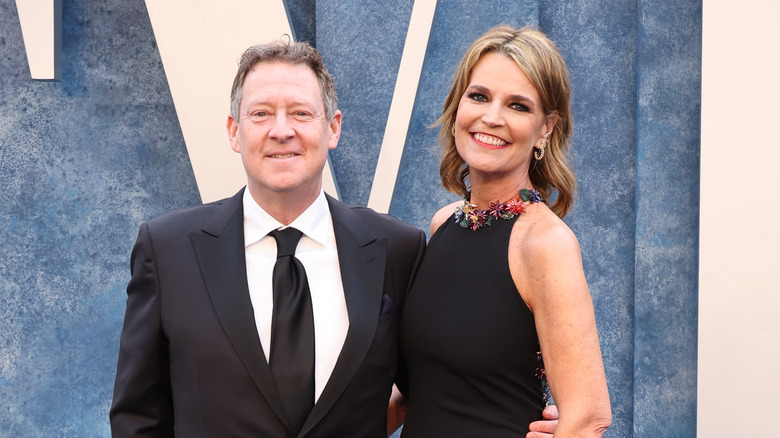 Amy Sussman/Getty Images
Savannah Guthrie can definitely say that she had a one-of-a-kind proposal. As she recalled on "Today with Hoda & Jenna," she and Michael Feldman couple up in 2009 and had been in a relationship for four years when she began wondering if they would ever get married. She explained, "It got to the point where no one thought we were ever going to get married — including us, especially including me." Guthrie did not expect Feldman to take the next step, so she essentially broke up with him while they were on vacation. She told him, "I was like, 'Sweetie, I love you so much, but if we can't decide, then I think we've decided.'" Guthrie was ready to bow out and leave, but luckily Feldman convinced her to stay.
The former political aide was probably a little stressed out because he actually was going to pop the question that same day. Fortunately for Feldman and Guthrie, the night ended better than it started because he finally popped the question. Guthrie shared that it didn't take her long to answer. She said, "I thought about it for about .2 seconds. I was like, 'Yessss!'" Fast forward one year later, and the couple got married. So, despite the minor hiccup in the proposal, it all ended up working out for the couple.
Savannah Guthrie and Michael Feldman's marriage is going strong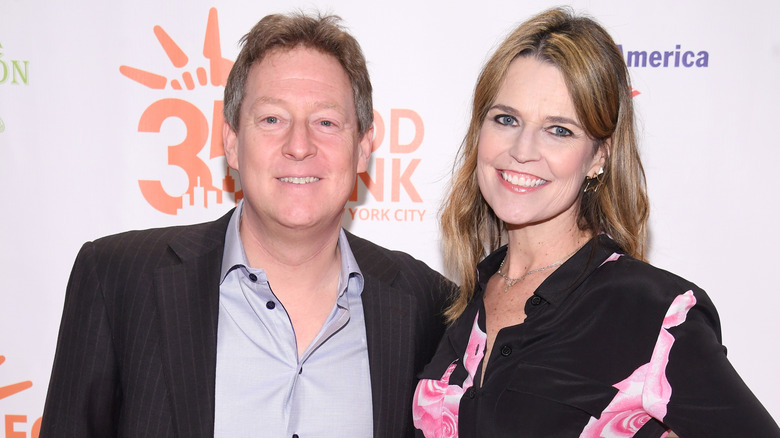 Dimitrios Kambouris/Getty Images
Although their proposal was a little shaky, there was no doubt that Savannah Guthrie and Michael Feldman had love for one another. It didn't take long for them to make their love official because a year after their engagement, the couple tied the knot in Guthrie's hometown of Arizona. Their love for one another only grew as they expanded their family. They welcomed their daughter Vale in 2014 and their son Charley in 2016.
As the couple nears their tenth anniversary, they continue to demonstrate the strength of their marriage. In 2018, Guthrie shared a sweet photo of the two at their wedding for their fourth anniversary. She captioned the Instagram post, "Happy anniversary to my sweetie and best friend for life @feldmike." Feldman is not shy about sharing his adoration for Guthrie either. Having a demanding schedule as a co-anchor on a major television network is not easy, and Feldman knows how hard his wife works. He shared with The Scott Brothers, "A fair amount of Savannah's workday is while the kids are still sleeping ... she has to roll right into Mommy mode, still fully made up, while I disappear for conference calls. ... I'm in awe of her ability to create structure." Guthrie and Feldman seem to balance each other out, and it's clear that their relationship will last for a long time.