Who Is Succession Star Brian Cox's Real-Life Wife, Nicole Ansari-Cox?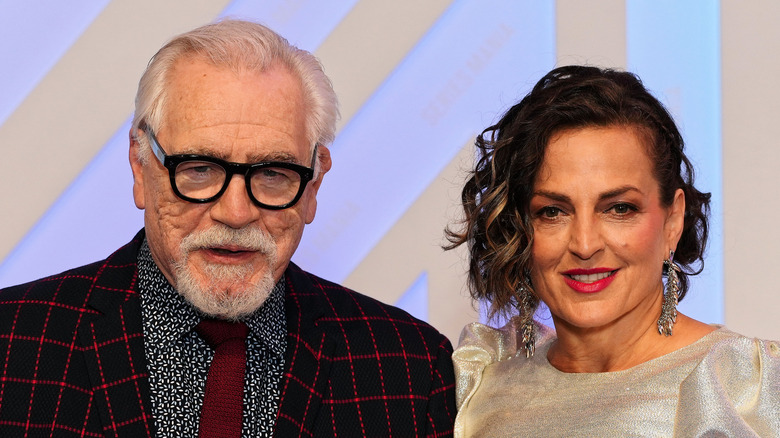 Sylvain Lefevre/Getty Images
Brian Cox's portrayal of the cannibal Hannibal Lecter in the 1986 film "Manhunter" was one of the first of many roles in which he would play a captivating villain. He has garnered much praise for his recent role as corporate bad guy Logan Roy in "Succession" and seems to have found himself a niche. On why he seems to be so good at playing the antihero, he opened up about his role as the Nazi Hermann Goering in the miniseries, "Nuremberg" to Backstage. "I play a lot of bad guys, and I used to get fed up with that. Then when I played Goering, I thought, I should look at this as a privilege that I'm asked to play these parts, because I have an insight into what makes these people this way."
Cox's portrayal of profane media mogul, Logan Roy, earned him rave reviews and a Golden Globe for Best Actor. During his acceptance speech, he thanked his castmates, whom he called "the most extraordinary bunch of people ever" and concluded by thanking his wife Nicole Ansari-Cox for "putting up with [him] for this crappy time" (via NBC). While she was to support her husband, Nicole is also an accomplished multi-hyphenate in her own right and has many accomplishments under her belt.
Nicole Ansari-Cox started acting at an early age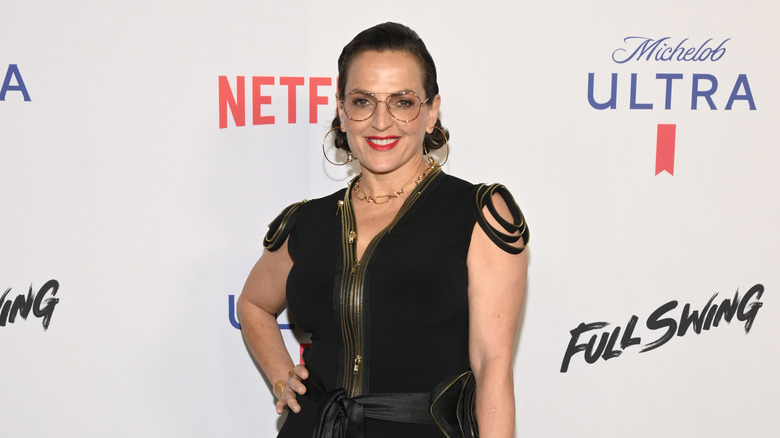 Daniel Boczarski/Getty Images
Nicole Ansari-Cox caught the acting bug when she first watched "Casablanca" at five years old and told her mom, "When I grow up, I want to do what she [Ingrid Bergman] does," Nicole told Hamptons. "Whether it was the adventure, the incandescent beauty, or the fact that she got Rick! Around the same time, I got to play the fire in Rumpelstiltskin at my sister's kindergarten performance and my fate was sealed," she recalled. 
It was Nicole's love of theater that brought her and Brian Cox together. They met in 1990 while Brian was performing in "King Lear" in Hamburg, Germany, which Nicole went to see eight times. "I met Brian at a party and there was just an instant connection — It was like meeting a soulmate. He understood me. We were just talking, talking, talking," she told Scotland's The Herald. Their relationship became serious in 1998 and she moved to England to be with Brian. Unfortunately, Nicole didn't find success with her acting career overseas. "In England, it's difficult as a foreign actress. They don't even give you a chance," she explained.
After she and Brian got married in 2002 and had their sons Orson and Torin, they settled in New York City. Since then, Nicole and Brian have starred in the Tom Stoppard play "Rock'n'Roll" together. Cox also directed his wife in the play "Sinners: The English Professor" in 2020. While Nicole's first love was acting, her decision to switch careers propelled her in a different direction.
Nicole Ansari-Cox is a yoga therapist and life coach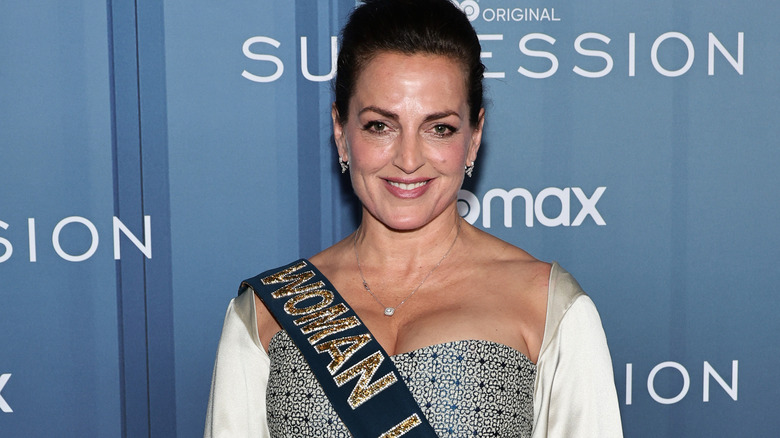 Jamie Mccarthy/Getty Images
After Nicole Ansari-Cox had her two sons with Brian Cox, she faced the dilemma of continuing to struggle as an actor or moving her career in a different direction. Thankfully, she didn't have to choose one or the either. "I trained as a yoga teacher and decided I could transition and teach yoga and meditation, a lifelong passion of mine. As soon as I had decided that, I got the offer to do Deadwood and do the show on the West End, and so it continued," she explained to Hamptons.com. According to her website, Nicole is a certified yoga therapist, a pre and postnatal yoga instructor, trained in Kundalini Yoga, and a life coach.
Nicole is also an activist for Iranian women and girls' human rights. During the "Succession" Season 4 premiere, she stood alongside Brian wearing a sash over her dress that read, "Woman Life Freedom," per the Daily Mail. The effort is described as a "call to action from global leaders, from all political backgrounds, who share the belief that women and girls should have equal rights, dignity and self determination over their bodies."
Nicole may be relieved that "Succession" is in its final season. Brian joked on "The Tonight Show with Jimmy Fallon" that he was cursing too much like his character. "It's what I call the Logan Roy disease, and I've been affected by it. My wife's nearly divorcing me because of it," he shared. Thankfully, it was all made in jest.