Reba McEntire Has A Special Connection To Blake Shelton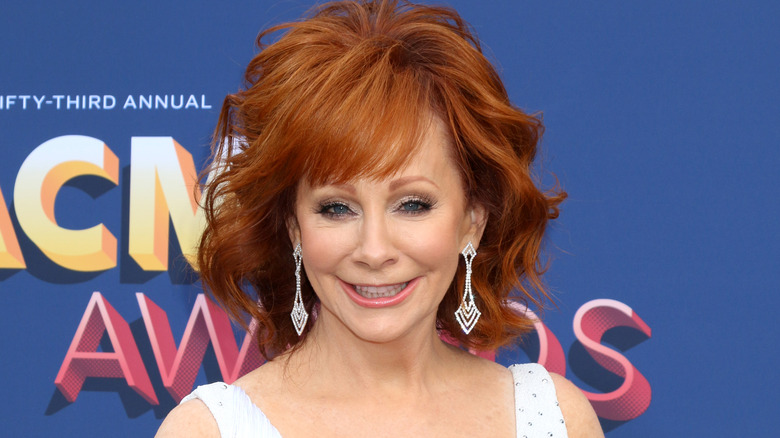 Kathy Hutchins/Shutterstock
Superstar Reba McEntire's nickname is the "Queen of Country" — with good reason! The redhead has been a staple in country music for decades. And talk about longevity: Outsider reported that McEntire released her first No. 1 hit, "Can't Even Get The Blues," in 1982 and had another No. 1 hit as recently as 2017. McEntire has also parlayed her success in music into other avenues, hosting the Academy of Country Music Awards and acting in everything from "Young Sheldon" to "Little Rascals" to her eponymous sitcom. She may be pushing 70, but this icon reigns supreme over the country music industry.
McEntire's success across the entertainment and music spaces may have inspired another cowboy's career. Taste of Country reports that Blake Shelton currently has 28 No. 1 hits, and like McEntire, he continues to churn them out. Since 2011, Shelton has served as a coach on "The Voice," though he announced in 2023 that this 23rd season is set to be his last. The winningest coach in "The Voice" history — who met his current wife, Gwen Stefani, on the show — told Access that "something like 'The Voice' ... demands a lot of your time." Moving forward, he says he'd rather spend that time with his wife and stepchildren.
Shelton may be taking a step back from showbiz, but it's clear his career shares a few similarities with McEntire. However, beyond their respective career trajectories, the two have something else in common.
Reba McEntire and Blake Shelton grew up in this state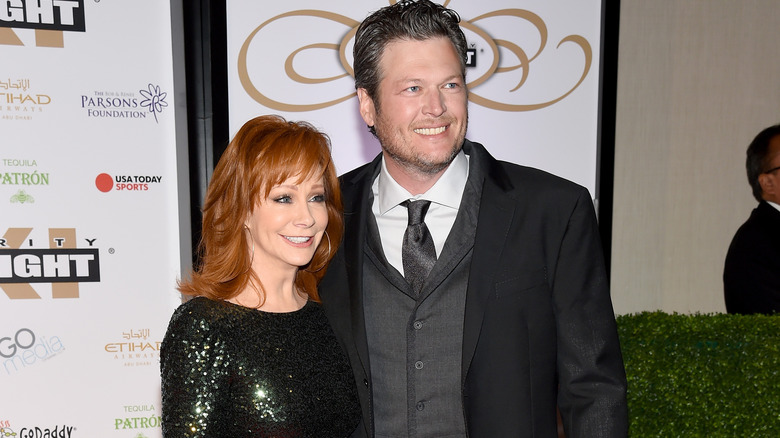 Ethan Miller/Getty Images
When Blake Shelton won Male Vocalist of the Year at the 2010 CMAs, he hugged his then-fiancée, Miranda Lambert, before immediately seeking out Reba McEntire for an embrace, as well. So clearly, the relationship McEntire and Shelton share is special — starting with the fact that they're both from Oklahoma. "Blake is a character, as you know. ... We're both Oklahomans, both 'Okies,'" McEntire dished on a 2023 episode of "The Jennifer Hudson Show." And as fellow Okies, she and Shelton have each other's backs!
Case in point: After Lambert and Shelton split, the former publicly dissed her ex at the 2019 ACMs by switching up the lyrics of her song "Little Red Wagon" to "[I] got the hell outta Oklahoma." It didn't land well with a few people, including McEntire. When introducing Shelton later on that night, McEntire defended their home state. "I love this next performer for many reasons. He's charming, funny, handsome, talented, sings like an angel, and always writes his own introductions. Give it up for my fellow Oklahoman and friend, Blake Shelton," McEntire said. Whether or not she meant to throw low-key shade, that's how fans interpreted it. "Reba gave it back to Miranda with that Oklahoma reference," one fan joked on Twitter.
Move over, Texas, you don't mess with Oklahoma! (Or Shelton, for that matter.)
Blake Shelton and Reba McEntire have worked together before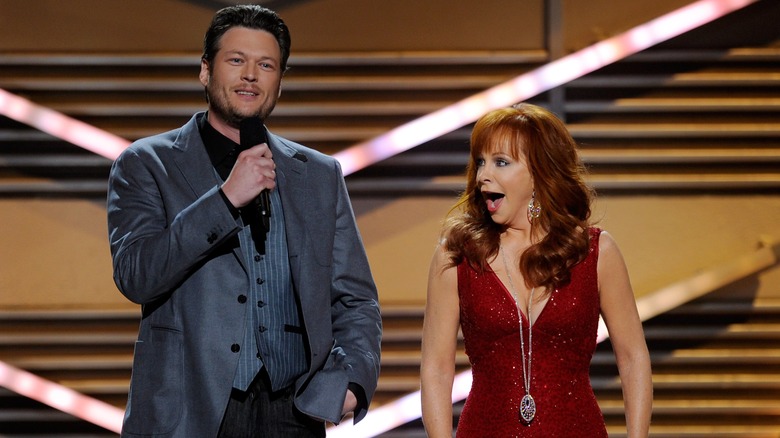 Ethan Miller/Getty Images
A home state isn't all that Blake Shelton and Reba McEntire have in common — far from it.
Most recently, Shelton leveraged his relationship with McEntire to entice her to be a part of his swan song on Season 23 of "The Voice." As Variety reports, McEntire will be the show's first-ever "Mega Mentor," helping to coach all contestants as they progress from the battle stages to the knockout rounds. Shelton also picked the Country Hall of Famer to be his team's advisor way back in Season 1, so they've made sweet music together on "The Voice" before.
With viewers ready to bid goodbye to Team Blake, should they be gearing up to say hello to Team Reba? "Who could fill Blake's shoes?" the country icon teased, speaking to Entertainment Tonight in February 2023. "[Filling Blake's role] is gonna be tough. He did a great job and kudos to him." Although McEntire denied that she will be taking over his big red chair in Season 24, we have every confidence she and Shelton will continue to nurture their friendship.