Hallmark's Kimberley Sustad And Paul Campbell Are More Than Just Co-Stars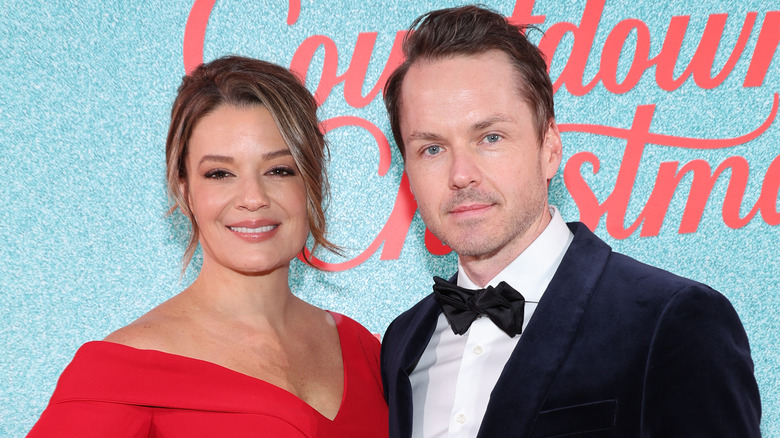 Mike Coppola/Getty Images
Aside from being two of Hallmark's most buzziest actors, Kimberley Sustad and Paul Campbell share another professional partnership. The performers have starred together in three Hallmark movies, the Hallmark Channel noted on Campbell's profile page. These films are "A Godwink Christmas," "Wedding Every Weekend," and "Christmas by Starlight." Additionally, both Sustad and Campbell appeared in another Hallmark holiday flick, "The Nine Kittens of Christmas."
Sustad discussed joining Campbell for "Wedding Every Weekend" in August 2020. "Well this is the second time that I've worked with Paul," Sustad said on "The Sarah Scoop Show," before adding, "And he is a joy. We love working together." In a My Devotional Thoughts interview leading up to the movie's debut, Campbell talked about how he and Sustad were able to show off their comedic skills in the romantic comedy. "We definitely got silly," Campbell said. "We'll see how much of that makes it into the movie, but it was a lot of fun to shoot." Amid their positive experiences as co-stars, Sustad and Campbell decided to team up on a different venture.
Kimberley Sustad and Paul Campbell have written two Hallmark films together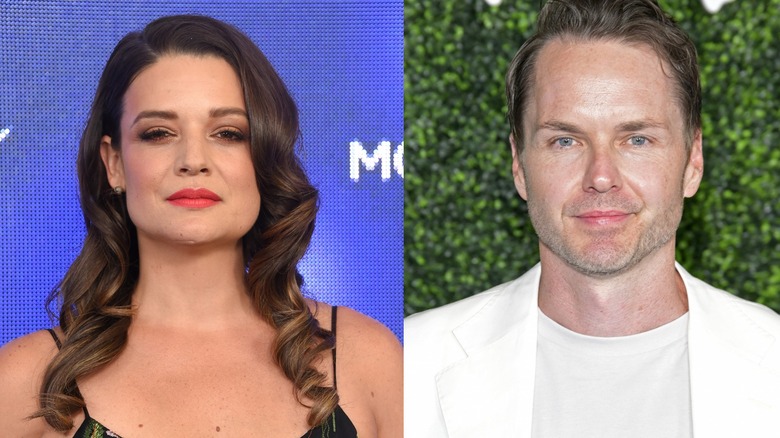 Michael Tullberg/Getty & undefined & DFree/Shutterstock
Kimberley Sustad and Paul Campbell have become writing partners in recent years. This began in 2020, when the two co-wrote a film they then co-starred in, "Christmas by Starlight." They addressed the status of a script they'd been working on during an August 2020 "Hallmarkies" podcast interview. "We're still writing," Campbell said. "We have a project that is in sort of the mid-to-final stages of writing that we are literally working on today, in our free time. And it's a Christmas movie that we're still hoping to get made." In 2022, another writing project of theirs was released on the Hallmark Channel, "Three Wise Men and a Baby." Campbell additionally took on one of the lead roles in the flick, while Sustad made a brief appearance.
While talking to MediaVillage in November 2022, Campbell detailed how he and Sustad make for a well-balanced writing team. "Kimberley has an extraordinary gift for story and for character," Campbell said. "And she is like an encyclopedia of '90s rom-coms. She understands story and what makes it compelling." Campbell stated that he, meanwhile, "[has] a technical eye and [is] good with taking those ideas and turning them into dialogue." The pair have revealed that they hope to produce more content soon.
Kimberley Sustad and Paul Campbell are penning more movies together
Kimberley Sustad and Paul Campbell have a couple of new writing projects in the works. "Paul and I are writing a script called 'My Week in Wyoming,' which is going to be an amazing tale," Sustad told TV Fanatic in March 2023. "It's almost like a 'City Slickers.' And it's not Christmas, but it's really funny." She went on to reveal that another script of theirs is a holiday film. "I'm not allowed to say anything about that one, but it's also going to, I hope, blow the doors off as well," Sustad said.
While Sustad and Campbell continue to work on their latest material, they've also kept busy with other Hallmark acting projects. Sustad co-starred in "Game of Love," a romance movie that aired in March 2023, while Campbell's latest Hallmark film is "The Cases of Mystery Lane," which was also released in March. While chatting with TV Insider, Campbell expressed his desire to write a movie for Hallmark that's "a really complicated ensemble piece." He added, "How do we think big? How do we get bigger? That's kind of where my brain lives."