Bad Bunny And J Balvin's Friendship Goes Beyond Their Many Collaborations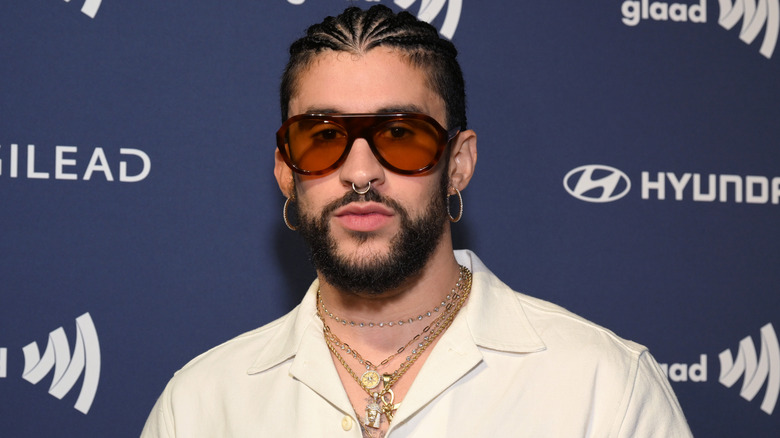 Michael Kovac/Getty Images
When you think of some of the names in Latin music, Bad Bunny and J Balvin may cross your mind. Both artists have created some of the biggest hits in Latin music, so it's not surprising that they have collaborated on some amazing tracks. But, more than just collaborating on one song, the pair has blessed the music world with their joint album "Oasis." A testament to their friendship, it shows how close the two musicians are.
Bad Bunny and Balvin's friendship goes back to before the "Me Porto Bonito" singer truly blew up on the music scene. 2016 was the first time the two artists crossed paths, and Balvin still remembers it as if it was yesterday. Balvin told Complex, "I went with Luian to the hotel, and Bunny was very quiet, shy, but Luian already knew how big he would going to be. I was just meeting up with Benito. But it was always really beautiful when I met him." Balvin was already well-established in the industry, and Bad Bunny happened to be a big fan of his. Balvin shared, "He [Bad Bunny] talked to me about how he loved 'Snapchat,' a song of mine from the album Energía." When Balvin met Bad Bunny for the first time, he knew his talent was undeniable, but the "Ojitos Lindos" singer was also incredibly shy. Despite his quiet demeanor, Bad Bunny and Balvin hit it off and developed a bromance unlike any other.
J Balvin and Bad Bunny never leave each other's side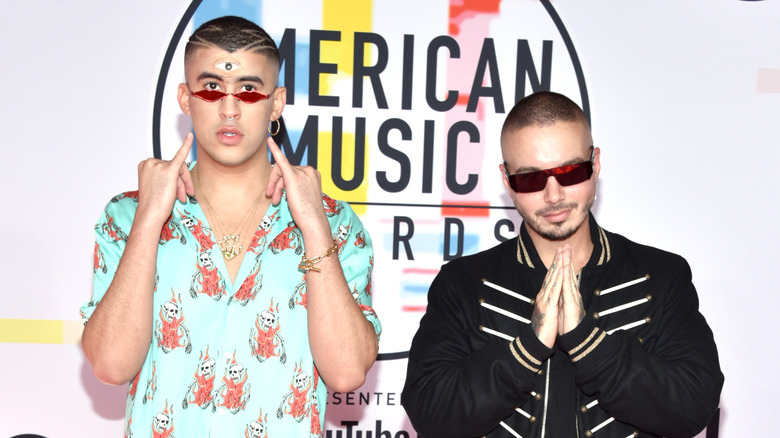 John Shearer/Getty Images
When Bad Bunny and J Balvin first met in 2016, the duo couldn't have predicted the way their friendship would blossom. For them, creating music with one another wasn't enough. In April 2017, the pair attended the Latin Billboard Awards together and performed their collaboration "Si Tu Novio te Deja Sola." Bad Bunny only fueled their bromance as he gushed about his collaborator on the red carpet. He said, "He respects and admires what I do, he likes my work, and for me, it's an honor to work with an artist of that caliber." This was just the first of many get-togethers for the pair.
From the VMAs to Coachella, the two musicians have remained at each other's side. Their bond goes beyond the stage, extending to their off-stage camaraderie. While at Coachella, they enjoyed Zedd's set as they jammed out to the musician's set, as seen in Balvin's Instagram Story. And it doesn't stop there. In 2019, Balvin posted a photo of the two celebrating their success while enjoying a beautiful day on a boat. So, it looks like their constant collaborations have allowed them to create an everlasting friendship.
J Balvin absolutely adores Bad Bunny
Roger Kisby/Getty Images
Although J Balvin and Bad Bunny have found success as collaborators, the true gem that has emerged from their music is the deep friendship they have forged. Balvin could have never anticipated that the shy kid he met in 2016 would become one of his closest confidants, but he appears grateful for their shared bond. So much so that the "Mi Gente" singer has raved about Bad Bunny on several occasions. In 2019, he shared with Entertainment Tonight, "I am proud to say I LOVE Bad Bunny...Working with Benito again has been a musical joy. I am blessed to not only call him my brother, but now a partner on an album that has even become a personal oasis."
And as Bad Bunny's career has continued to grow, Balvin has offered his unwavering support, calling the singer his "brother." In 2022, Balvin honored the Grammy winner after he was awarded Entertainment Weekly's Entertainer of the Year. Balvin shared, "Bad Bunny has broken cultural barriers through music, fashion, and now film — and through it all, hasn't shied away from self-expression and being true to himself." Of course, being a reggaeton musician himself, Balvin is especially appreciative of the cultural effect he has had on music. He said, "I'm incredibly proud of all Benito has accomplished and that he's continuing the Reggaeton legacy by bringing the Latinx culture to the masses." So, regardless of how big their careers get, they will always be there for one another.