Why Did Tisha Campbell And Duane Martin Get Divorced After Over 20 Years?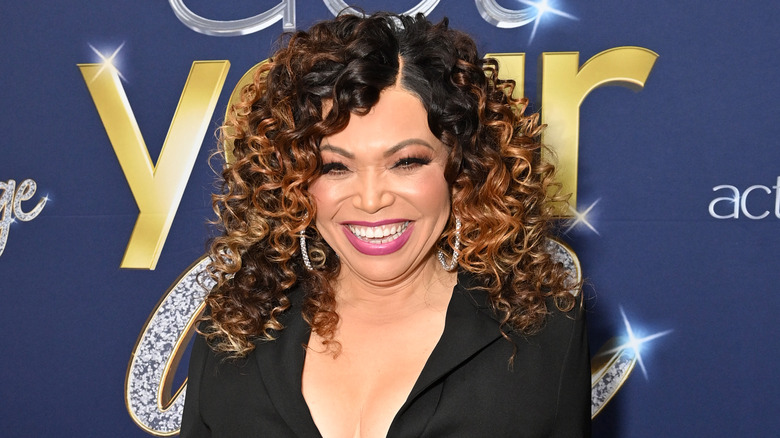 Bryan Bedder/Getty Images
This article includes mention of domestic abuse allegations.
After more than two decades together as a couple, Tisha Campbell announced that she and Duane Martin were divorcing in 2018. So, what led up to their split? 
Before parting ways, Campbell and Martin were often held as the epitome of a long-lasting marriage in Hollywood. In fact, back in 2013, the then-couple was featured in an episode of "The Real" and asked how they managed to stick by one another through it all. "We're winging it, just like everybody else," Campbell laughed. Meanwhile, Martin shared that laughing together and setting boundaries for the way they fought were their keys to success. 
It was a sweet moment, for sure — and Campbell even shared the story of how Martin proposed to her at a Denny's diner. However, just five years later, the couple was no more. In a statement shared with Page Six, Campbell said, "After 27 years of being together and two amazing children, it pains me to announce that I've filed for divorce." The "Martin" alum went on to add that it was a tough situation for everyone involved and appealed for privacy. Soon enough, though, more details began to emerge regarding the nature of the breakup and what had led up to it — and it wasn't pretty. 
There were allegations of abuse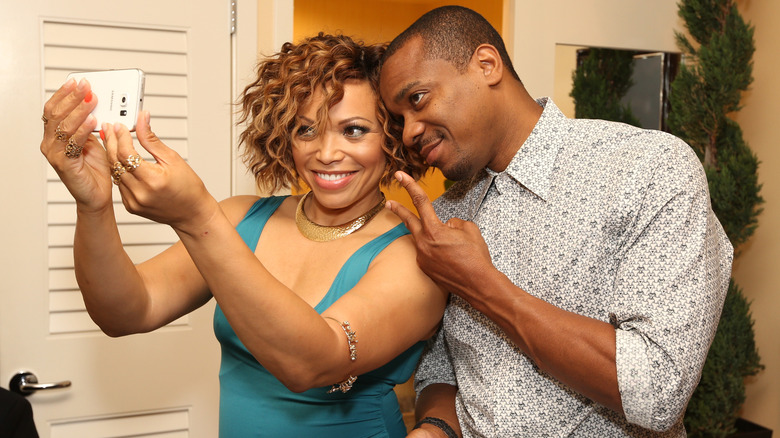 Jesse Grant/Getty Images
Months after Tisha Campbell announced her split from Duane Martin, things took a turn for the worse, and in a very public way. A custody battle ensued, as did an accusation from Campbell that Martin was keeping money from her while they were together. Then, in early 2019, she alleged that he had also been abusive throughout their relationship. 
Campbell requested a restraining order against her then-estranged husband in January 2019. In documents presented to the court and obtained by TMZ, the actor claimed that Martin had been physically, mentally, and emotionally abusive for the two decades they had been together. And, she alleged, that had continued even after they separated. "[Martin] grabbed me by my arm to try to get me in the bedroom," she claimed in court docs a month before seeking the restraining order.
It's possible that was the final straw for Campbell. In her application for the restraining order, the actor said, "I can no longer live in fear of retaliation." The "Act Your Age" star added, "The need [to] press criminal charges for his acts overshadows the embarrassment of making his crimes against me public through this report." Though Martin didn't respond directly to the claims, in filings of his own, he claimed to be concerned about her mental state and alleged she'd been overly emotional during her deposition. Insiders speaking to TMZ were quick to rubbish that, though, chalking it up to what they deemed as his habit of "gaslighting." 
... but their finances played a big role, too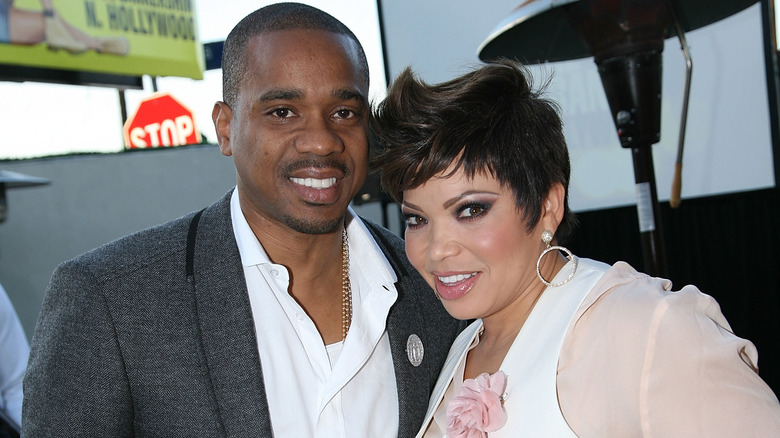 Maury Phillips/Getty Images
On top of the abuse claims, there's no denying that money put considerable strain on Tisha Campbell and Duane Martin's relationship. In fact, sources speaking to People pointed directly at their financial situation as a possible deciding factor in their decision to part ways. 
As fans of the "Martin" alum may remember, in 2016, the then-couple filed for bankruptcy. According to People, court documents showed that it was the same year the couple separated — and as insiders who spoke with the outlet pointed out, that was no coincidence. "With their schedules and money issues, it all played into it," they said. 
Regrettably, the former couple's decision to part ways did not alleviate their financial troubles. Both were denied spousal support, leaving Campbell in dire financial straits, as she revealed in a candid interview with ET. "Nothing in the bank. Nothing. I had, maybe, $7 to my name ... it was like I was starting all over," she recounted tearfully. However, she added that she had made it through despite it all. "Starting over is not always the easiest thing, but it is [a] necessary thing. It is a beautiful devastation," she said. Here's hoping it's only onward and upward from here. 
If you or someone you know is dealing with domestic abuse, you can call the National Domestic Violence Hotline at 1−800−799−7233. You can also find more information, resources, and support at their website.