Meghan Markle Slammed For 'Inappropriate' Dress At Parade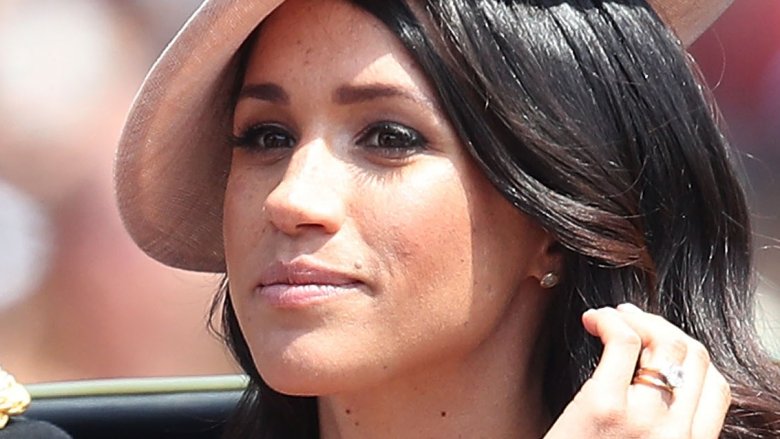 Getty Images
Meghan Markle is apparently in trouble with the masses again.
Page Six reports that the Duchess of Sussex was criticized by some members of the public for her recent wardrobe choice at Queen Elizabeth II's annual birthday parade. On June 9, 2018, Markle appeared with her husband, Prince Harry, and the rest of the royal family at Trooping of the Colour, wearing a light pink Carolina Herrera dress that — gasp! — showed off her shoulders!
As Vanity Fair noted, an "off-the-shoulder" neckline is not a usual style at the birthday event. Markle's sister-in-law, Kate Middleton, has always worn a dress with sleeves that go past her elbows, and her husband's late mother, Princess Diana, always wore a long-sleeved gown.
Considering how the royal family usually dresses to these kinds of functions, some people were not pleased with Markle's outfit, which also consisted of a Philip Treacy hat that she'd previously worn to a garden party days after her wedding. "Off the shoulder is inappropriate day wear at the Trooping or any official engagement," one hater wrote (via Page Six). Another critic shared, "I do feel her choice of an off the shoulder dress was pushing it for HRH Queen Elizabeth's Birthday celebration," adding, "I have a feeling she's going to push the limits a little too much?!"
Of course, while some people were upset with Markle's dress, others were all for it. "The American Princess is the epitome of class, beauty and style. We love Meghan Markle," a fan stated.
"Oh the humanity!! The crown is experiencing such unrest with two barely visible shoulders," another wrote. "Stop it!!"
As Nicki Swift previously reported, Markle is expected to follow certain dress codes now that she's a part of the royal family. For instance, not only is she to avoid exposed shoulders, but she's also supposed to keep her knees covered at all times. Guess we'll just have to wait and see if Markle will break that tradition too.