Mama June Has A Fractured Relationship With Her Daughter Honey Boo Boo Today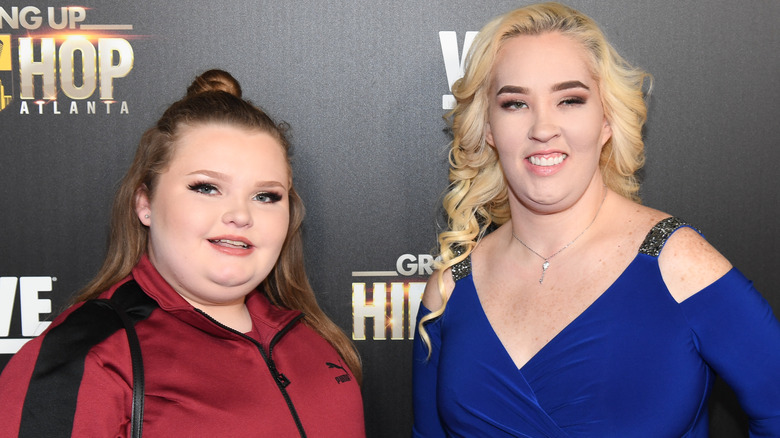 Maury Phillips/Getty Images
Mama June Shannon and Alana "Honey Boo Boo" Thompson once had a close relationship until drugs got in the way. The mother-daughter duo shot to fame when they appeared on TLC's "Toddlers & Tiaras" and then on their spinoff shows, "Here Comes Honey Boo Boo" and "Mama June: From Not to Hot." The family became fractured when Mama June got arrested in March 2019 after being found with drugs and drug paraphernalia at a gas station in Alabama. At the time, Mama June was with her then-boyfriend, Geno Doak, who was arrested alongside her. The reality star pleaded not guilty and received 100 hours of community service, while Doak served 16 months in jail.
Following Mama June's arrest, 16-year-old Honey Boo Boo moved in with her sister Lauryn "Pumpkin" Efird, who became her legal guardian. Mama June insisted that things were good between her and Honey Boo Boo and shared on "Virtual Reali-tea" that they spoke frequently. "I do see her, I do talk to her. We do communicate. So it wasn't like any difference. The only difference is she's not sitting right here beside me in my home every day," she stated. Unfortunately, Honey Boo Boo's take on things is different, and her relationship with Mama June still remains tenuous.
Honey Boo Boo says Mama June has greatly disappointed her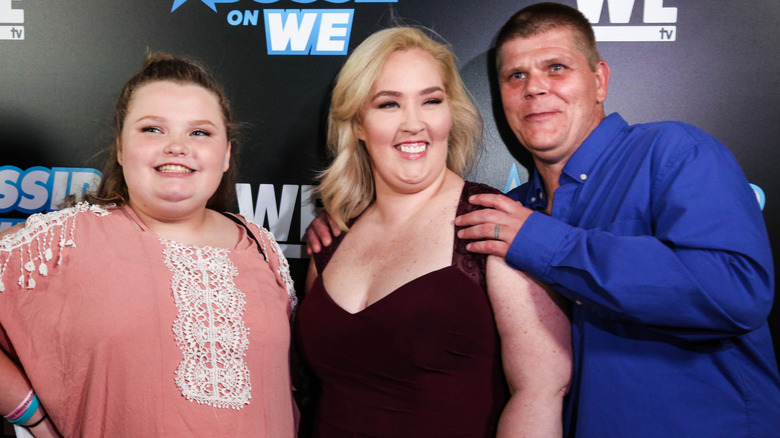 Robin L Marshall/Getty Images
Mama June's upcoming marriage to Justin Stroud should have been a happy time in her life, but if the newest season of "Mama June: Family Crisis" is any indication, Honey Boo Boo still carries a lot of resentment toward her. In the sneak peek, Pumpkin is seen declaring, "You can't even show up for your own f***ing kids and you're worried about a wedding," to which Honey Boo Boo firmly replied, "I'm not going." Pumpkin revealed that they haven't spoken to their mother since they battled it out in court regarding Honey Boo Boo's child support payments. In a later scene, the family attended a therapy session during which Honey Boo Boo shared, "She's disappointed me so much."
News of Mama June's secret March 2022 wedding to Stroud came as a surprise to her family. Pumpkin revealed to E! News that she only found out after she found a receipt indicating her mother had applied for a marriage certificate. "I asked her about it just recently. She denied it. And then eventually she was like, 'Oh, I got married' and we were very, very shocked," she shared. "It definitely did catch me by surprise because Mama was always one to say she would never get married. But I mean, my mom now, she's definitely different," Honey Boo Boo added. Despite her initial reluctance to go to Mama June's second wedding ceremony, the "Toddlers & Tiaras" star ended up being there for her mother.
Honey Boo Boo walked Mama June down the aisle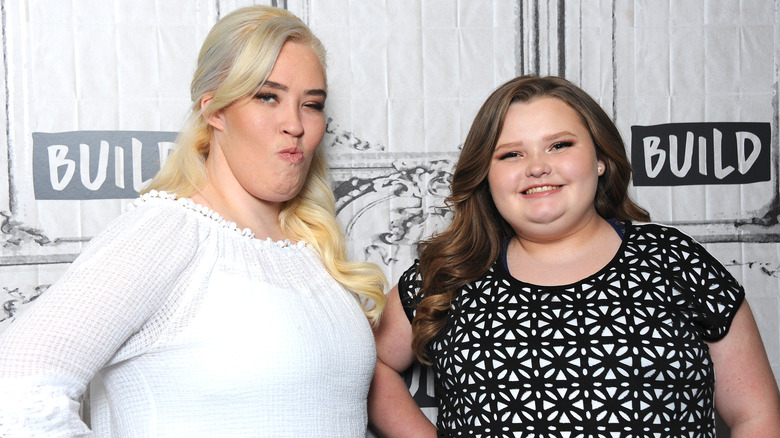 Desiree Navarro/Getty Images
Perhaps the family therapy session featured in "Mama June: Family Crisis" mended things between Mama June and her daughters. As reported by People, Honey Boo Boo, Pumpkin, and her other two daughters from previous relationships, Jessica "Chubbs" Shannon and Anna "Chickadee" Cardwell, were in attendance during her second wedding to Justin Stroud. "This was the first time the family had all been together since 2014. So it was really special to get married in a place where my family and I have had so many memories!" Mama June stated. She revealed, "We wanted to have a small and very intimate wedding, so we didn't have any groomsmen or bridesmaids. All four of my girls walked me down to Justin, and his mom walked him down the aisle."
On March 23, Mama June wrote a lengthy tribute to Stroud for their one-year anniversary. "To the person that ja [sic] the most imperfect person but the most perfect person in my eyes HAPPY 1ST ANNIVERSARY today one year ago I married my best friend," she shared. She went on to call him "amazing" and expressed gratitude for being there for her "girls." It's unclear what the status of her relationship with Honey Boo Boo is now, but hopefully, fans will see some sort of resolution in the upcoming season of "Mama June: Family Crisis."