Mama June Just Took A Major Step In Her New Relationship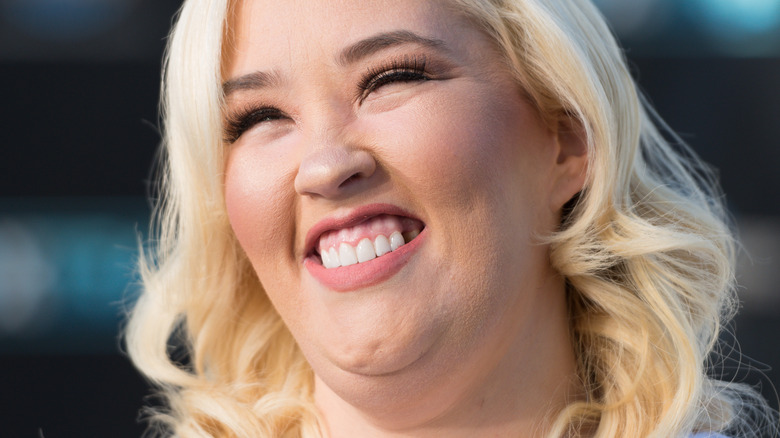 Noel Vasquez/Getty Images
"Mama June" star June Shannon's family is expanding. The U.S. Sun reports that the reality star has become a grandmother again. Her daughter Lauryn "Pumpkin" Efird welcomed twins on May 19. The babies were delivered by C-section, and Efird and the infants spent a few days in the hospital before they were welcomed home. The fraternal twins, a girl and a boy, are the younger siblings of Efird's other two children: Ella (4) and 10-month-old Bentley. A source told the outlet, "Mom and babies are happy and healthy, and [husband] Josh is elated that the babies are finally here." They also revealed, "The girl weighed in at six pounds, one ounce and the boy totaled five pounds, four ounces."
The new baby is not the only addition to Shannon's family. It seems as if Shannon's new man, Justin Stroud, is here to stay. She previously told Entertainment Tonight that, initially, Stroud didn't even know who she was. "And he did tell [the producers], 'No, I don't want to be part of it. I don't want to do it.' He had a full-time job. He owns businesses. He has his own life." And per The U.S. Sun, they were spotted looking at rings in a jewelry store shortly after he was released from jail in March. Of course, their actions ignited rumors about them getting engaged. Now, Shannon and Stroud have let the world know about their future path after he posted a pic on his social media page.
Mama June Shannon and Justin Stroud make a lifetime commitment
June Shannon, who rose to fame as "Mama June," tied the knot with Justin Stroud. They have only been dating for a few months, per The U.S. Sun, but, for them, it was enough.  The outlet learned that Shannon and Stroud have been married for a few months, having already tied the knot on March 23. It seems as if they weren't looking for engagement rings a few months ago, but they were actually considering wedding bands. Shannon, who is nine years older than Stroud, married the auto mechanic and kept it quiet for a few months. They got hitched at a Georgia courthouse and seemingly kept their nuptials simple.
Stroud recently took to Instagram and shared a pic of him and Shannon while they were aboard a plane. In the snap, Shannon sported a large diamond ring, and both wore huge smiles on their faces as they enjoyed each other's company on the plane ride. It certainly seems as if their relationship has its foundation in a solid friendship. She previously told The Sun, "We've known each other going on a year now. We were best friends and we decided to take it to the next step in the last eight months." She also revealed to Entertainment Tonight that she can be vulnerable with Stroud. Shannon said that he is "helping put the pieces [of me] back together, because, like I told him, I'm broken." Congratulations, June and Justin!