How Javier Bardem Became A Hollywood Icon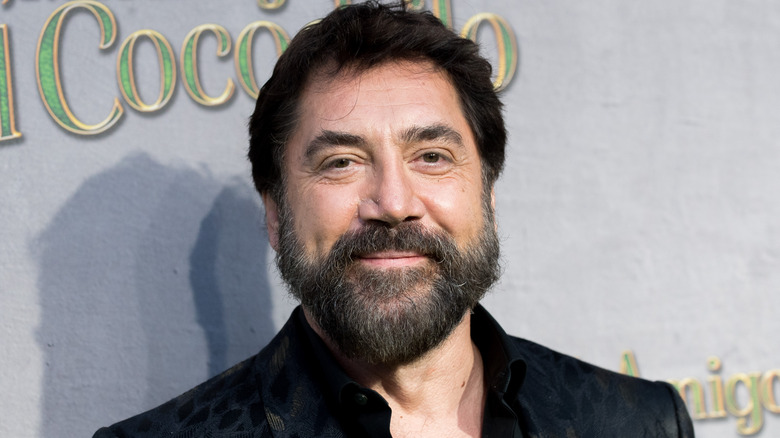 Beatriz Velasco/Getty Images
Javier Bardem seems to have it all. In 2008, he picked up an Academy Award for his terrifying performance as psychopathic and strange-haired hitman Anton Chigurh in the Coen brothers' contemporary western "No Country for Old Men." He's since worked with everyone from Darren Aronofsky and Denis Villeneuve to Alejandro González Iñárritu and Terence Malick. Oh, and he also happens to be married to the one and only Penélope Cruz!
Away from the glitz and glamour of Hollywood, the Spaniard is also a keen philanthropist, serving as a Greenpeace ambassador since 2018, and a man of principles having spoken up about issues as wide-ranging as climate change, the Israel-Gaza conflict, and conflict minerals.
So how did Bardem achieve the seemingly picture-perfect life? From his early passions for painting and rugby to his unusual big break and his blockbuster successes, here's a look at his rise to fame and fortune.
Javier Bardem was born into an acting dynasty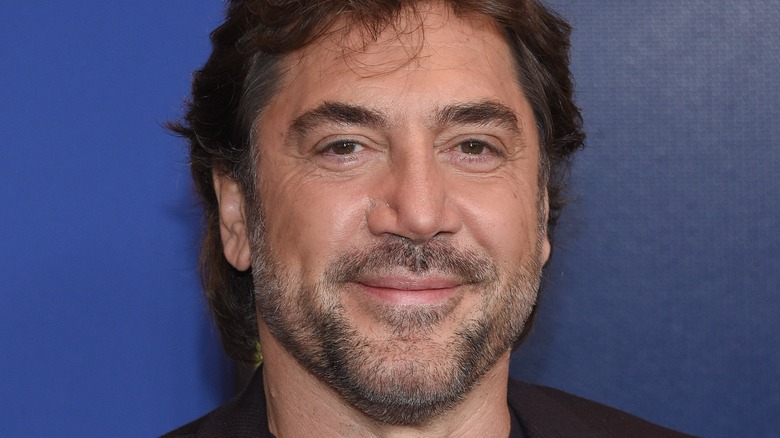 DFree/Shutterstock
It's little surprise that Javier Bardem became an actor once you learn of his heritage. While his estranged father Jose was a cattle rancher, his mother Pilar was a screen regular who in 1996 picked up a best supporting actress Goya award for her performance in the noirish "Nobody Will Speak of Us When We're Dead."
Javier's grandfather Rafael Bardem and grandmother Matilde Muñoz Sampedro were also in the business, as were the latter's sisters Guadalupe and Mercedes. His uncle is Juan Antonio Bardem, a director and screenwriter best-known for his 1950s social realism drama "Muerte de un ciclista." And his cousin is filmmaker Miguel Bardem, who in 2008 adapted the Spanish comic book series "Mortadelo y Filemón."
The family connections don't end there, either. Renowned for playing the bad guy, Javier's brother Carlos Bardem has appeared in "Escobar: Paradise Lost" and "Assassin's Creed," while sister Mónica Bardem enjoyed a supporting role in Pedro Almodóvar's 1993 black comedy "Kika." Javier has appeared alongside his relatives in various films, with 1996's "Not Love Just Frenzy" featuring both of his siblings as well as his future wife Penélope Cruz.
The star initially snubbed acting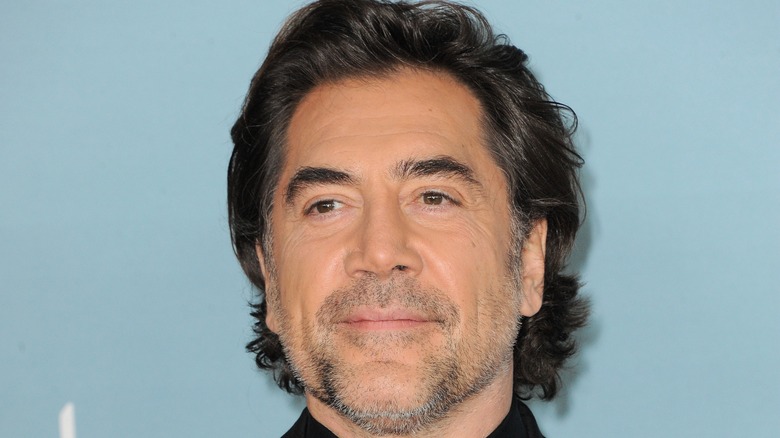 Tinseltown/Shutterstock
Javier Bardem spent much of his early childhood on movie sets and made his screen debut at the age of just 6 in the Fernando Fernán Gómez TV drama "El Pícaro." But these experiences didn't exactly instill a passion for acting. In fact, the Spaniard grew up wanting to pursue another form of the arts: painting.
Bardem studied the subject at Madrid's Escuela de Artes y oficios for four years, taking small acting jobs on the side to make ends meet. The self-aware star eventually realized that he wasn't talented enough to make a career out of painting. But even then, he found it hard to imagine following in his family's footsteps full-time.
Indeed, Bardem also nearly quit acting altogether in 1989 after being forced to dress up as Superman for "El Día Por Delante," a Spanish sketch show. But luckily, the future Academy Award winner had second thoughts. And within a year, that decision had well and truly paid off.
Javier Bardem gave up his rugby career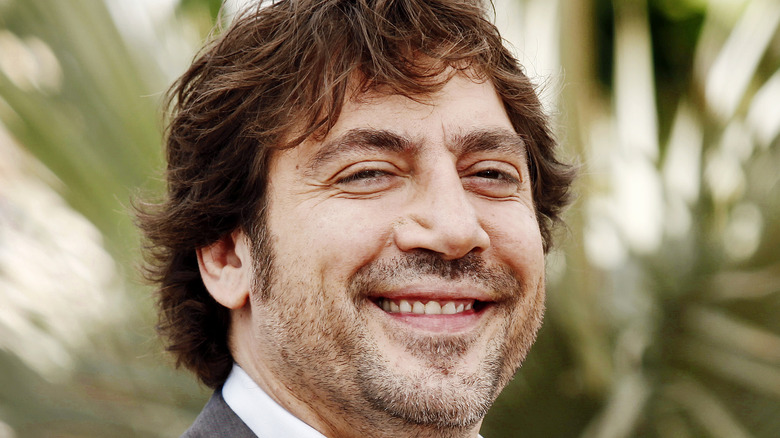 Andrea Raffin/Shutterstock
As well as pursuing an interest in painting and acting during his formative years, Javier Bardem also showed a talent for rugby. In fact, the multi-talent even made the Spanish under-21 team as a prop forward and flanker.
Unfortunately, one of his other interests had a negative side effect whenever he took to the field. Indeed, Bardem's early success as an actor made him a target for the opposition, and he often essentially found himself being kicked more than all of his teammates combined. In an interview with The Guardian, he insisted this wasn't the reason he eventually waved goodbye to the sport, admitting, "I retired from rugby because I was old and getting really slow."
Although Bardem once claimed to Wonderland that "playing rugby in Spain is like being a bullfighter in Japan," he did tell AskMen that he remains forever grateful for being introduced to the sport: "I started playing rugby when I was nine years old and that was one of the best gifts life — and my brother, who was the one who brought me to rugby — has ever given to me because that put me in the mind of doing sports."
A physical fight inadvertently launched his career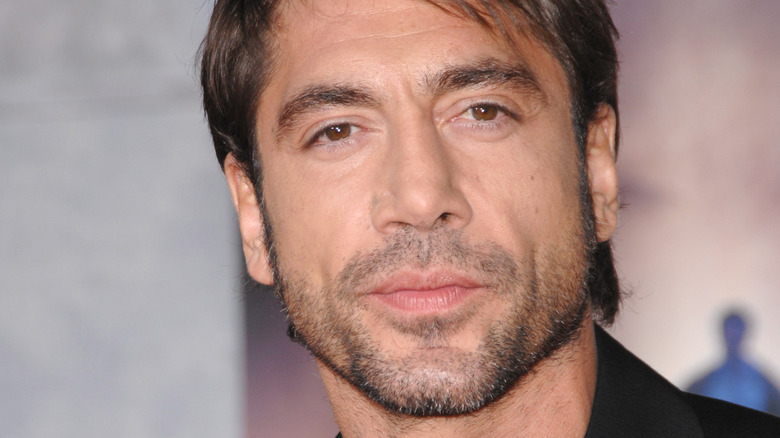 Featureflash Photo Agency/Shutterstock
The manner in which Javier Bardem got his big break must surely count as one of the all-time most violent. Indeed, while out on the town in 1989, the young Spaniard complimented a fellow clubgoer, but the lady's boyfriend and several of his pals didn't appreciate this at all. After leaving the club, Bardem was assaulted by the group. He ended up suffering extensive damage to his face. It was so bad, in fact, that his family prevented him from looking in a mirror at the hospital. When Bardem was able to see his face, the future Oscar winner believed that his leading man prospects had all but evaporated.
Luckily, Bigas Luna had a different viewpoint. The filmmaker believed that Bardem's facial features, particularly his bent-out-of-shape nose, made him an ideal candidate to play ruthless pimp Jimmy in 1990's "The Ages of Lulu." And the rest is history.
The Spanish actor became a national star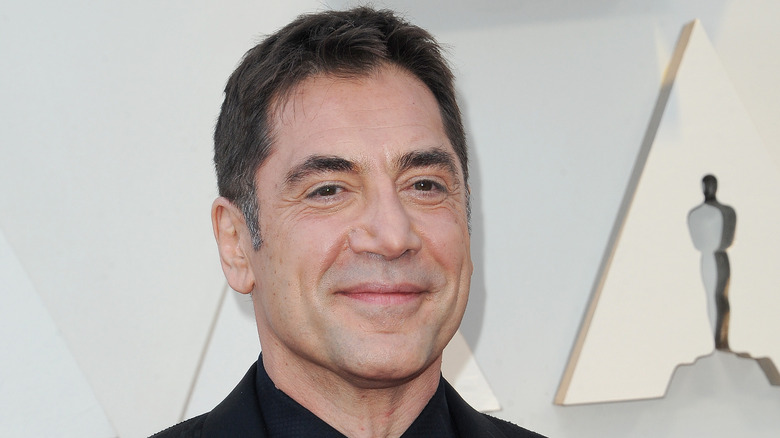 Tinseltown/Shutterstock
After impressing with a small part in "The Ages of Lulu," an erotic drama which perhaps bizarrely also featured his mother Pilar, Javier Bardem got the chance to work with one of Spain's most prominent filmmakers. The actor played a floor manager in Pedro Almodóvar's 1991 melodrama "High Heels," and from then on he never looked back.
A year later, Bardem bagged his first major leading role, underwear-modeling bullfighter Raúl in Bigas Luna's "Jamón Jamón," a romantic comedy in which he played opposite his future wife Penélope Cruz. The movie proved to be a major domestic hit, topping the box office chart, while both its stars picked up nominations at the country's biggest movie ceremony, the Goya Awards.
Bardem then consolidated his A-list status with performances in Luna's follow-up, "Huevos de oro," thriller "El detective y la muerte," and sex comedy "Boca a boca." By this point, he was also starting to attract the attention of some pretty big names across the other side of the Atlantic, too.
John Malkovich encouraged him to learn English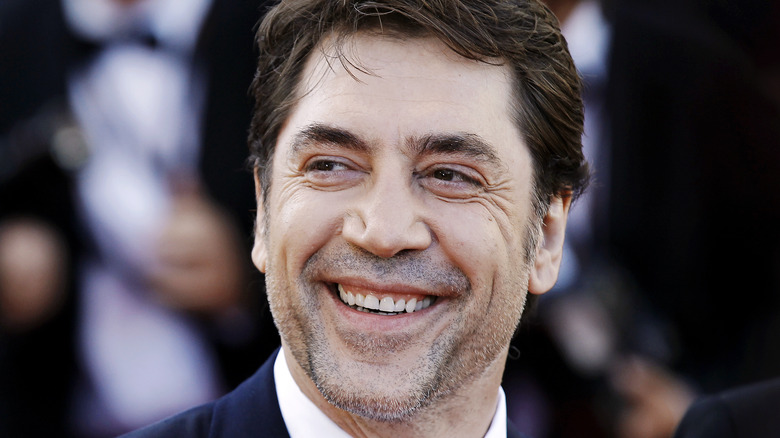 Andrea Raffin/Shutterstock
In 1997, Javier Bardem made his English-speaking screen debut in the multi-lingual crime drama "Perdita Durango." But as the star admits himself, his grasp of the language at the time was rudimentary at best. So it was a surprise when later that same year, John Malkovich approached him to play the lead in his directorial debut "The Dancer Upstairs."
In an interview with the BBC five years later, Bardem recalled, "Nobody knew me out of my country and it was, 'What is this guy doing, talking to me in Spain? I can barely say anything in English and he is giving me this role that I cannot even read!' He was like, 'No, I want you. Don't worry, you will learn English, you will do it.' He was so confident."
With a little help from the music of AC/DC, Bardem managed to improve his English in time to play Detective Agustin Rejas in the crime thriller which hit cinemas in 2002. The reluctant star also earned rave reviews for his performance and later thanked the man who put so much faith in him, telling Salon, "Working with John Malkovich was like a master class. He's a very sweet man, a very, deeply, extremely clever and smart and intelligent guy who I will never have anything to talk about with ... He knows a lot about a lot of things, but he never makes you feel stupid about it." 
Javier Bardem makes Oscars history
Matteo Chinellato/Shutterstock
Not for the last time, Javier Bardem broke new ground for Spanish actors in 2001 when he became its first ever countryman to be nominated for the Best Actor Academy Award. The star received the honor for his performance as Reinaldo Arenas in Julian Schnable's biopic "Before Night Falls."
Then still a relative unknown in Hollywood circles, Bardem perhaps inevitably lost out at the 73rd annual ceremony to Russell Crowe's turn in the blockbuster "Gladiator." But the actor could take consolation from the fact that he received a gushing answerphone message from one of his cinematic heroes.
Indeed, Al Pacino was so impressed with Bardem's portrayal of the Cuban poet that he asked a mutual acquaintance for his number. The star, who would later pick up one of those coveted statuettes, later told The Guardian how much Pacino's words meant to him: "I keep that tape with me. It's one of the most beautiful gifts I've ever received. I don't care whether it's a lie or not, whether he was just being nice or not. I have it."
He makes his Hollywood debut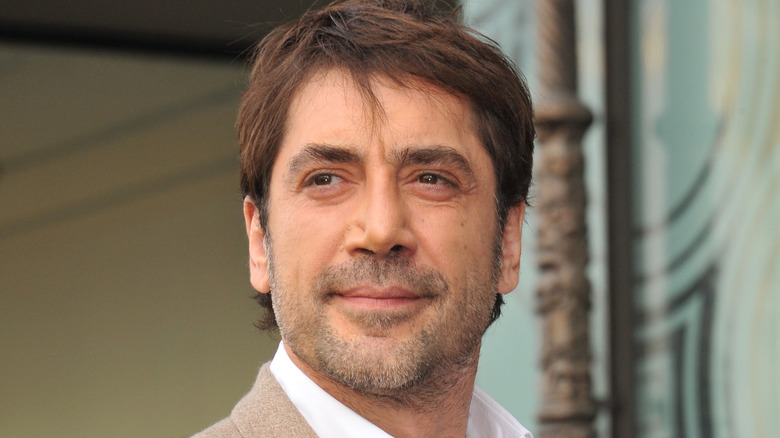 Featureflash Photo Agency/Shutterstock
Javier Bardem waited a while to parlay his Oscar-nominated success with "Before Night Falls" into a Hollywood career. It was only in 2004, three years after picking up his first best actor nod, that he made his debut on a big-budget American film. And unsurprisingly, it wasn't exactly as the comic relief in a colorful blockbuster.
Indeed, working alongside the likes of Tom Cruise, Mark Ruffalo, and Jamie Foxx, Bardem appeared as menacing drug lord Felix Reyes-Torrena in the stylish neo-noir "Collateral." Yet when asked about the movie by the BBC a year later, he appeared rather blasé about the whole experience.
"The 'Collateral' thing was what I call an act of curiosity," Bardem said. "Michael Mann asked me to go there, it's a cameo, and it was a way for me to see the inside of a so-called Hollywood, high budget kind of movie. It's fine, but it's the same as playing in a normal Spanish movie. They say 'action', they say 'cut', and you have to be ready. There are more people with microphones all around, you know? But that doesn't work at all. I was after a glass of water and I had to stand up and get it myself." Of course, the fact he had to procure his own beverages didn't put the star off from working in America.
The star makes Oscars history again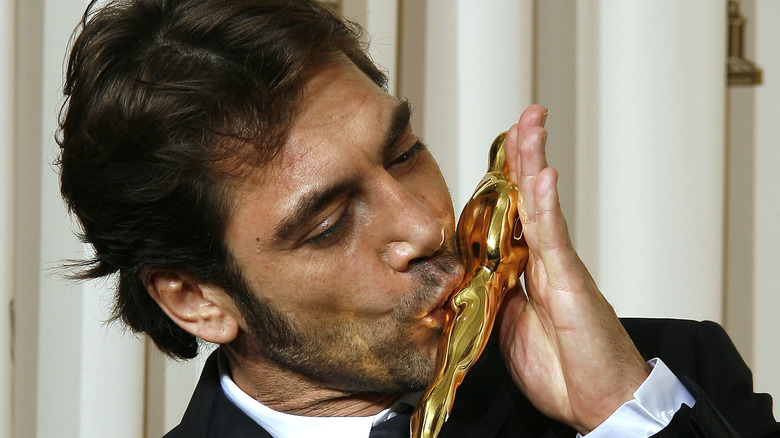 Vince Bucci/Getty Images
Seven years after becoming the first ever Spaniard to receive a best actor Academy award nomination, Javier Bardem made history once again when he became his first countryman to win best supporting actor. The star was recognized for his villainous performance as the seemingly unstoppable killer with a killer bob, Anton Chigurh, in the Coen brothers' neo-western "No Country for Old Men."
The role was a dream come true for Bardem, who ever since watching "Blood Simple" had always aspired to work with the filmmaker siblings. He once explained to The Irish Independent, "I mean, they always make these very deeply American movies where there's no obvious role for a foreigner, so when it happened I just couldn't believe it. I'm so proud to belong to a Coen brothers movie."
Bardem also had to pinch himself when he beat the likes of Casey Affleck for "The Assassination of Jesse James by the Coward Robert Ford" and Philip Seymour Hoffman for "Charlie Wilson's War" on the film industry's biggest night of the year as he told The Guardian, "When I won the Oscar, I felt great, but it didn't make any sense. It was more: 'Wow, what is this? I need to earn this now so they don't take it out of my hands!'"
Javier Bardem is part of a Hollywood power couple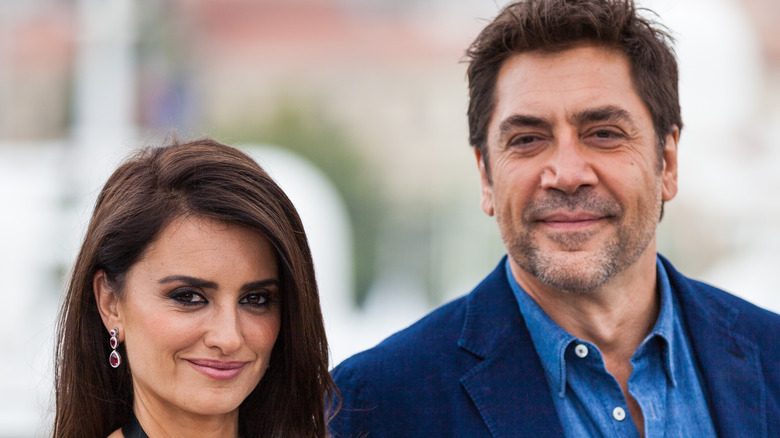 taniavolobueva/Shutterstock
Javier Bardem found himself in the tabloids in 2007 when he started dating Penélope Cruz, the Spanish star who he'd previously co-starred with in films such as "Jamon, Jamon" and "Not Love Just Frenzy." The pair actually got together while working on another movie, Woody Allen's "Vicky Cristina Barcelona," for which they both picked up nominations at the Golden Globes.
In 2010, the power couple decided to get wed at an intimate ceremony in the Bahamas. A year later, they became parents for the first time with the birth of son Leo, and in 2013 they welcomed daughter Luna into the world. Although the pair prefer to keep their private life private, Bardem makes sure to give a shout-out to Cruz whenever he wins an award: see the gushing speech he made while picking up Best Actor at the Cannes Film Festival, for example. 
Nearly a decade on, Bardem told Vulture that he and Cruz always make sure to separate their careers from their home lives: "We work as hard as we can, but we recognize how hard we can work depends on each other's needs. It's important not to be confused by fiction. Fiction is fiction, reality is its own thing ... You must always know when you're working on a level of re-creation, outside of real life. Penélope and I, we have to protect the 'us.'"
Becoming a Bond villain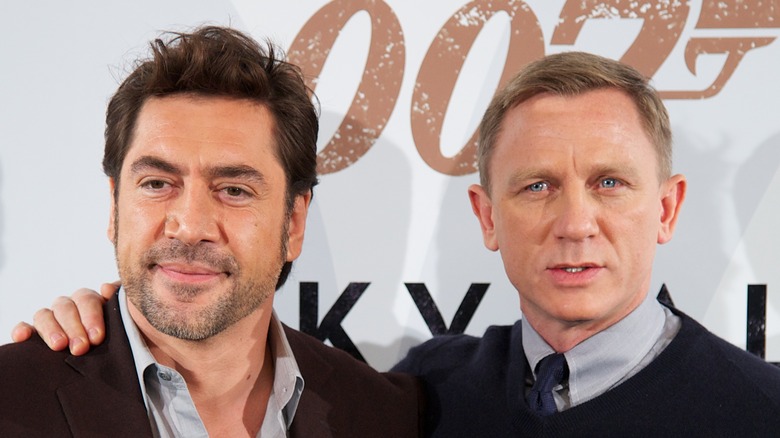 Carlos Alvarez/Getty Images
Having previously convinced portraying fearsome villains such as strange-haired hitman Anton Chigurh in "No Country for Old Men" and drug lord Felix Reyes-Torrena in "Collateral," Javier Bardem got the chance to play the ultimate bad guy in 2012: a Bond villain.
The Spaniard was cast as cyberterrorist Raoul Silva in Daniel Craig's third outing as 007, "Skyfall," and once again debuted a dramatic new hairstyle — this time a blond cut which made him resemble Wikileaks founder Julian Assange. The commitment paid off, with Sight and Sound's Henry K. Miller writing that Bardem was "the most authentically Bondian Bond villain in decades."
In an interview with Den of Geek, Bardem admitted he was initially overawed by the sheer scale of the film: "I can't even imagine something bigger than this. When you're reading the material, you don't want to work under the pressure that you're doing something iconic or part of a beloved franchise. But when you go to these amazing sets, you're just [gasps] my God. It's impossible to forget."
Javier Bardem became a family favorite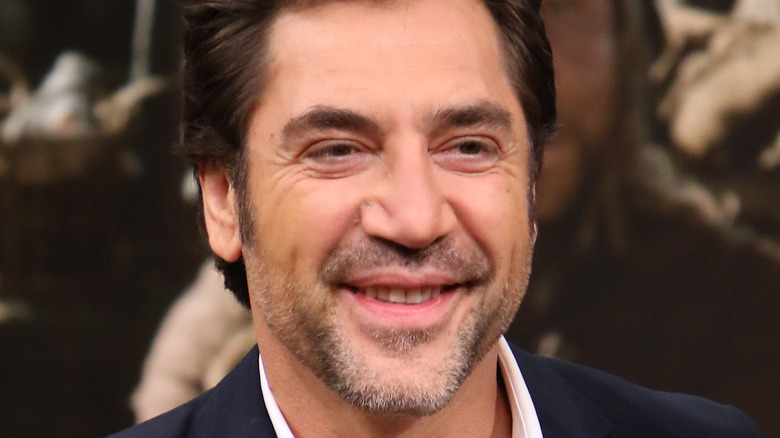 Alexander Tamargo/Getty Images
After two decades of playing some of the most terrifying villains in recent cinematic history, and perhaps inspired by the fact that he now had two little ones with wife Penélope Cruz, Javier Bardem decided to embrace his lighter and more cartoonish side.
Indeed, in 2022, he signed up to voice the role of the titular amphibian's magician mentor Hector P. Valenti in live-action/animation "Lyle, Lyle Crocodile." A year later, Bardem lent his tones to the role of ruler King Triton in the similar hybrid "The Little Mermaid." And then he reunited with "Meet the Ricardos" co-star Nicole Kidman to play King Solon to the Aussie's Queen Ellsmere in Apple TV+ original "Spellbound."
When asked by Moviefone what attracted him to "Lyle, Lyle Crocodile," Bardem confirmed that his own offspring, Leo and Luna, were the main inspiration: "First of all, to be able to be in a movie that is not the kind of movie I'm used to do, and explore that world, but most important to be in a movie that my kids want me to do because they will love the idea of me playing a role in front of a crocodile that sings. So that was a big part of it."
He is also a keen activist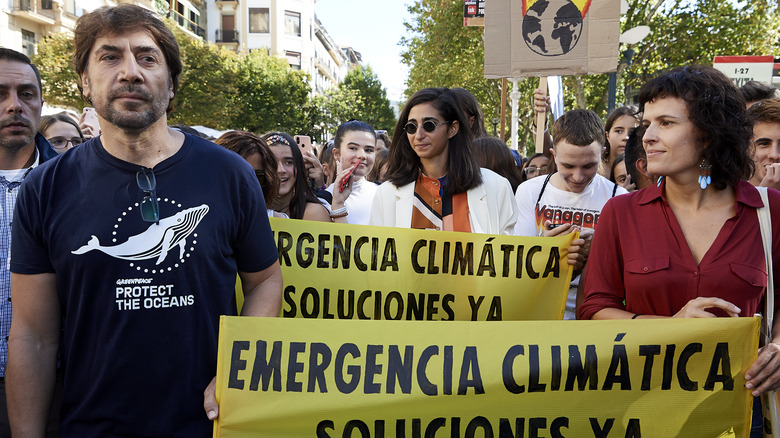 Carlos Alvarez/Getty Images
You can't truly be a Hollywood icon these days unless you align yourself with a cause. And as one of Tinseltown's most outspoken leading men, Javier Bardem has found himself fighting for numerous ones.
The actor is a keen advocate for LGBTQ rights, for example. In 2005, he was quoted as saying (via The Independent), "I would get married tomorrow, just to f*** with the Church" in the wake of Spain legalizing gay marriage. Six years later, he joined forces with The Enough Project to shine the spotlight on eastern Congo's conflict mineral trade. And in 2019, Bardem famously called then-President Donald Trump and Madrid mayor José Luis Martínez-Almeida stupid in an on-stage speech at the March for Climate.
Speaking to GQ about "Sons of the Clouds," a documentary about human rights abuses in the one-time Spanish colony of West Sahara, Bardem insisted that his actions weren't simply performative: "I've always belonged to the street, and I always will. It's in my DNA. I don't think about it."
Javier Bardem cornered the market in playing real figures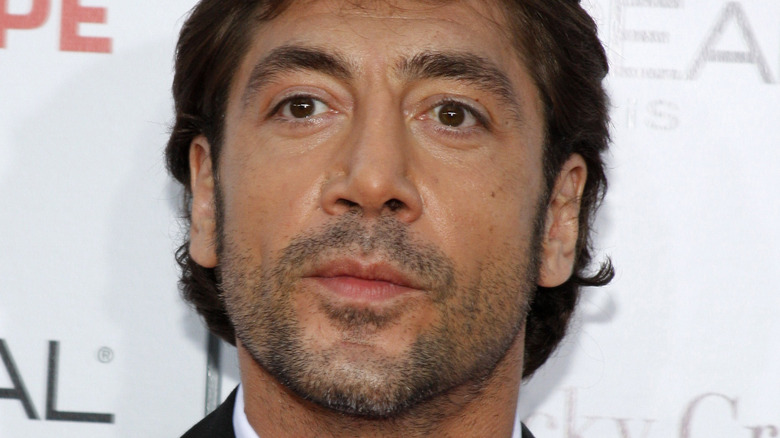 Tinseltown/Shutterstock
What do notorious drug lord Pablo Escobar, Cuban poet Reinaldo Arenas, and "I Love Lucy" star Desi Arnaz all have in common? Well, they have all been portrayed on the big screen by Javier Bardem, the Spaniard who appears to be the go-to actor when it comes to casting biopics.
As well as fronting "Before Night Falls," "Loving Pablo," and "Meet the Ricardos," Bardem has also depicted quadriplegic writer Ramón Sampedro in "The Sea Inside." And in an interview with Awards Watch, the Oscar winner revealed how he manages to inhabit so many different real-life individuals so effortlessly.
"It's about really getting as close as you can in terms of physicality and parallel behavior," Bardem said. "That includes the voice, the walking, the movement. But overall, what is the thing that strikes you the most? What is that specific thing of that character, of that personality, what is it what you receive as a main personality trait that speaks volumes to you and that you feel that has to be portrayed? Because that will define who he was and what he meant as a person, as an individual, for everyone, for society and for himself."