RHONJ: Did Teresa Giudice's Daughter Gia Get Plastic Surgery?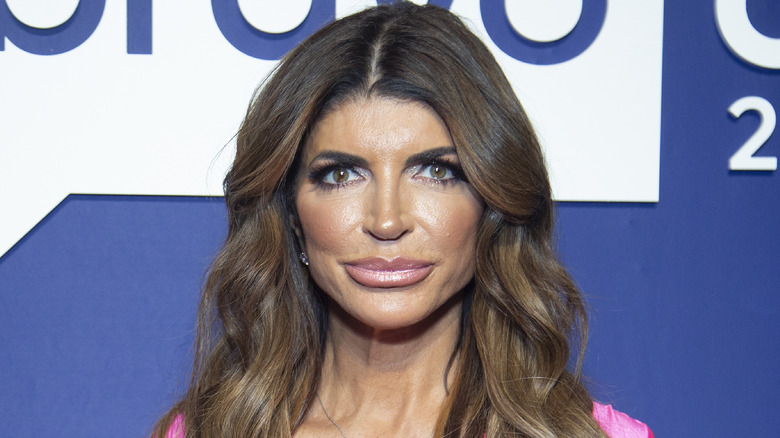 Santiago Felipe/Getty Images
She hasn't always been a fan favorite, but Teresa Giudice sure brings the drama to "The Real Housewives of New Jersey." Since coming on the show in Season 1, Teresa has taken viewers on a rollercoaster journey chronicling her life, which is not short of its own share of troubles. For instance, while on the show, Teresa separated from and divorced Joe Giudice, her husband of 20 years, and dealt with their legal and financial struggles. On "RHONJ," we also saw Teresa navigate grief following the death of her parents. But through all of life's many challenges, Teresa stays committed to looking and feeling her best.
Over the years, the reality star has been open about her cosmetic procedures. In November 2021, Teresa confirmed that she underwent rhinoplasty, having had an issue with how the tip of her nose looked. "I don't know if anybody knows, but I did get the tip of my nose done and I was so nervous about getting it. So I guess I got a nose job — the tip of it," she revealed according to The U.S. Sun. The nose job announcement came only a year after the "RHONJ" star shared through Instagram that she was getting a breast augmentation.
However, Teresa is apparently not the only Giudice to have caught the cosmetic surgery bug — her oldest daughter Gia is seemingly treading in her footsteps.
Gia Giudice got a nose job as a teenager
In July 2020, Gia Giudice revealed she had gotten a nose job. She was 19 at the time. "Yes I got a nose job. Yes I'm swollen," she captioned a photo of herself posing with her mom Teresa, according to People. "Thank you so much @drtobiasnyc I'm absolutely in love with it. I am an adult now, this has been an insecurity of mine for a while and I've never been happier and so comfortable in my own skin!!" Seemingly sending out her seal of approval, Teresa shared the same picture with the caption, "My first born I adore you." Of course, this was a far cry from Teresa's previous stance about her kids getting plastic surgery done.
Speaking to Life & Style in 2019, Teresa shared that she would only agree to her daughters — Gia, Gabriella, Milania, and Audriana — having cosmetic surgery once they are over the age of 21. "I'm all about plastic surgery but not [for] teenagers," she told the outlet. "I mean I guess you know, after your 20s, if you want to do something like after 21 ... You got to make sure your body's fully grown. Or I know like young girls get their noses done and I think, you know, if you got a big nose, you might as well fix it. Why not?!" Well, looks like Teresa had a change of heart real fast!
Gia Giudice has had other work done
In 2021, only one year after getting her nose job, Gia Giudice underwent another procedure that she shared on social media. Taking to her Instagram Story, Giudice documented a visit to a plastic surgeon as she got fat removed and her body shaped through the Emsculpt Neo procedure. "I'm so excited, this is my first time doing it and I'm so excited to see the results," she said, according to The U.S. Sun. That same day, Giudice showed herself getting some laser work done on her face — a procedure targeted at reducing the appearance of acne scars. "I was very prone to acne growing up which left me with acne scars... I can't wait for them to be off my face," she captioned. But Gia's list of procedures doesn't end here, as the "RHONJ" star also once had work done to her underarm.
Taking to her Instagram yet again, Gia shared in July 2020 that she underwent a procedure to permanently prevent her underarms from sweating. "Have you ever been annoyed about underarm sweat stains on your brand new blouse? Or white deodorant marks on black outfits? I sure have, but I'm excited to say bye-bye to both," she wrote at the time, according to Us Weekly.
Given how transparent she has been with her procedures, Gia has faced backlash on social media. However, she doesn't seem to care and has continued to live life on her own terms.