Teen Mom's Farrah Abraham Arrested After Alleged Fight With Hotel Employee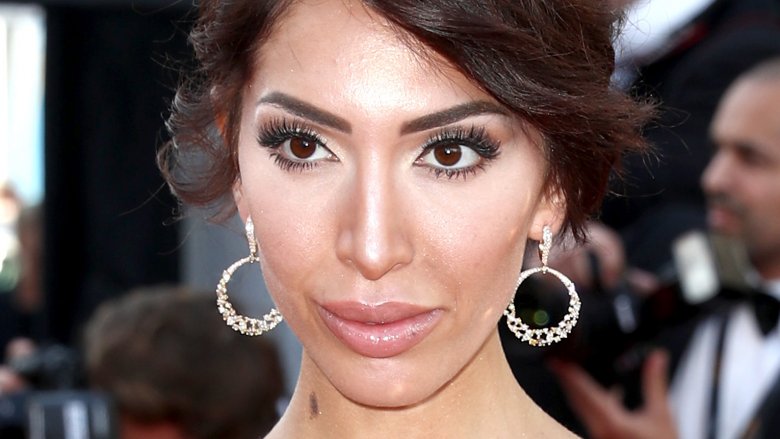 Getty Images
UPDATE:
Farrah Abraham can be heard cursing at police prior to her arrest for misdemeanor battery and trespassing in new video footage obtained by TMZ on Wednesday afternoon, June 13, 2018.
"So if you want to f**king bulls**t me and if you want to act like I'm not a real adult, go f**k yourself," the former MTV star appears to tell cops while sitting outside the Beverly Hills Hotel. "Where am I battering anyone?" she went on, adding, "I did not attack, or batter, or hurt, or injure ... I am a normal individual. It's pathetic."
As Abraham continued, she appeared to tell police, "I am not going to be provoked to be arrested." Later in the video, she can be heard yelling, "I'm not resisting you!" and "You're hurting me!"
Since the news of Abraham's arrest first broke Wednesday morning, her rep has released a statement to Us Weekly. "At this time, we thank everyone for Farrah's concern and will assure that when she is released Farrah will release a statement on her behalf," the statement read. "Farrah will return and continue to focus on her businesses and her daughter, [who] is her No. 1 priority. Please remember there are two sides to every story!"
ORIGINAL REPORT:
Farrah Abraham was taken into police custody early Wednesday morning, June 13, 2018.
The Teen Mom alum was arrested after allegedly fighting a male staffer at the Beverly Hills Hotel late Tuesday evening, TMZ reports.
According to law enforcement sources, the reality TV star got into a heated argument with a hotel security guard following a verbal altercation with other guests, during which time she was asked to leave. After refusing to go, she reportedly struck the employee "in the face with her forearm, grabbed his ear and pushed his head as he tried preventing her from reentering the hotel." 
While the guard obtained minor injuries during the incident, the gossip rag reported that he did not need to go to the hospital for treatment.
Once cops arrived on the scene, the 27-year-old allegedly told them she was a celebrity, while yelling, "You should know who I am." Abraham, who reportedly "displayed signs of intoxication," was booked for battery and trespassing at around 2 a.m. At the time of this writing, she is being held on $500 bail at the Beverly Hills Jail.
While Abraham, her reps, and the Beverly Hills Police Department have yet to comment on the incident, the hotel's communications director has since released a statement to Us Weekly. "We can confirm there was an incident involving a patron in the Polo Lounge this morning," the statement read. "As this is an ongoing investigation with the Beverly Hills Police Department, we are unable to provide any further comment at this time."
As the magazine noted, this is not the 16 and Pregnant alum's first run-in with the law. In March 2013, she was arrested for an alleged DUI in Omaha, Neb. She later pleaded guilty to the charge. In addition to receiving six months of probation and six months of court-mandated sobriety, she agreed to pay a $500 fine after striking a plea deal. "[It was] really nuts," she later told Us Weekly. "But you know what? Going through hell and back, I feel like I have learned a lot."