Why Taylor Swift Didn't Like To Talk About Her Relationship With Joe Alwyn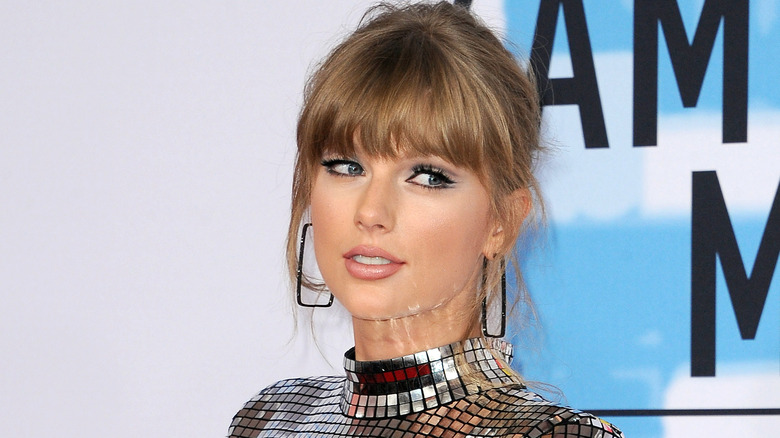 Tinseltown/Shutterstock
Taylor Swift is no stranger to having her name plastered all over headlines, especially when it comes to her dating life. To be fair, she has been pretty open about her relationships in the past. After her brief fling with Joe Jonas, she told the world that he had broken up with her over the phone. When promoting her album "Fearless" in 2008, Swift told Ellen DeGeneres that one particular song was about Jonas, whom she called an "ouch." She went on to say, "When I find that person that is right for me and he'll be wonderful. And when I look at that person, I'm not even going to remember the boy who broke up with me over the phone in 25 seconds when I was 18."
Over the years, Swift has had many other high-profile relationships with stars such as Jake Gyllenhaal, Harry Styles, and Tom Hiddleston. Swift and Hiddleston's romance appeared to form out of nowhere after they danced together at the 2016 Met Gala. The two were then spotted canoodling in public and traveling together. Many fans thought their relationship was staged and slammed the pair as a fake publicity stunt. The couple broke up just four months after their whirlwind romance. Following the onslaught of media attention, Swift began her relationship with Joe Alwyn a bit more quietly, and during their six years together, they mainly stayed out of the limelight — which was deliberate.
Taylor Swift set boundaries with the media to protect her relationship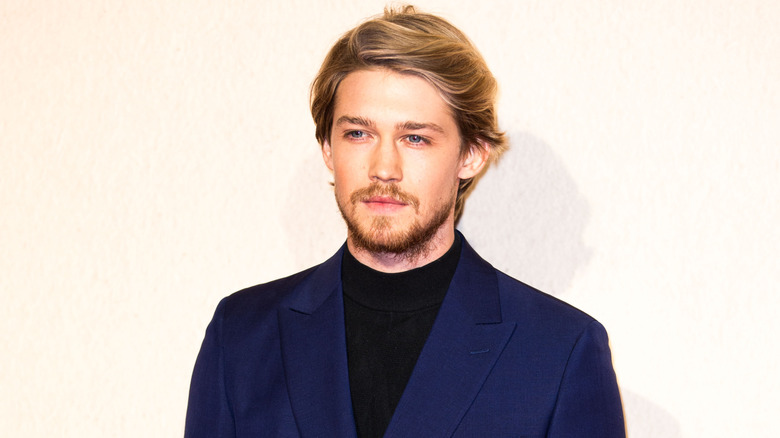 Tom Rose/Shutterstock
Following her very public breakup with Tom Hiddleston, Taylor Swift kept her new relationship with Joe Alwyn on the down-low for months before The Sun reported that they were together in 2017. Swift regularly visited Alwyn in his London home and went to great lengths to avoid being seen, wearing disguises and flying privately. Swift and Alwyn were seen together publicly during the 2017 Jingle Bell Ball, and then enjoying a low-key vacation in Turks and Caicos in 2018. "Joe has really showed her a different lifestyle and the value of privacy. She's the happiest she's ever been," a source told Us Weekly.
Swift heeded Alwyn's advice and rarely mentioned him in the media. "I've learned that if I do, people think it's up for discussion, and our relationship isn't up for discussion ... That's where the boundary is, and that's where my life has become manageable. I really want to keep it feeling manageable," she told The Guardian. She later shared in Rolling Stone, "I think that in knowing [Joe] and being in the relationship I am in now, I have definitely made decisions that have made my life feel more like a real life and less like just a storyline to be commented on in tabloids." While Swift and Alwyn kept a low profile, he was regularly seen at her concerts, but his lack of presence at her Eras Tour made many people question the status of their relationship.
Taylor Swift and Joe Alwyn's breakup was reportedly amicable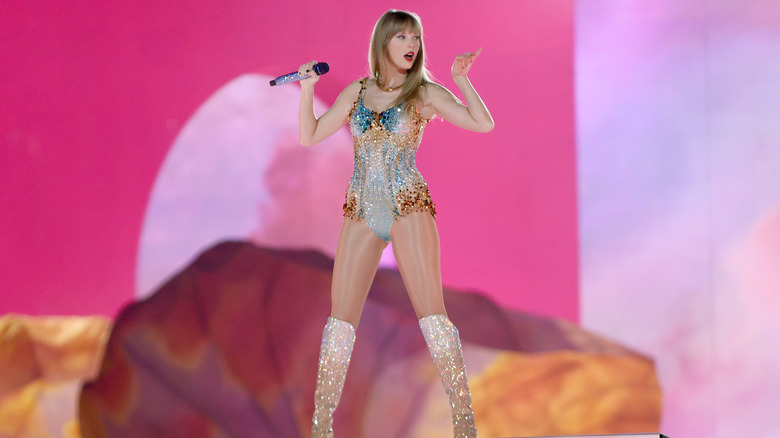 Omar Vega/tas23/Getty Images
Like the start of their relationship, Taylor Swift and Joe Alwyn broke up in the quietest way. A few weeks after their split, a source told Entertainment Tonight the breakup was "not dramatic" and the "relationship had just run its course. It's why [Alwyn] hasn't been spotted at any shows." While Swift and Alwyn have not yet commented on or confirmed their breakup, she may have left a clue that all was not rosy between them when she swapped her love song "Invisible String" from her Eras Tour setlist with "The 1," which is a song about a past love. The switcheroo first occurred at her March 31 concert and Swift addressed the change in a cheeky exchange with the audience. "Let one thing be known about the Eras Tour ... You think you can just scroll and know the setlist ... Let it be said about the Eras Tour. We're tricksy! We enjoy a healthy set of hijinks" (via Twitter).
Many Swifties believe "Invisible String" is about Alwyn, as the lyrics mention her soulmate's past job at a "yogurt shop," which was one of the actor's first jobs. "I did have this one job in London. Do you know that frozen yogurt place, Snog? Exceptional! I mean, I was paid some money," he said in a 2020 interview with Red, according to one Alwyn fansite. Swift dropping the song from her tour may have been an Easter egg revealing her breakup with Alwyn.