Is Katie Holmes Still Close With Any Of Her Dawson's Creek Co-Stars?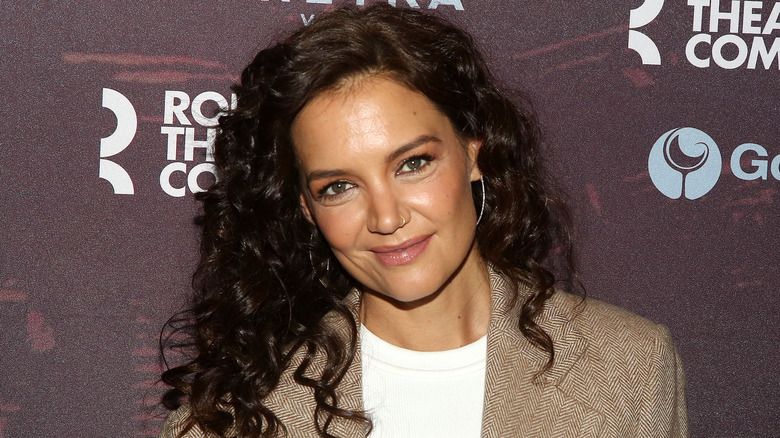 Bruce Glikas/Getty Images
When "Dawson's Creek" hit television screens in 1998, it reshaped the teen drama series landscape and changed the careers for the show's stars: Katie Holmes, James Van Der Beek, Michelle Wiliams, and Joshua Jackson. Not only did exposure from being on the hit WB series impact the careers of the young actors, but it also bonded the cast. "I fell in love, I had my first love, and it was something so incredible and indescribable," Holmes told Rolling Stone in 1998 after the show's first season. She had a romance with Jackson, which did not last, but he became one of her "best friends." The series came to a wrap in 2003, and over a decade later the "Pieces of April" star still had fond memories. "I don't know if I have moved past it, but I don't really care," she told Elle Canada in 2014 when asked about working on "Dawson's Creek."
That same year, Holmes gushed about her former castmates. "I love them all so dearly. I'm so excited for everyone and proud," she told Us Weekly. Holmes was not the only "Dawson's Creek" alum who enjoyed their time on the breakout drama, though. "You know, we all still keep in touch and support each other," she said of her co-stars.
However, Busy Phillips — who joined the show in Season 5 — said in her 2018 memoir, "This Will Only Hurt a Little," that the cast had grown apart by the time she arrived. Later, several cast members reconnected following a reunion.
Not everyone was invited to the group chat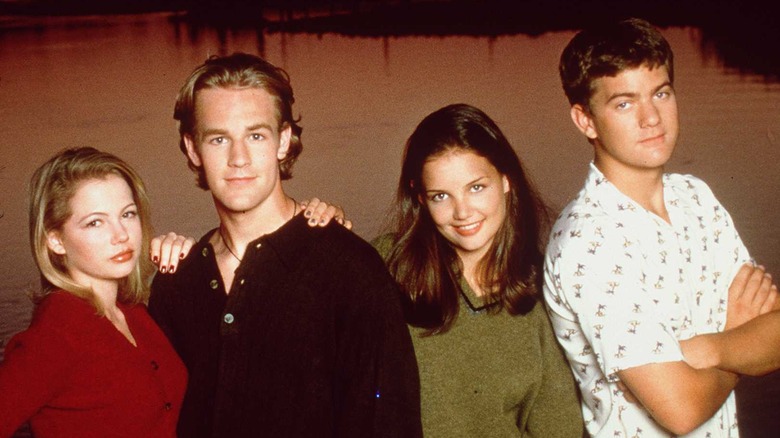 Getty Images/Getty Images
In 2016, Katie Holmes rebuked the idea of the cast reuniting to reboot "Dawson's Creek" and gave an update on the dynamics of the former castmates. "We did grow up, but we see each other every now and then," she said while appearing on SiriusXM's "Just Jenny Show," according to People. A couple years later, however, the cast did reunite, which impacted their friendships with one another.
To celebrate the 20th anniversary of the WB show's premiere, Entertainment Weekly brought Holmes together with original cast members James Van Der Beek, Joshua Jackson, and Michelle Williams, for a photoshoot and interview. Busy Phillips, Kerr Smith, Meredith Monroe, and Mary Beth Peil were also involved. This led to several of the "Dawson's Creek" alums growing closer. "James, Josh, Katie... we're all in a group text," Monroe told Entertainment Tonight in 2018. "We reconnected and now we have a group text going again, so that's been nice," she added. (Williams and Phillips were noticeably absent from the group chat.)
Five years after that reunion, Holmes once again reflected fondly about working on the series, and how it was a bootcamp of sorts for preparing for the rigors of Hollywood. "It was such a wonderful time in my life. It really taught all of us to work at such a heavy pace," she told Access in April. "I love everybody, I keep in touch. I'm very grateful," the "Logan Lucky" actor added. Although it appears Holmes kept close with some (but not all) of the cast.
Katie Holmes' icy relationship with Michelle Williams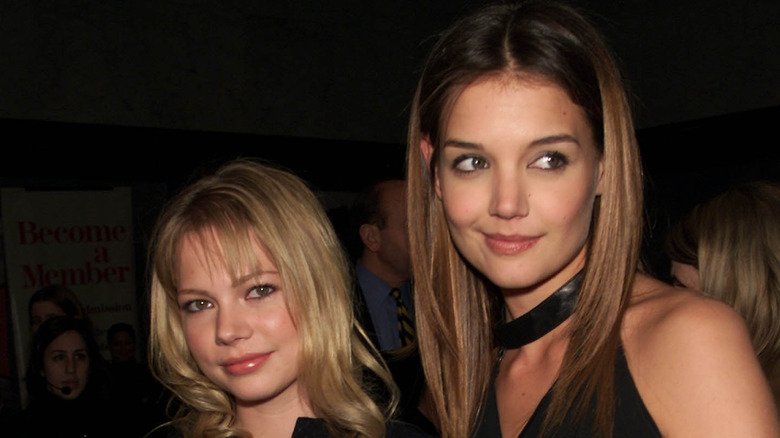 Evan Agostini/Getty Images
The "Dawson's Creek" group text created after the 2018 reunion brought Katie Holmes closer to co-stars James Van Der Beek, Joshua Jackson, and Meredith Monroe. But, in high school-like fashion, only that select group was invited, with Michelle Williams and Busy Phillips being left out in the cold. "I'm not on the group text... I think Michelle and I didn't get [invited]," Phillips told Us Weekly in 2018. "I don't know why we're not on it, but we're not. Maybe they figure that we're fine," she added.
Prior to being excluded from the "Dawson's" chat, Phillips revealed how she grew apart from Holmes around the time the "All We Had" actor started dating Tom Cruise. "I left her several voicemail messages," Phillips recalled on "Watch What Happens Live with Andy Cohen" in 2015. "And then I saw her like three years later and she had a kid."
Long before the group chat exclusion, it was rumored that Williams and Holmes had an icy relationship that dated way back to their early days on "Dawson's Creek." Although, in 2014 it was rumored that the "Coda" actor wanted to "make amends with Michelle," per an insider for OK!, via the Daily Mail. There was no word on their reconciliation, but when Williams was nominated for an Academy Award in 2023, "Dawson's" alums Phillips and Jackson congratulated their former co-star on Instagram — Holmes did not. This led some to speculate that there was still friction between the two.