Details About Jeremy Renner's Relationship With His Daughter Ava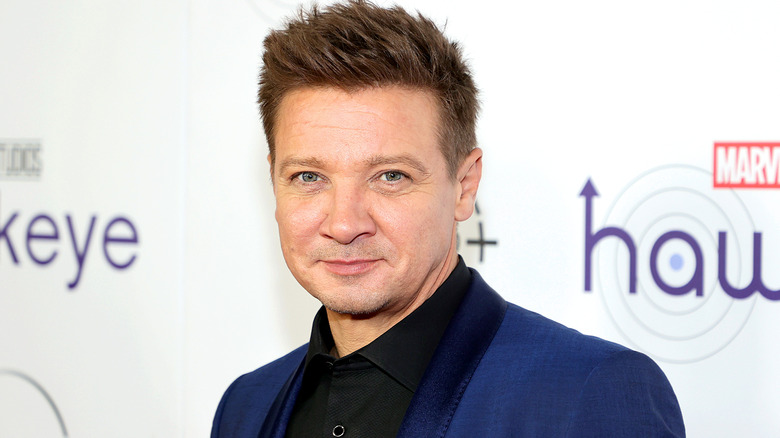 Theo Wargo/Getty Images
Between fighting bad guys on-screen as Hawkeye to giving back to communities on his show "Rennervations," it's a shock that Jeremy Renner has time for anything else. However, the actor prides himself on being a father and always makes time for his daughter, Ava Berlin.
"The Avengers" actor and his ex-wife, Sonni Pacheco, welcomed their daughter back in March 2013. From the moment Ava was born, she became Renner's entire world. He said during a "Today" show appearance, "My best role to date is being a daddy and everything in my life is defined by that. And everything is a distant, distant, distant second to meeting my daughter." Renner only proved this to be true when he went on "The Ellen Degeneres Show" and joked that becoming a father messed with his career because he is so focused on his daughter. He said, "...I don't really care about it [his career] so much, 'cause I care about her so much." Despite his demanding job, the actor revealed he is constantly making time for Ava and will fly back and forth from film sets to see her, even if it's only for a couple of hours.
Although Renner and Pacheco ended up breaking up, he has still remained a constant presence in Ava's life. The father-daughter duo has only grown stronger throughout the years, and we're here to fill you in on all the details of their relationship.
Jeremy Renner and Ava go on many outings together
When Jeremy Renner and his daughter, Ava Berlin, are together, they waste no time and go on plenty of adventures. In 2015, "The Hurt Locker" actor took Ava on her first trip to the snow. Renner documented this moment on his Instagram as he wrote, "My snow angel finally meets the snow!!" Since Renner has an extraordinary job that requires him to travel, he's constantly taking Ava with him whenever he can.
The actor even shared a memorable moment with his daughter when he took her to the 2017 Oscars and shared a sweet photo of him kissing Ava on the red carpet. The caption shared, "My date for the Oscars!! Omg I could not be more proud!!! #oscars #academyawards #redcarpet #daddydaughter #victorywithmyNUMBERONE." From award shows to traveling the world, Renner and Ava are attached at the hip.
Although the actor has shared much of his life with Ava online, he still tries to protect her privacy by blocking her face in his pictures. He told E! News, "I still don't expose my baby's face, just to protect her or anyone in my family [who's] a minor. I just think that's not my decision to make. You know what I mean? You don't need to be world-famous just because your jacka** dad is." But Ava's privacy won't stop the two from living their life as they have taken on the world together.
Jeremy Renner doesn't want Ava to follow in his footsteps
Jeremy Renner has become a worldwide famous actor thanks to his roles in the Marvel universe, but surprisingly he doesn't wish the same for his daughter Ava Berlin. He told E! News, "I think she's definitely artistic for sure, but...I'd love to steer her away from [show business] but I'll never say no." The "Hawkeye" actor does have good intentions behind his desire to keep Ava from the spotlight. He shared, "I first and foremost want her to be a kid and have a lot of fun."
Still, the actor wasn't wrong when he shared that he thinks his daughter is artistic. Renner has shared several posts of Ava expressing interest in the arts. From an early age, she has shown enthusiasm for music as she sat side-by-side with her dad as they played the piano together, per Instagram. From painting, music, and film, Ava has gotten involved in every hobby she could get her hands on. And while "The Town" actor was hesitant about his daughter's involvement in the world of entertainment in the past, it seems he might have gotten on board with the idea. In 2021, Renner shared a post of him and his daughter in the director's chair while on set for an upcoming project. The actor captioned the post, "The next gen, up and coming directors..." Whatever Ava ends up doing, Renner will always support her through thick and thin.