Kristen Stewart Intended To Marry Robert Pattison Before Meeting Dylan Meyer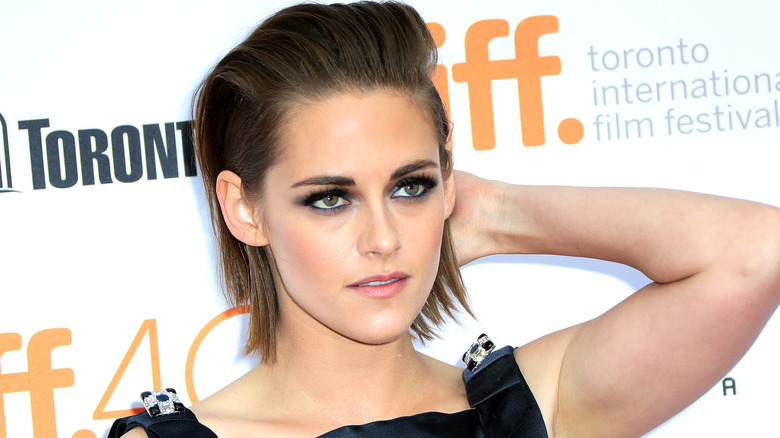 BAKOUNINE/Shutterstock
Kristen Stewart and Robert Pattison were once the "it" couple and just about everyone thought they'd end up getting married — even Stewart herself. The former lovebirds met during an audition for "Twilight," after which they both landed lead roles; her as Bella Swan and him as Edward Cullen. From there, the two also ended up falling in love. "There was nothing I could do," Stewart told Howard Stern in November 2019. And it's true. There was some serious, undeniable chemistry between Stewart and Pattinson that fans were really drawn to. The then-duo chose to keep their off-screen romance quiet, but photographs of them holding hands (and even kissing) were published regularly in the tabloids, which pretty much blew their cover.
But "Robsten" came to a crashing halt in 2012 when it was reported that Stewart cheated on Pattison with her "Snow White and the Huntsman" director Rupert Sanders. Within days of the reports surfacing, Stewart issued a public apology to RPatz. "I'm deeply sorry for the hurt and embarrassment I've caused to those close to me and everyone this has affected," her statement read, according to Us Weekly. "This momentary indiscretion has jeopardized the most important thing in my life, the person I love and respect the most, Rob. I love him, I love him, I'm so sorry," she added. Pattinson ended up giving Stewart a second chance and all was right with the world — until it wasn't.
Robert Pattinson ultimately couldn't trust Kristen Stewart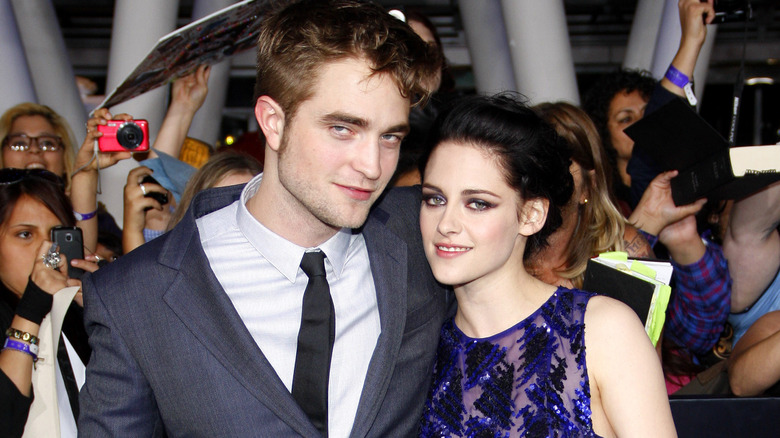 Tinseltown/Shutterstock
Although Robert Pattison was thought to be madly in love with Kristen Stewart, the two just couldn't hang on. And so, in 2013, Pattison and Stewart broke things off for good. "He really put her through the ringer," a source told Us Weekly following their split. "Ultimately, it was like, 'Either we move past this or we don't.' It wasn't good for either of them," the source added. Meanwhile, another source told Hollywood Life that Pattison was unable to get over the fact that Stewart cheated on him. "Her cheating basically opened other doors in their relationship of what they didn't like of each other," a source said.
The split was heartbreaking for so many "Twilight" fans, many of whom absolutely loved Pattinson and Stewart as a couple. And for the nay-sayers who didn't think that the actors were that serious, well, Stewart admits that marriage may have been on the table. In her interview with Howard Stern, she was asked if she would've said "yes" if RPatz proposed. "I don't know. I'm not a super duper traditionalist, but at the same time... every relationship I've ever been in, I thought that was it. I've never really been the most casual person," she admitted. In the years since, Stewart has gone on to date Stella Maxwell and, more recently, Dylan Meyer. 
Stewart and Meyer have been together since 2019 and they got engaged in 2021, according to People. 
Kristen Stewart has been in love with Dylan Meyer for years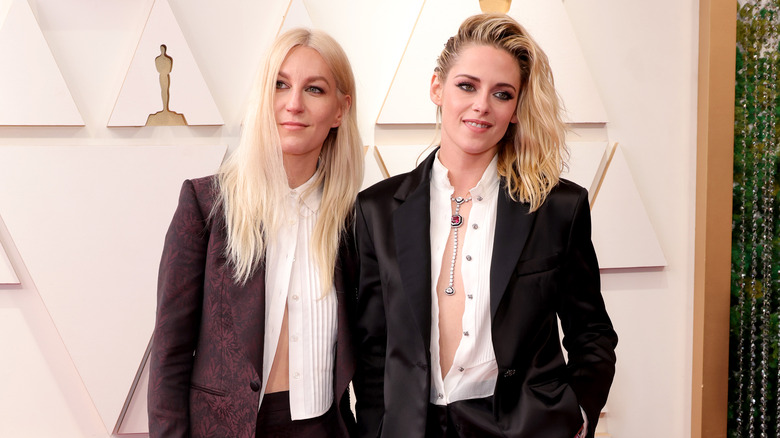 Momodu Mansaray/Getty Images
Robert Pattinson may be far in the rearview for Kristen Stewart these days as she's looking forward to marrying her fiancée Dylan Meyer. She talked about getting engaged on another episode of "The Howard Stern Show" in 2021. "We're marrying, we're totally gonna do it," she said. "I wanted to be proposed to, so I think I very distinctly carved out what I wanted and she nailed it. We're marrying, it's happening," she shared.
As for Pattinson, he seems to have found love again, as well. The "Batman" actor was first linked to Suki Waterhouse in 2018, and they lived together during the pandemic in 2020, according to GQ. And while the two prefer to keep their relationship out of the tabloids, RPatz has opened up about his romance a little bit here and there. For example, he talked about Waterhouse on a 2022 episode of "Jimmy Kimmel Live." "I'm pretty sure she's not normally into watching, kind of, superhero movies," he explained to the host. "And just seeing that it was capturing her attention the entire time, and then she held my hand and touched it right there, and I could feel a little tear. And I was like, 'No way,'" he recalled. Though there have been some engagement rumors about Pattinson and Waterhouse, the two haven't confirmed whether or not they plan to marry.