What Stephen Colbert's Wife Evelyn McGee-Colbert Does For A Living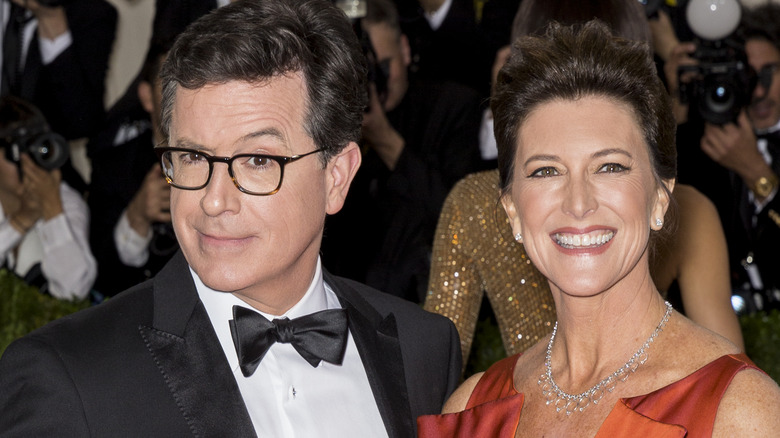 Ovidiu Hrubaru/Shutterstock
Stephen Colbert has one of those rare Hollywood marriages that has been going strong for over two decades. The talk show host married his wife Evelyn McGee-Colbert in 1993 and knew that she was the one for him the first time he laid eyes on her. Stephen recounted on his show that prior to meeting Evelyn, he had been dating someone for a couple of years. She had wanted to get married and told him, "Fish or cut bait." Stephen was hesitant so he went back home to South Carolina to think about things. 
After deciding his heart wasn't in the relationship, Stephen went to the opening of Philip Glass' opera "Hydrogen Jukebox" at the local theater and saw Evelyn (whom he calls "Evie") standing in the lobby. After the show, the two bumped into each other and it dawned on them that they knew each other. "We took two steps out of line and we talked for two hours and I was completely taken," Stephen recalled. He convinced himself that she was merely being polite to him so he stepped away for a minute and when he turned to look back at her, she was smiling at him. "And now we're married," he concluded. 
Stephen and Evelyn went on to have their daughter Madeleine in 1995, their son Peter in 1998, and their third son John in 2002. Evie is not just a stay-at-home mom, however. Her resumé is pretty impressive and she has had a big part in Stephen's very successful career. 
Evelyn McGee-Colbert is a frequent guest on The Late Show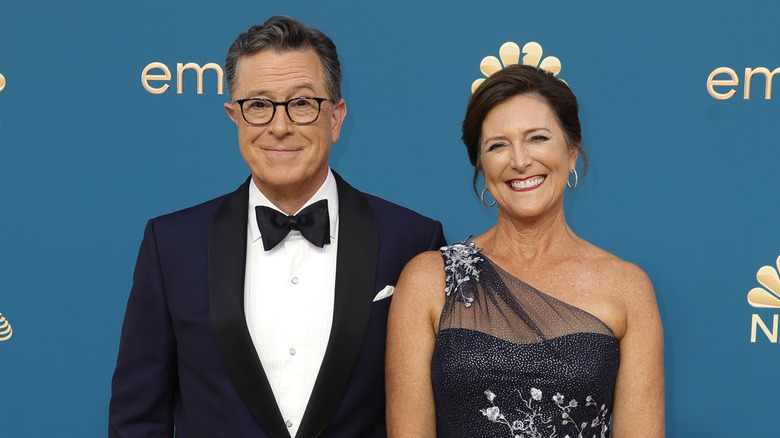 Frazer Harrison/Getty Images
Like her husband, Evelyn McGee-Colbert has an entertainment background. She attended the University of Virginia College of Arts and Sciences and studied English and Drama. After marrying Stephen Colbert, she guest-starred in the comedy series "Strangers with Candy," which was co-created by the television host. In 2005, Evelyn had a role in the movie version as Clair Noblet. She went on to have minor roles in "The Hobbit: The Desolation of Smaug" in 2013 and then "Alpha House" in 2014.
Evie became an enormously popular recurring guest on "The Late Show with Stephen Colbert." In May 2022, she came on for the show's "First Drafts" segment and gave her opinion on which Mother's Day cards were appropriate and which were "sometimes offensive." Evelyn appeared again in February for the "First Drafts" Valentine's Day segment and told the audience how she and Stephen got engaged. "We went for a lovely walk and we were in The Battery in Charleston in the gazebo and you asked me if I would marry you," she recounted. Looking at Stephen she continued, "And I said — and this says a lot about me, not about you — I said, 'Are you sure?'" The couple's working relationship extends beyond "The Late Show" and the two also work side-by-side at Stephen's production company.
Evelyn McGee-Colbert is a producer at Spartina Productions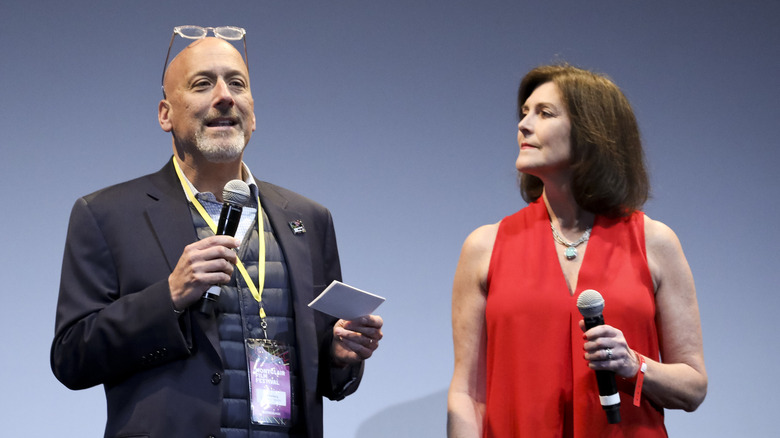 Brian Ach/Getty Images
Evelyn McGee-Colbert and Stephen Colbert prove that working and living together is easy if you have a great relationship. Evelyn works as a producer and is named Vice President of the company, working alongside the president, Carrie Byalick. The company, which scored a three-year first-look deal with CBS, has already produced "Stephen Colbert Presents Tooning Out the News," which is an animated news parody series on Paramount Plus, per Variety. They also produced "Fairview" and "Washingtonia" for Comedy Central.
When she's producing shows, Evelyn lends her talents and skills as the President and founding board member of Montclair Film in New Jersey. She is also very active in her community and has been a fixture at the Montclair Film Festival since its inception in 2011. Evelyn was the first person the founder and chairman, Bob Feinberg, thought of when he had the idea. As a lover of the arts, Evelyn pushed for arts funding, which took a dive during COVID-19, and worked with New Jersey Governor Phil Murphy on the Restart and Recovery Commission. She told Montclair Local, "It's almost like mental health appeal. We all have had incredible loss over the past year, and are craving a place to go to share a beautiful experience."