The One Person Both King Charles And Jack Nicholson Dated
Kevork Djansezian/Getty Images
Turns out that Hollywood royalty and England's current king have similar taste in women. And no, we're not talking about Princess Diana, whose marriage to King Charles III is now the stuff of mainstream culture consciousness. Charles and Diana tied the knot in 1981 at St. Paul's Cathedral in London, but separated two children and 15 years later. "There were three of us in this marriage, so it was a bit crowded," the Princess of Wales famously told BBC's Martin Bashir in a 1995 interview (via History).
The "third person" she was referring to is Camilla Parker Bowles, whom Charles dated before marrying Diana. He and Camilla shared an instant attraction. According to The Washington Post, the future queen consort apparently introduced herself to Charles with the line, "My great-grandmother was the mistress of your great-great-grandfather. I feel we have something in common." Talk about a first impression!
Even during his marriage to Diana, Charles never got over Camilla, and he wed the latter nearly a decade after Diana's death. So, when people think of Charles' true love, they likely think of Camilla, even though Diana was the more famous of his two wives. In fact, Diana and Camilla have headlined Charles' love life for so long that it seems incredible to think the monarch ever dated anyone else! But the king did have other girlfriends early on in his life. One of them even went on to date Hollywood legend Jack Nicholson.
King Charles was 'besotted' with Sabrina Guinness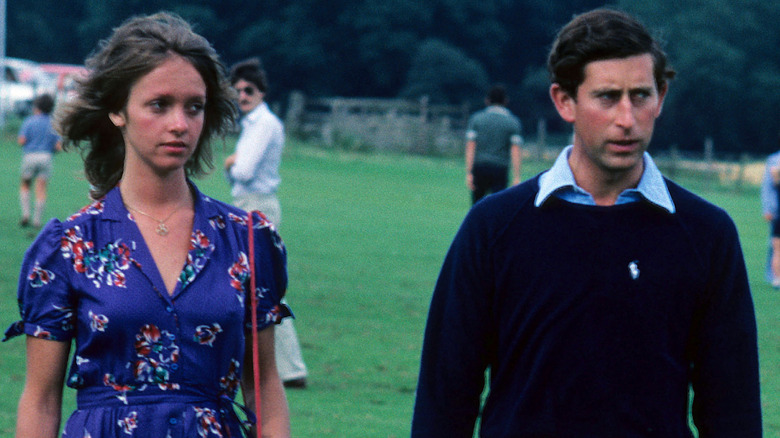 Anwar Hussein/Getty Images
The year was 1979, and the girl in question was 24-year-old brewery heiress Sabrina Guinness. At the time she and King Charles III were together, the monarch was said to be "besotted" with her, and Princess Margaret even described their relationship as "serious," according to Hello! Despite the fact that the king took her to the family's ancestral Scottish home at Balmoral, things cooled off because the late Queen Elizabeth II apparently wasn't a fan. Plus, Guinness herself wasn't ready to settle down, nor was Charles. "I love being with him, but please don't try to marry us off — he's not ready for marriage yet," Guinness reportedly said (via the Daily Mail). Meanwhile, one of her friends dished that Guinness had "never displayed any real need to get married or a desire to do so," despite a long line of hopeful suitors.
It was just as well. Despite being "Charles' liveliest girlfriend," Charles and Guinness split after a 9-month courtship. According to the Daily Mail, Guinness went on to find love with actor Jack Nicholson. The two met when Guinness relocated to Los Angeles for a year, working as a Montessori-trained nursery teacher. One of the children under her care was actor Ryan O'Neal's daughter, so it's safe to say it was a little more glamorous than your average teaching gig.
Of note, Nicholson hasn't spoken publicly about the romance, but there are still pictures of him and Guinness floating around the Internet.
Sabrina Guinness finally got married, but not to who you think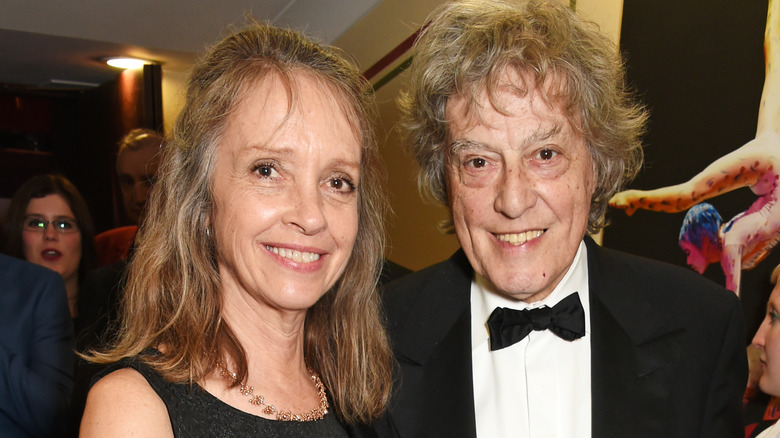 David M. Benett/Getty Images
Could Jack Nicholson's reluctance to speak about Sabrina Guinness have anything to do with his womanizing habits? After all, People reports that the acting legend and known philanderer fathered six children by five different women. According to the Mirror, Nicholson was known to openly flirt with women, even while in committed relationships. Like Guinness, his list of exes reads like a who's who in Hollywood, including fellow actor Anjelica Huston, Bond girl Jill St. John, and model Rebecca Broussard.
Beyond having dated a bevy of famous A-listers, both Guinness and Nicholson were famously disinclined to settle down. However, Guinness took the plunge when she wed playwright Tom Stoppard in 2014, according to the Daily Mail. At the time, she was 59 and he was 76. News of the union headlined gossip columns, given Guinness had been famously single all her life, despite being linked to Mick Jagger and Paul McCartney.
Meanwhile, Nicholson has remained single after marrying just once early on in his career. It seems he regrets his current lack of a long-term partner. "I would love that one last romance, but I'm not very realistic about it happening," he told Closer in 2015 (via The Telegraph). "What I can't deny is my yearning ... I have had everything a man could ask for, but no one could say I'm successful with affairs of the heart." At the time they dated, perhaps Guinness and Nicholson were just two ships passing in the night.