How Brooke Shields Knew Her Friendship With Tom Cruise Was Over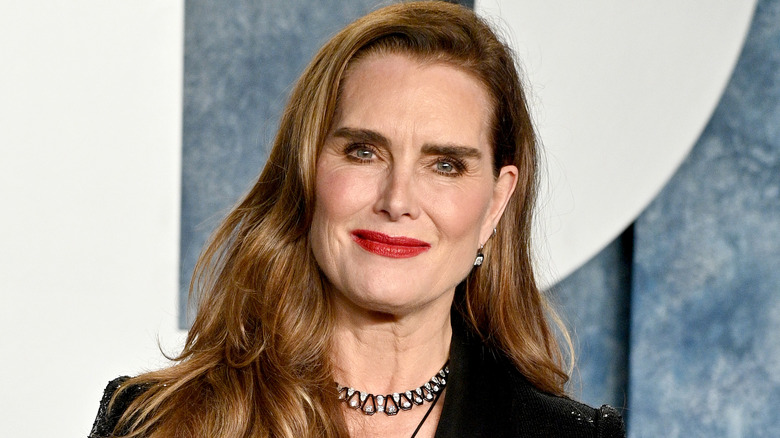 Lionel Hahn/Getty Images
The original friendship between Brooke Shields and Tom Cruise dates back to 1981 when they worked on the film "Endless Love" together, but by 2005, the Hollywood A-listers had a public falling out. Their feud stemmed from the "Suddenly Susan" actor openly speaking about taking antidepressants for postpartum depression, which caused Cruise to go on the offensive while appearing on "Today" in June 2005. "You don't know the history of psychiatry. I do," the "Top Gun" star told Matt Lauer while discussing Shields' medication use.
His interview sparked a heated reply from Shields, who wrote an op-ed piece for The New York Times the following month. "I'm going to take a wild guess and say that Mr. Cruise has never suffered from postpartum depression," she wrote in July 2005. However, "The Blue Lagoon" actor believed the public debate could be net-positive. "If any good can come of Mr. Cruise's ridiculous rant, let's hope that it gives much-needed attention to a serious disease," Shields wrote.
By the next year, Cruise decided to bury the hatchet with Shields. "[He] came over to my house, and he gave me a heartfelt apology," Shields said on "The Tonight Show with Jay Leno" in September 2006. "And through it all, I was so impressed with how heartfelt it was," she added. A rep for the "Magnolia" actor confirmed his relationship with Shields had indeed been mended. The pair was subsequently spotted getting dinner with their significant others in 2007, but they eventually grew apart again.
Brooke Shields stopped getting this gift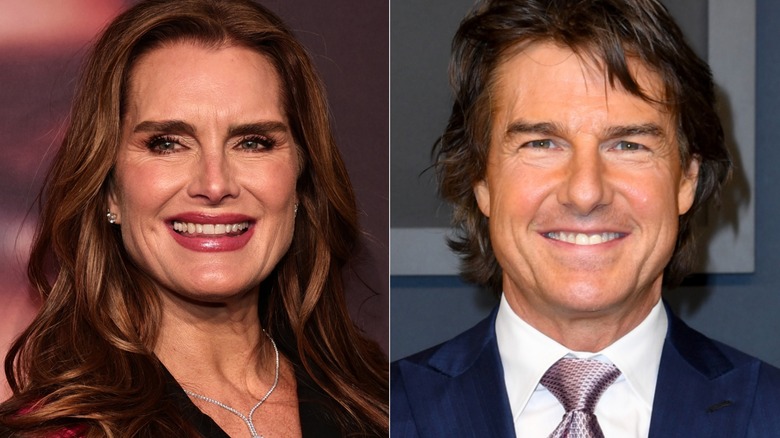 Jamie Mccarthy & Jc Olivera/Getty
Tom Cruise famously gifts his celebrity pals a decadent coconut bundt cake from Doan's Bakery for the holidays and select special occasions. After the "Edge of Tomorrow" star and Brooke Shields made up, she was on the exclusive "Cruise Cake" list. "I had a good 10-year run, and I got the coconut cake every year, which I was very happy [about]," she told People. While there was no public falling out this time around, Shields started to suspect her friendship with Cruise was in danger as the frequency of the cakes from him and his then-wife Katie Holmes dwindled. "It was from them and Suri, so it was the three of them, and then soon it was no Suri and no Katie and just Tom," the "Pretty Baby" actor said. "Then it went from just Tom for a while, but not every holiday. And then the cake stopped."
Before the cakes quit arriving, Shields and Cruise were rather close. Not only was she invited to his wedding to Holmes, but the two celebrities had a joint birthday party for their daughters, as they were born on the same day, Shields revealed to People.
In 2016, Shields was asked by a fan on "Watch What Happens Live with Andy Cohen" why she attended Cruise's wedding after he bashed her in the media. "He apologized like a gentleman, and c'mon, if you're invited to Tom Cruise and Katie Holmes's wedding, you say, 'Yes,'" Shields said. Later, she would revisit the infamous feud.
How Brooke Shields felt about the fallout with Tom Cruise
Dia Dipasupil/Getty Images
The public disagreement between Brooke Shields and Tom Cruise on the use of antidepressants in 2005 put a spotlight on the two actors, while also opening a dialogue about the use of the medication. In 2009, Shields was awarded The Hope Award for Depression Advocacy for helping to bring awareness to the condition. She believed the war of words with her former "Endless Love" co-star was a major turning point. "You don't talk about [postpartum depression] and then we see what happens when it's undiagnosed and unaddressed," the actor explained to OK! after receiving the award. "So, the controversy just sort of help bring it to light."
In her two-part documentary, "Pretty Baby: Brooke Shields," released in January, which examines how the actor was sexualized at a young age, Shields referenced the Cruise debacle from 2005. "It was so ridiculous to me," Shields said in the documentary, per Decider. "It's not about the moral thing, or the right thing, or the good thing. It's about who has more power." The documentary also included a snippet of Judd Nelson repeating a hard-hitting line from Shields amid the public debate over antidepressant use. "Tom Cruise should stick to fighting aliens," Nelson said, quoting Shields, according to Variety.
If Cruise sees the documentary, Shields' chances of making her way back onto the cake mailing list don't look good.