Tom Cruise Sends This Same Gift To His Friends Every Year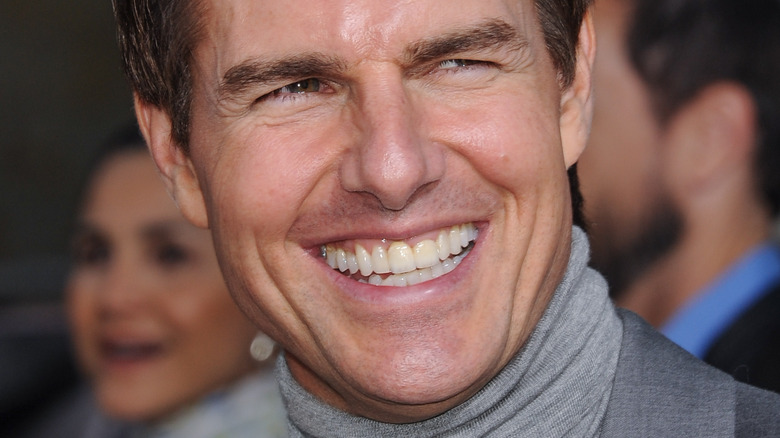 DFree/Shutterstock
"Mission Impossible" star Tom Cruise could quite possibly be the biggest star on the planet, but it turns out he might also have the biggest sweet tooth. The "Top Gun" legend is renowned throughout insider Hollywood circles as being generous and kind, as evidenced by what he does when he thinks no one is looking. Like the time in 1996 when he witnessed the moment a woman was struck by a hit-and-run, per Tampa Bay Times. The "Jerry Maguire" star not only stopped to call 911, but he also accompanied her to the hospital and paid for her whopping $7000 medical bill (screaming "Show me the money!" ... er, probably). He has also been known to save people drowning off the coast of Capri, and to chase away on foot London muggers, per TMZ. Are we sure he's not secretly part of the Avengers? Because wow. 
That's not all. Have you heard of the Cruise Cake list? This is a real thing and it is a pure delight. It turns out Cruise feels the need ... the need to give cake. Celebs and friends of all shapes and sizes have reported that every year, unexpectedly and without asking, they receive a very decadent cake courtesy of Cruise. First of all, yum. Second of all, we need to be on this list pronto.
Tom Cruise's cake list is a who's-who of Hollywood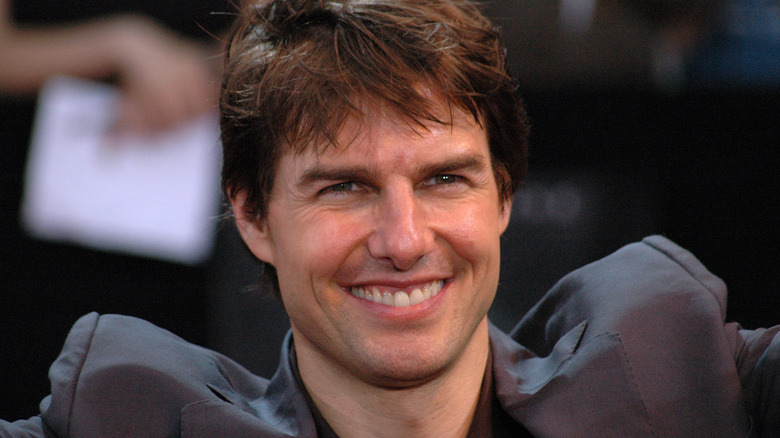 360b/Shutterstock
Oh, to be on the Cruise Cake list is to know pure joy, because the culinary delight is the signature coconut bundt cake from Doan's Bakery in California, per Yahoo. Adorned in white chocolate, cheese frosting, and toasted coconut flakes, the cake's description alone has us #drooling. And according to some of the biggest celebs on the C.C.L., it's the most decadent treat they've ever had. 
Tom Cruise's "Interview With The Vampire" co-star Kirsten Dunst revealed on "The Graham Norton Show" that she still gets one every Christmas, and her entire family cheers upon its arrival, "'Cruise Cake's here!'"  Henry Cavill, Rosie O'Donnell, Cobie Smulders, and Jimmy Fallon have admitted that they all enjoy Cruise Cake around the festive season.
His generosity doesn't stop at the rich and famous, though. He also shipped 300 of the indulgent coconut pieces of heaven from L.A. to the U.K. so that his entire "Mission Impossible 7" crew could enjoy his favorite delicacy, per The U.K. Sun. But he didn't use FedEx or Purolator — the cakes flew in on his own private jet! "It is extravagant," a source told the outlet, "but Tom is an incredibly generous person and he wanted to do something special for everyone who has worked on the movie with him."
Tom Cruise has a great explanation for sending out cakes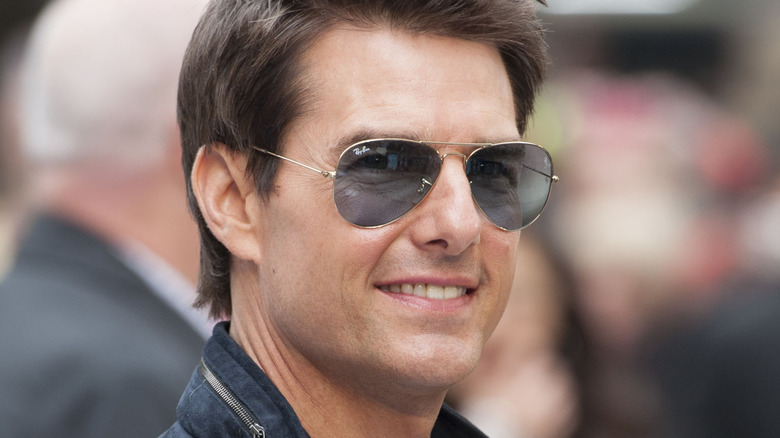 Featureflash Photo Agency/Shutterstock
In 2018, during an appearance on "The Late Late Show with James Corden," Tom Cruise told the British funnyman that sending cakes is his modus operandi because he can't eat sugar himself when training for a role (otherwise how else would Ethan Hunt grip the side of a moving plane?). So he ships them around and lives vicariously through other people's enjoyment. "I wait for the calls. I'm like, 'Tell me about it,'" he told Corden.
The Guardian reported that the "Jack Reacher" star first encountered the artisanal delight while married to Katie Holmes. The "Dawson's Creek" star had a competition with Diane Keaton to discover the most delicious cake. It seems Cruise was the official judge, because when he had his taste of Keaton's selected Doan's Bakery cake, he was hooked for life.
Doan's Bakery themselves have admitted that they were unsure of their future during the pandemic that saw many shops and stores close their doors for good amid stay-at-home orders. The cake, which they've been making since 1984, was dreamed up by owner Eric Doan's mother, but that didn't mean their originality would sustain them during the pandemic. Doan told Yahoo! that Cruise's penchant for cake-giving is "honestly is one of the things that kept us alive."