Why Michelle Williams Keeps Her Daughter Matilda Ledger Out Of The Spotlight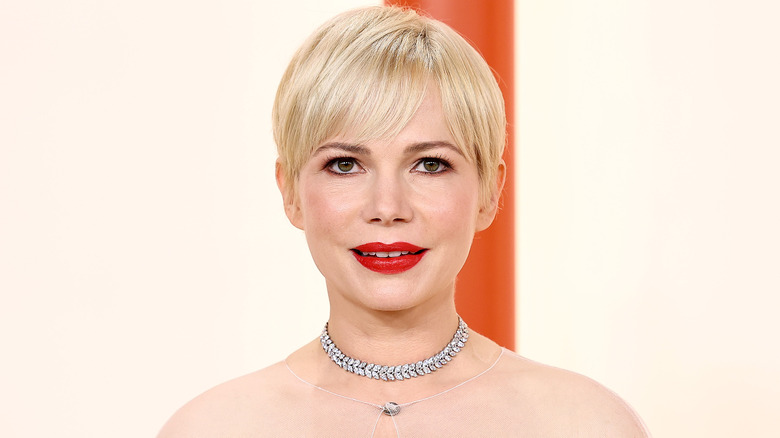 Arturo Holmes/Getty Images
In 2008, Heath Ledger tragically died from an accidental drug overdose. The entertainment industry and fans alike mourned for the beloved actor, who was lauded for his exceptional talent and prolific career. The devastating news was especially tough for Michelle Williams, who was in a relationship with Heath from 2004 to 2007. The Hollywood couple shared a daughter, Matilda Ledger, who was born in 2005.
Heath is remembered for his astonishing performances in films like "Brokeback Mountain," which is where he met Williams. His legacy lives on through his daughter, who has kept a low profile throughout the years. In 2009, Williams told Vogue (via Us Weekly), "Every time I really miss him and wonder where he's gone, I just look at her." And while Williams has chosen to keep details of her romance with Heath under wraps, she has been open about taking care of Matilda. She continued, "I can talk about grief, because that's mine, about single parenting, about trying to balance work and kids. But what I don't have to talk about is what happened between Heath and me in our relationship." 
Williams is a protective mother who has worked hard to keep Matilda out of the spotlight. And the reason for it isn't surprising at all.
Michelle Williams and Matilda Ledger were paparazzi magnets
Ray Tamarra/Getty Images
When Heath Ledger died, Michelle Williams and her daughter, Matilda Ledger, became magnets for the paparazzi, per Vanity Fair. To obtain more privacy, she and her daughter relocated from Brooklyn to upstate New York. They lived in a countryside farmhouse for 6 years, per the Daily Mail. Williams told Vanity Fair, "It was unmanageable to be stalked like that every moment of the day. So I left, in a desire to create a sane home environment."
In a 2016 interview with the New York Post, Williams further discussed keeping her daughter shielded from the media. The statement and question read, "After Heath died, the two of you received a lot of unwanted attention. Has that gotten better?" Williams replied, "Oh, so much! Standard operating procedures changed when my personal hero, Kristen Bell, lobbied Web sites and magazines to no longer publish photos of children." This was a major win for the famous mother-daughter pair, as Williams added, "It has changed our lives. I e-mail [Bell] once every couple of months and say, 'I owe you everything. My daughter's happiness is in your hands.'"
Michelle Williams prioritizes time with Matilda Ledger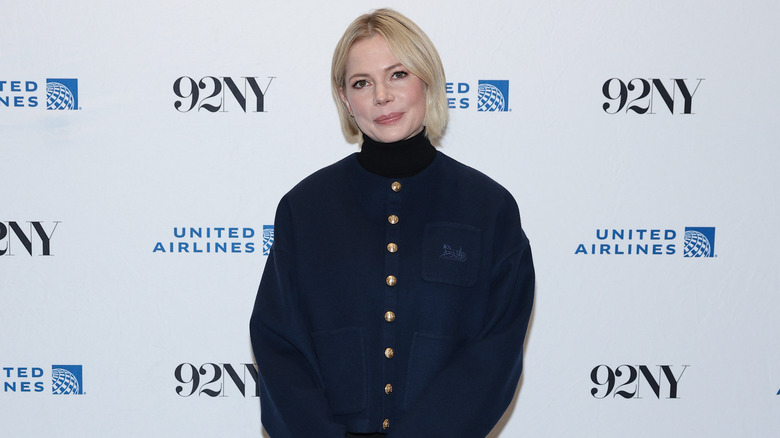 Dimitrios Kambouris/Getty Images
In 2012, Michelle Williams and Matilda Ledger moved back to Brooklyn. Williams made a strong effort to keep her daughter's life as grounded as possible. In 2018, she told Vanity Fair, "She hasn't had her routine disrupted and hasn't missed class." During their summers upstate, she made sure her daughter had a freer, less regimented schedule. Spending quality time with Matilda is clearly a priority for Williams. In fact, the actor initially backed out of the film "Blue Valentine," as it was shooting far from her daughter, per The Guardian. However, the production team decided to relocate closer to them, allowing Wililams to stay on.
Williams' parenting style has been praised by loved ones. In 2017, Heath Ledger's sister Kate told People, "I think that she provides such a wonderful environment for Matilda to grow up in, especially in the sort of industry that she's in." Heath's close friend Matt Amato also spoke highly of Williams, saying, "The way she's been an incredible mother, she has hero status all across the board."