Mariska Hargitay And Hilary Swank Met On The Set Of ER And Have Been BFFs Since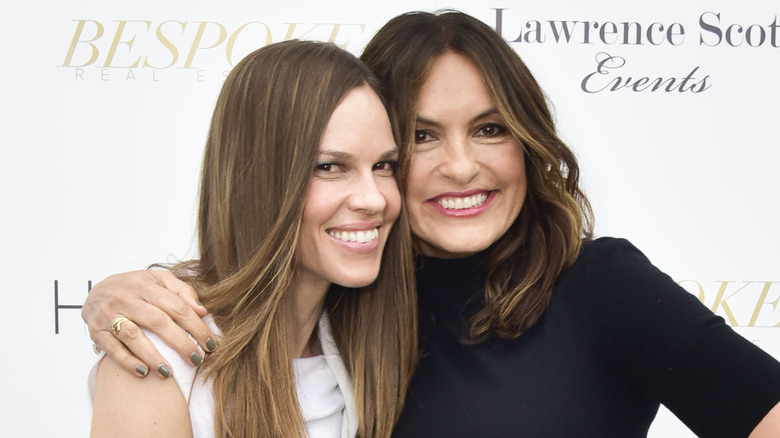 Eugene Gologursky/Getty Images
It may surprise some fans to learn that two of America's most beloved actors, Mariska Hargitay and Hilary Swank, are longtime best friends! Of course, most fans know Hargitay from her leading lady status as Det. Olivia Benson on "Law and Order: SVU," while Oscar-winning actor Swank made her name in films like "Million Dollar Baby" and, most recently, as the star of the ABC drama "Alaska Daily." 
Although they've never acted in a project together, Hargitay and Swank first crossed paths when the daughter of Jayne Mansfield was on the set of the medical procedural "ER." During the show's fourth season in 1997, Hargitay played a desk clerk for a 13-episode arc. At the time, Swank was married to her then-husband Chad Lowe, a fellow thespian who was also guest-starring on "ER." The "Boys Don't Cry" actor later recalled that she was drawn to Hargity because "her spirit was something beyond extraordinary" and was blown away by her talent. The two clicked, and have remained the best of friends to this day.
Mariska Hargitay served as Hilary Swank's maid of honor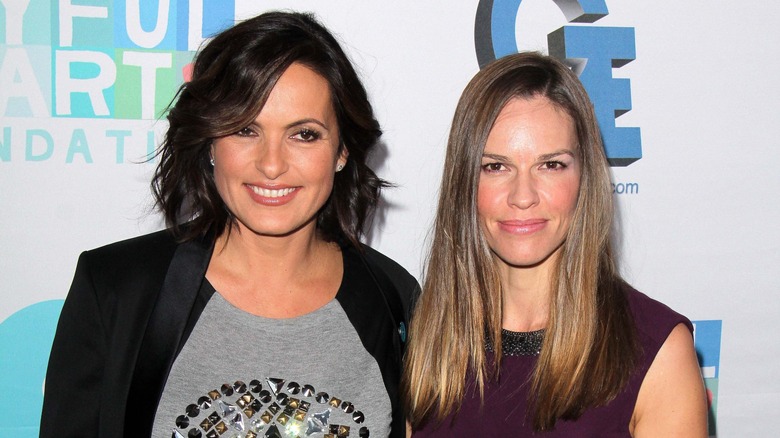 s_bukley/Shutterstock
After their meeting in the '90s, actors Mariska Hargitay and Hilary Swank grew closer by supporting each other through their challenges. When the "Freedom Writers" actor divorced her first husband, Chad Lowe, in 2006, she told Ladies' Home Journal that Hargitay was truly there for her during that turbulence. Swank also shared that she stays at the "Law & Order: SVU" star's New York abode whenever she's in the area working on a project.
"Mariska has helped me through life-changing times but also helped me find the moments of celebration," she told the publication in 2009. "She's a real girl's girl. She's not threatened by strong women, and that's rare in this business."
After the storm comes the rainbow, and Swank found her rainbow in entrepreneur Philip Schneider, who she met through their mutual friend. The couple fell in love and Schneider popped the question in front of a waterfall (swoon) after over a year of dating in 2016. When the couple tied the knot in a beautiful forest wedding, captured by Vogue in 2018, Hargitay stood by Swank's side at the altar as her beloved maid of honor. Back when the "SVU" actor married her husband in 2005, Hargitay's spread with InStyle Weddings captured Swank in attendance, as well. These two exemplify the meaning of BFF — best friends forever, indeed.
Mariska Hargitay and Hilary Swank are practically family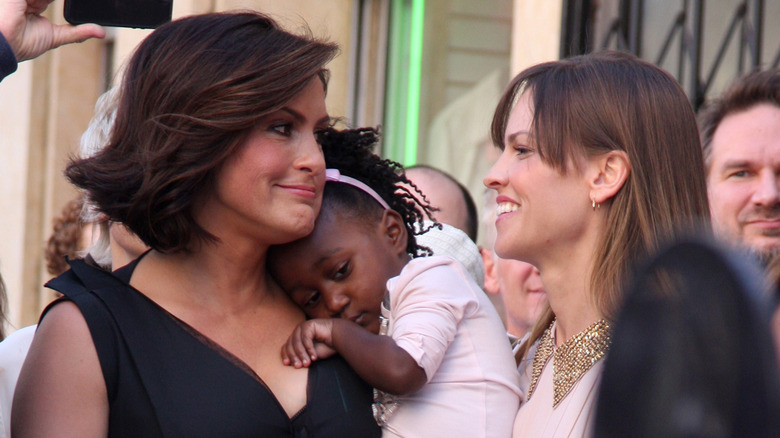 Kathy Hutchins/Shutterstock
With as much time as they spend together, Hilary Swank and Mariska Hargitay's lives and families have intertwined to the point of making each other true members of their families. A year after she married "Younger" actor Peter Hermann, Hargitay gave birth to their first child, August. Years later, in 2011, the couple decided to adopt their daughter, Amaya. According to the Daily Mail, Swank threw Hargitay's baby shower ahead of Amaya's arrival — the mark of a true friend.
When the duo was interviewing each other for Hamptons Magazine (via AdWeek) in 2017, the friends reminisced on the time they spent together in the beach town. "I love the Hamptons because you and my goddaughter are there and your other two children and husband," Swank gushed. "That's the main thing that brings me to the Hamptons, your love and light." This interview also confirmed that Hargitay made her longtime friend Amaya's godmother.
On April 9, the Oscar-winning actor joyously announced that she and husband Philip Schneider had welcomed a set of twins into the world. Under the announcement post, bestie Hargitay sweetly commented, "Welcome home angels."