What Cedric The Entertainer And Tichina Arnold's Relationship Is Like In Real Life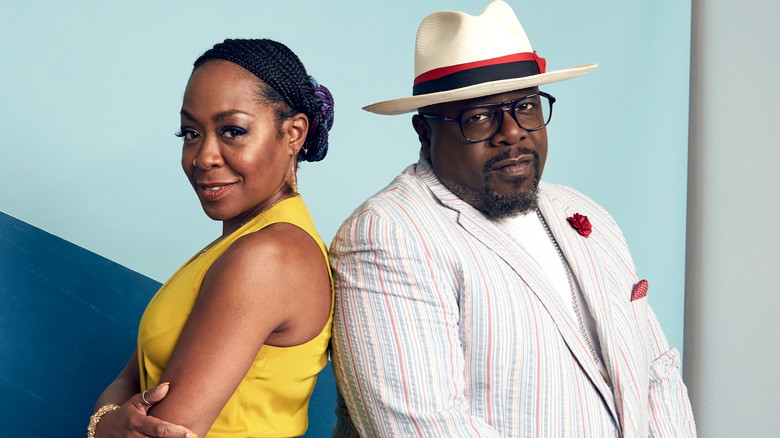 Benjo Arwas/Getty Images
Tichina Arnold and Cedric the Entertainer – whose real name is Cedric Kyles – have been comedy mainstays for over 30 years. Arnold shined in sitcoms like "Martin" and "Everybody Hates Chris," while Cedric brought his comedic flair on shows like "The Soul Man" and "The Steve Harvey Show." Each of their resumes also boasts a plethora of box-office hits. In 2018, they paired up for the CBS sitcom, "The Neighborhood." The half-hour comedy centers on a White family who moves into a predominantly Black neighborhood and the hilarious dustups which ensue.
Cedric and Arnold play Calvin and Tina Butler, a married couple who fear that their new neighbors' presence could be a springboard for gentrification. Despite being five years in, the show is pulling in over 7.3 million viewers a week, according to Deadline. And while "The Neighborhood" is made up of a talented ensemble cast, the show's audience is clearly drawn to Cedric and Arnold's hilarious ability to riff off of each other. But did you know that there's much more to their real-life relationship?
Tichina Arnold and Cedric the Entertainer are real friends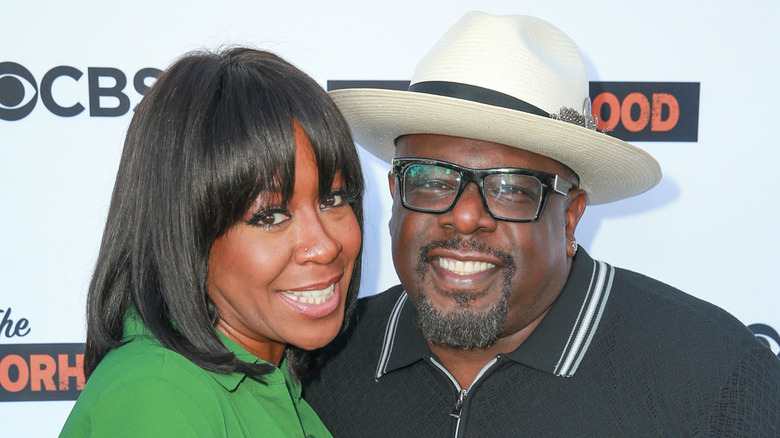 Rich Fury/Getty Images
In 2020, Tichina Arnold appeared on "The Rickey Smiley Morning Show" to promote the second season of "The Neighborhood" and revealed just how deep her bond with Cedric the Entertainer goes. "I love working with Cedric," Arnold revealed. "I told Cedric, it's crazy how I've known him all these years in show business, and we got a lot of the same friends, and I've never worked with him." Upon hearing about the audition, Arnold "auditioned like everyone else," and the rest is history! While speaking with The Grio in 2021, Arnold showered Cedric with even more praise, calling him "an amazing, amazing man, amazing friend, amazing comedian, amazing father, an amazing husband, he's just everything rolled up in one. He's a big teddy bear." She continued, "Having him at the helm, and especially during [the pandemic], it made a difference." 
In late 2021, while hosting the Emmys, Cedric returned Arnold's praise. Arnold, Niecey Nash, and Terri J. Vaughn appeared in a skit about Cedric's television wives, but he chose Arnold as his favorite. "You've always given me so much love and support, and, to be honest, you're my favorite TV wife," Cedric said. Unfortunately, Cedric's compliment drew ire from his other television wives, and they all eventually ran off to find "that boy from Bridgerton," alluding to Regé-Jean Page. 
Tichina Arnold and Cedric the Entertainer's chemistry is otherworldly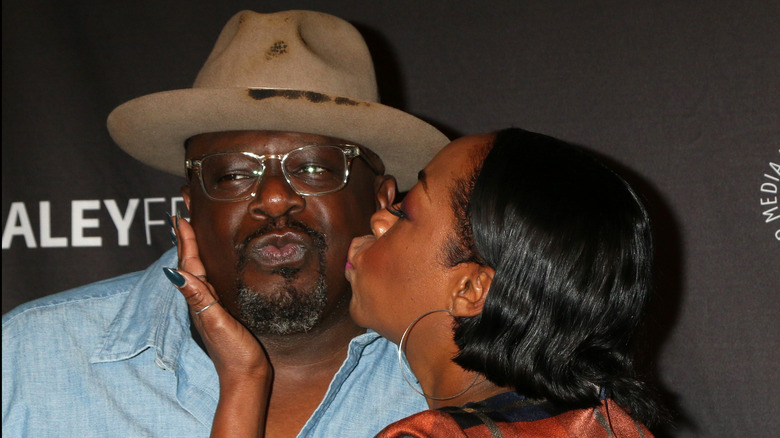 Kathy Hutchins/Shutterstock
It's clear that Cedric the Entertainer and Tichina Arnold's chemistry has helped transform "The Neighborhood into a timeless comedy. Speaking with Pop Culture in 2022, Arnold shared their working process. "We honestly have fun," said Arnold. "Cedric does things off camera that, unfortunately, the studio audience and the television audience can't see. So when you are looking at certain scenes, you are probably catching a moment of us laughing with each other literally seconds before [cameras start rolling]."
One awesome example occurred back in September 2019, when Arnold fell into a laughing fit as she recorded Cedric dancing and messing around on set. "What's the best part of this video: Cedric The Entertainer's dance moves or Tichina Arnold's laugh?" the show's official Facebook page posted. Cedric and Arnold also have fun outside of their "neighborhood," such as the time they competed on "Celebrity Game Face." This duo plus Kevin Hart? Sold!