Drake Reunites With Former Degrassi Co-Stars In 'I'm Upset' Music Video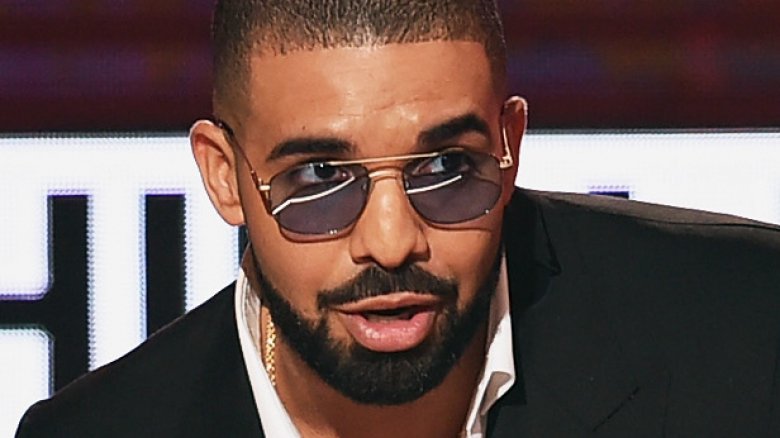 Getty Images
Drake shared one epic throwback.
On June 14, 2018, Drake released the music video for his song "I'm Upset," featuring his former Degrassi: The Next Generation castmates. For those not in the know, Drake played Jimmy Brooks on the iconic Canadian teen drama. The music video centers around Drake's fictional high school reunion at Degrassi Community School and, of course, plenty of his old buddies were around to party, including Lauren Collins (Paige Michalchuk), Miriam MacDonald (Emma Nelson), Cassie Steele (Manny Santos), Melissa McIntyre (Ashley Kerwin), Jake Epstein (Craig Manning), Shane Kippel (Spinner Mason), Andrea Lewis (Hazel Aden), Stacey Farber (Ellie Nash), and Nina Dobrev (Mia Jones), among others. Even actor Ephram Ellis — who played Rick Murray, the character who memorably shot Drake's Jimmy Brooks — can be spotted in "I'm Upset." In one scene, he runs from Drake's posse of new friends.
Jay and Silent Bob themselves Jason Mewes and Kevin Smith, who'd starred in Degrassi Goes Hollywood, were also present, officially making the video one that every Degrassi fan has to watch. But be warned: The characters aren't up to any good in this video.
Thanking Drake for involving him, Smith, who's been focusing on his health after having a near-fatal heart attack in February 2018, wrote a lengthy Instagram caption, reflecting on the best part of working on the video. "The highlight was watching kids that literally went to fake school together their entire young lives reuniting as grownups who still like each other," he said. "Drizzy had his friends and former class-and-cast mates exit Lamborghinis and re-enter the pop culture conversation – and it was all done with incredible affection. I knew the video would be fun to make and go viral instantly; but I didn't realize I'd have front row seats for the sweetest reach-back I've ever seen."
Drake's song "I'm Upset" is featured on his upcoming album Scorpion, which is set for release on June 29.