Do Pete Davidson And Martha Stewart Have A Close Relationship?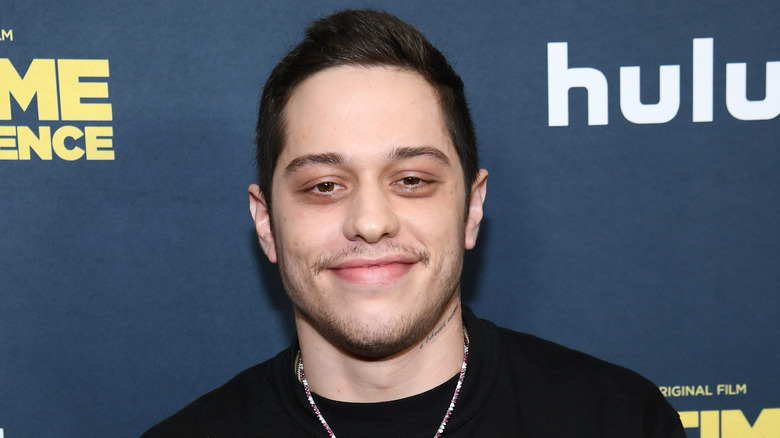 Dimitrios Kambouris/Getty Images
Aside from his comedic prowess, Pete Davidson is famous for being a serial dater and arm candy for a bunch of A-listers. Thanks to what people say is innate "BDE," he's managed to develop an impressive dating résumé, including an engagement with pop star Ariana Grande and a months-long relationship with none other than Kim Kardashian.
If we're to believe the tabloids, Davidson has also finessed his way to dating Kate Beckinsale and Kaia Gerber. He was also spotted hanging out with the likes of Emily Ratajkwoski and Phoebe Dynevor, leading many to believe that Davidson has the charm to romance all of Hollywood's most sought-after ladies. Ratajkowski even once offered an explanation as to why many fall under the comedian's spell. "Pete — he's got the height. Obviously, women find him very attractive," the "Gone Girl" actor shared in a "Late Night with Seth Meyers" appearance. "Guys are like, 'Wow. What's that guy got? And I'm like, I mean, he seems super charming. He's vulnerable. He's lovely. His fingernail polish is awesome. He looks good!" He also has a "super great relationship with his mom," earning him more cookie points.
Davidson, whose latest love interest is reportedly Chase Sui Wonders, is no stranger to rumors regarding his personal life. However, while some of the personalities he's been linked to make sense, others are downright mind-boggling, including his close relationship with the one and only Martha Stewart. 
Pete Davidson is like Martha Stewart's 'lost son'
Even Martha Stewart is not immune to Pete Davidson's charms. Speaking with "Today," the television personality mentioned that she's known Davidson since his early days in comedy and can understand why many women fawn over him.
"He just a skinny, kind of homely, really nice guy," she said of the "Saturday Night Live" alum. "He was cuter when he had longer, curly hair. If you look at my Instagram, you see a little skit he did for me when we were doing the roast. But he's charming. And he's nice, and I don't think he's a big-deal problem. He's just a lovely guy."
In an interview on "The Drew Barrymore Show," Stewart was also made aware of the running meme of her and Davidson possibly dating, but was quick to shut it down because, for her, the comedian is like family. "He's a very good guy. He knows how to get in and get out," she told Barrymore. "He's like my lost son." And there you have it — you probably won't see any more Stewart and Davidson dating rumors on the tabloids, people!
Martha Stewart supports Pete Davidson's relationships
Considering how Martha Stewart is like a mother figure to Pete Davidson, it's not surprising that she roots for him whenever he's dating someone new. When he was in a relationship with Kim Kardashian, Stewart shared that she loved hanging out with them and found the two to be a lovely couple.
"I was at the Daily Mail table, and we saw them coming in, and I went over to them," she told "Today." "I know both. You know, Pete and I were on the Justin Bieber roast years ago. That's when I first met him. He's an adorable guy. He's funny and nice and pleasant. And Kim looked gorgeous, as usual. Very jealous of her, of course." At the event, she told the Daily Mail that Davidson was like "the son [she] never had."
As an interim mom should, Stewart even helped Davidson hard-launch his new girlfriend, Chase Sui Wonders, on Instagram. "They were out looking at our beautiful town of Bedford," she wrote in a post, along with a photo of them in front of her house. "I showed them around the farm and inside the winter house where the Easter Bunnies were getting ready for Sunday." And as for her thoughts about the two? "Very cute couple!!!!" she noted.