Everything Johnny Depp Has Said About What Happened To His Hand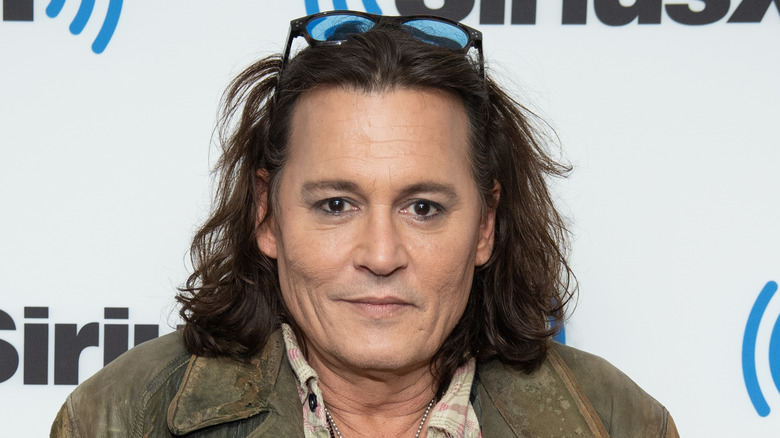 Noam Galai/Getty Images
It feels like a lifetime ago when ex-spouses Johnny Depp and Amber Heard went head to head in court, but for most of 2022, their legal battle was all anybody was talking about — including one particularly grisly story involving injuries to Depp's hand.
In case you need a refresher, Depp and Heard duked it out in court when the "Edward Scissorhands" star accused his ex-wife of defaming him through a Washington Post op-ed piece. In the article, Heard wrote that she was "a public figure representing domestic abuse," and although she did not mention Depp, the actor maintained that it was targeted against him. He ended up winning the case, with a jury awarding him $15 million in damages. "Truth is the only thing I'm interested in. Lies will get you nowhere, but lies build upon lies and build upon lies," he said on the stand.
In their heated legal battle, Depp turned the tables against Heard, claiming that he was on the receiving end of domestic abuse and that Heard was his aggressor. "It could begin with a slap. It could begin with a shove. It could begin with throwing a TV remote at my head, throwing a glass of wine in my face," he asserted. He flung all sorts of accusations against the "Aquaman" actor in the trial, and at one point, he claimed that Heard had inflicted injury on his hand.
Johnny Depp purportedly severed his finger during a fight with Amber Heard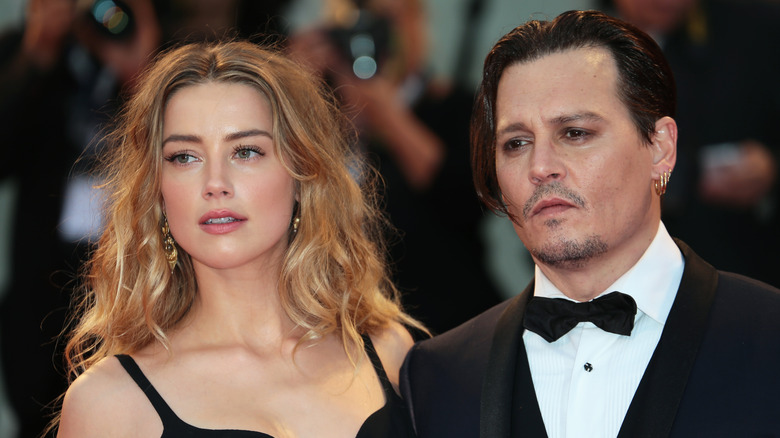 Matteo Chinellato/Shutterstock
By the looks of it, Johnny Depp and Amber Heard's marriage was doomed from the get-go. Sources close to the former couple dished that shortly after their wedding, they would get into frequent arguments that did not end well. They fought "all the time," the insider told ET. "It started a few months after they got married and it just never got better. It was extremely volatile."
In one of their altercations, Depp had hurt his hand, which resulted in the postponement of the "Pirates of the Caribbean: Dead Men Tell No Tales" filming. And as it turns out, he allegedly sustained the injury in one of his fights with Heard, which resulted in him cutting a chunk of his finger. Depp said on the stand that they were arguing over a postnuptial agreement when things went "too crazy." He claimed that Heard "grabbed the bottle of vodka" and then "hurled it" at him. He also said that Heard grabbed another bottle and flung it at him. Depp testified that the bottle "made contact" with him and "shattered everywhere." He recounted, "I felt heat and I felt as if something were dripping down my hand. And then I looked down and realized that the tip of my finger had been severed, and I was looking directly at my bones sticking out." he detailed.
Meanwhile, Heard had a different account of the story, telling the court that Depp had hurt his finger due to repeatedly punching the wall and breaking a phone.
Medical experts found inconsistencies in Johnny Depp's story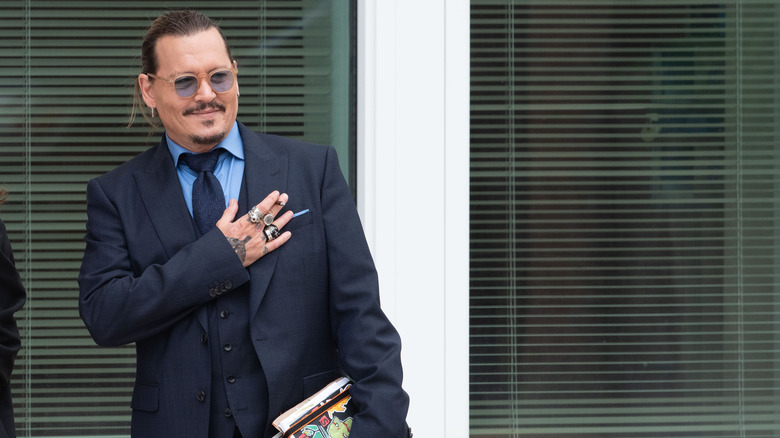 Consolidated News Pictures/Getty Images
With the explosive fight being central to Johnny Depp's defamation case against Amber Heard, medical experts were involved in getting to the bottom of what had actually happened, and according to a surgeon, Depp might not have been telling the whole truth.
Dr. Richard Moore, a surgeon who specializes in hand and wrist injuries, opined that X-rays and photographs of Depp's injury were "not consistent" with his account of events. "You would anticipate in the setting of a glass explosion like that, where there's multiple fragments and the tip of the finger cut off—you would anticipate that there'll be other lacerations," he told the jury. However, he's not completely discounting the possibility that it might have been the vodka bottle that injured Depp. "I can't rule out that a vodka bottle caused the injury, but I can rule out that it was caused by the manner described in his testimony," he asserted.
Meanwhile, Depp's former personal nurse, Debbie Lloyd, admitted that she, too, was confused by what really happened. "I have heard that Amber threw a bottle of vodka at him," she said. "I have heard that he had slammed it with a phone." But Dr. David Kipper, Depp's personal doctor, testified that he received a text from Depp admitting that he was responsible for injuring his own hand. "I cut the top of my middle finger off... What should I do!??" Depp apparently wrote. "Except, of course, go to a hospital.... I'm so embarrassed for jumping into anything with her... F*** THE WORLD!!! JD."