Pete Davidson Reportedly Called Nick Cannon Before Proposing To Ariana Grande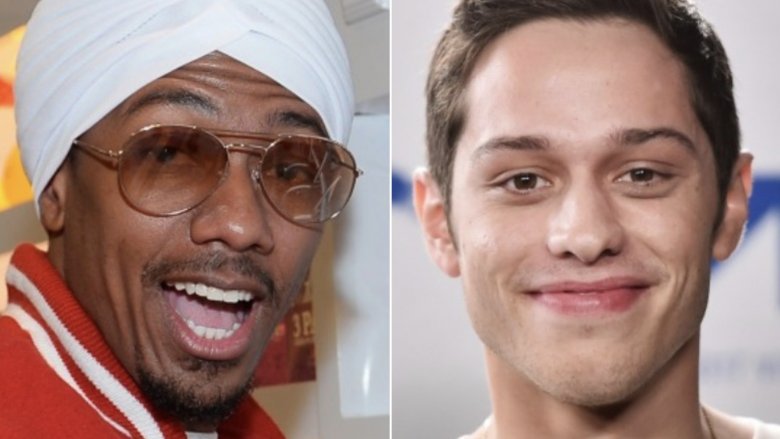 Getty Images
Apparently Pete Davidson reached out to Nick Cannon before popping the question to Ariana Grande.
While promoting Nickelodeon's Drop That Seat in Los Angeles on Thursday, June 14, 2018, Cannon spoke with Entertainment Tonight and revealed that Davidson had called him before asking Grande to marry him. "He called before he was going to do it, and I said, 'Salud!'" Cannon said. "He was really excited, so I was like, 'I love it, man. Keep it going.' Love is in the air!"
Of Davidson and Grande, Cannon said, "I watched them both grow up, adding, "A lot of people don't know Pete Davidson is someone I introduced to entertainment." Cannon explained that a 15-year-old Davidson had called into his old radio show years earlier, and, after being impressed by his joke, Cannon "took him on the road" with him.
"Unbeknownst to me, even at that time, I didn't know about his history, that his father passed away on 9/11 and then just watched this young man have all of this weight on his shoulders and then just become this outstanding, hilarious young individual," Cannon continued.
Remarking on Davidson and Grande's engagement, Cannon, who previously married Mariah Carey after just weeks of dating, said, "To see them together... and I've been one of those dudes with one of those fantasy, fantastic relationships where you just go off and get married, so I was like, 'Do it.'" He added, "I've congratulated Pete. I haven't spoken to Ariana, but I'm happy for them."
Comparing Davidson and Grande's romance to that of The Notebook," Cannon said, "I'm up for all weddings. I'll officiate. I don't know how long they'll last if you let me do it, but I'm up for it."
As Nicki Swift previously reported, news first broke that Davidson and Grande, who were both just coming out of long-term relationships, were dating in May 2018. About a week later, the two seemingly confirmed their relationship by sharing a cute photo on Instagram, showing off their mutual love for Harry Potter. Not long after, Davidson and Grande reportedly became engaged. "It's a recent engagement," a source told People at the time. "They're just two people who found love quickly and make each other happy all the time. They both started talking about it this past weekend. It's nothing they've been hiding."
Grande later seemed to confirm the engagement by replying to fans' tweets. For instance, one fan tweeted at Grande, "I hope he knows he is marrying us as well." The pop star wrote back, "HAHAHAHAHAHH HES BEEN BRIEFED."
According to Us Weekly, Davidson and Grande plan on having a long engagement.