Victoria Justice Finally Clears Up Those Ariana Grande Feud Rumors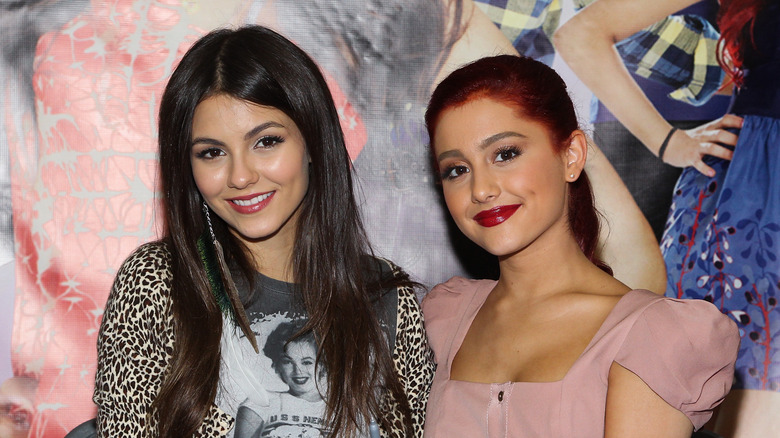 Noel Vasquez/Getty Images
We've probably been guilty of using the "I think we all sing" meme at some point. You know, the one where Ariana Grande's "Victorious" cast mates make a comment about the pop star singing all the time on the set of the show, and Victoria Justice butts in with her own comment to indicate that everyone on the show sings a lot.
The meme stems from a rumored feud that's been on and off for about a decade. Starting in 2013, Grande took to her Ask.fm page to address the reason why "Victorious" ended. "Sweetheart the only reason Victorious ended is because 1 girl didn't want to do it," she wrote (via Seventeen), adding "She chose to do a solo tour instead of a cast tour." Fans were quick to jump to conclusions that the "7 Rings" singer was talking about Justice, as she went on tour that year.
In 2015, Justice addressed the rumored drama surrounding her and her Nickelodeon co-star. She claimed that her going on a solo tour wasn't the reason the show ended, and it was more of an executive team decision that was above her pay grade. She also addressed the rumors that she was the one who reportedly bullied Grande on set, saying that the pop star texted her directly after the interview came out and said she was talking about someone she worked with on Broadway. Now, Justice wants these feud rumors to be gone for good.
Victoria Justice is annoyed by the ongoing feud rumors
The Victoria Justice and Ariana Grande feud rumors have been resurfacing from time to time for years, and the "Afterlife of the Party" actor is sick of it. "When that 'I Think We All Sing' meme came out, I think that was so annoying," she told E! News on April 18, wanting to set the record straight once and for all. "Ariana texted me and we both were like, 'This is so stupid.'" Justice added that she thinks the narrative of wanting to pit her against her former "Victorious" co-star "isn't relevant anymore."
It's clear that Justice has wanted to put an end to the rumors for a while, as she has continuously been supporting Grande throughout her success as a solo artist. In 2015, the "Zoey 101" alum admitted that she probably wouldn't be teaming up with her former co-star anytime soon, but is still happy for her. "I think we're kind of both on our own separate paths right now," she told ET. "I've been more focused on acting and she's doing her singing thing and doing awesome."
And in 2019, the actor admitted that she had to leave Coachella early, missing the "thank u, next" singer's concert. She later clarified that she didn't dip out early because of her co-star, and she would've loved to watch Grande perform if she could. The two also took part in the "Victorious" reunion in 2020.