Sad Details About Martha Stewart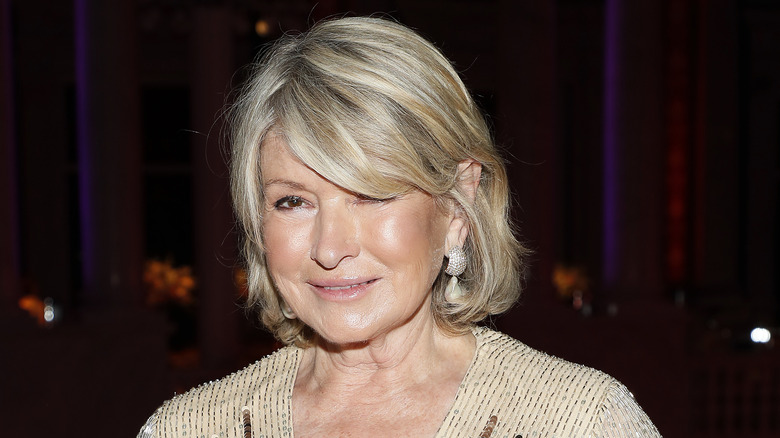 Paul Morigi/Getty Images
Martha Stewart has been teaching us all how to cook since she published her first book, "Entertaining," way back in 1982. But in recent years, the domestic goddess has become just as renowned for her eventful private life as her exemplary skills in the kitchen.
Who can forget the moment that she was sent down for five months due to her involvement in the ImClone stock trading case? Or the entertaining friendship/professional partnership she forged with rap's biggest weed advocate, Snoop Dogg? Or the recent passive-aggressive feud with another lifestyle queen, Goop founder Gwyneth Paltrow? 
But away from the criminal activities, friendships, headlines, controversies, and celebrity clashes, Stewart has also experienced — and overcome — her fair share of heartbreak, tragedy and all-round sadness. "I have survived the rigors of time, of marriage, of childbearing, of building a business from scratch," she told People in 2020. "I have survived very nicely, and I think I make the most of it." From family losses and fickle friendships to a surprising number of unusual pet deaths, here's a look at 14 times when one of the culinary world's most divisive figures was deserving of some sympathy.
Martha Stewart had a painful divorce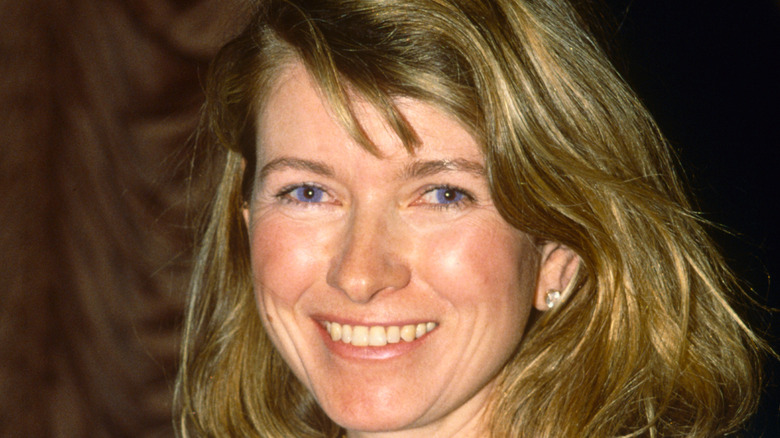 George Rose/Getty Images
The chef born Martha Helen Kostyra first walked down the aisle long before she became the nation's favorite TV chef, marrying Yale Law School student Andrew Stewart in 1961 when she was 19 years old. The young couple went on to have a daughter, Alexis Stewart, four years later and in 1986 celebrated their silver wedding anniversary.
Unfortunately, this milestone appeared to jinx their long-lasting union. In 1987, the pair announced they were separating and by the turn of the decade they were officially divorced. According to the friends who spoke to Jerry Oppenheimer for Stewart biography "Just Desserts," the marriage wasn't exactly a bed of roses, with one commenting, "There were times when there was utter and complete tension and long hostility-filled silences between them that you could cut with a knife."
Speaking to People in 2020, Martha admitted that she struggled to deal with the break-up at the time: "Getting divorced was a terrible thing for me, because we were the first to divorce in my family. And that we haven't spoken since the divorce is even more painful. But I'm very strong, and I'm very motivated to get on with life."
She couldn't separate Anthony Hopkins from Hannibal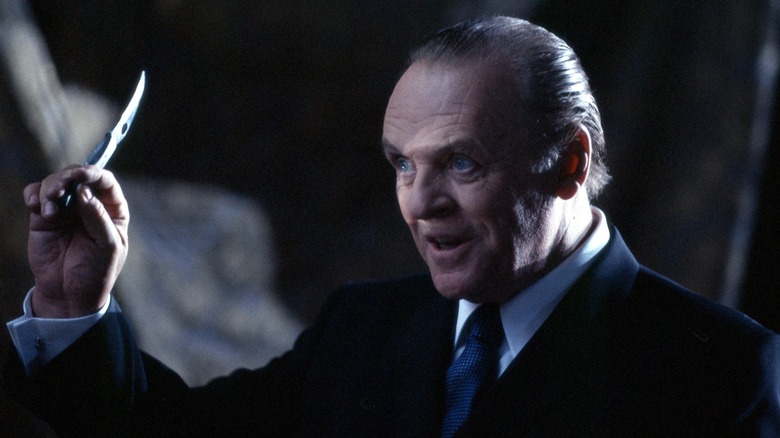 Getty Images/Getty Images
Here's an unlikely celebrity pairing you might not have known about. At some point after she and her husband went their separate ways, Martha Stewart went out to dinner with one of Britain's leading thespians, Anthony Hopkins. Unfortunately, the Welshman's ability to fully inhabit his characters put pay to any long-lasting relationship.
As Stewart has shared in a number of interviews, she called things off with Hopkins right out the gate for one very specific reason: she couldn't separate the actor from one of his performances. In 2014, she told Meredith Vieira that after only a few dates, she realized she wouldn't be pursuing anything serious. "All I could think of was Hannibal Lecter," she laughed. "Ray Liotta's brains, remember that?"
When her history with Hopkins came up again on a 2022 episode of "The Ellen DeGeneres Show," Stewart admitted that she couldn't envisage bringing Hopkins to her spacious Maine home, adding, "All I could think of was him eating, you know..." Yes, she really stopped seeing the Academy Award winner because she kept picturing scenes from "The Silence of the Lambs" and the like. We have to wonder if she was tempted to serve him one of her fava bean dishes. 
Martha Stewart was betrayed by her best friend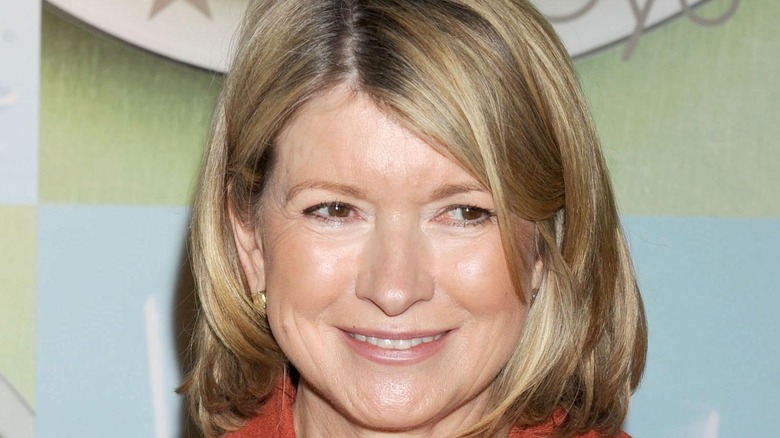 Everett Collection/Shutterstock
With friends like these, who needs enemies? In 2010, Martha Stewart's former BFF Mariana Pasternak published a book about the two decades she'd spent as the TV chef's closest confidante. And despite its title, "The Best of Friends: Martha and Me," the tome wasn't exactly glowing.
Indeed, Pasternak disclosed a whole host of secrets which didn't show Stewart in the best light, including the several weekends she apparently spent pursuing a married multi-millionaire nicknamed "The Mogul" in the Hamptons. "She could be as naïve as a little girl with men," the author summarized (via Page Six), adding, "Each time she met a man she liked, Martha heard wedding bells, and each time she suffered indignities and disappointment."
Of course, this wasn't the first time that Stewart had been betrayed in such a manner. Pasternak also testified against the A-lister in the obstruction of justice case which resulted in a five-month prison sentence. The former later told the New York Post that her tell-all book was payback for the emotional and financial distress she suffered at the time. 
Her longtime beau moved on very fast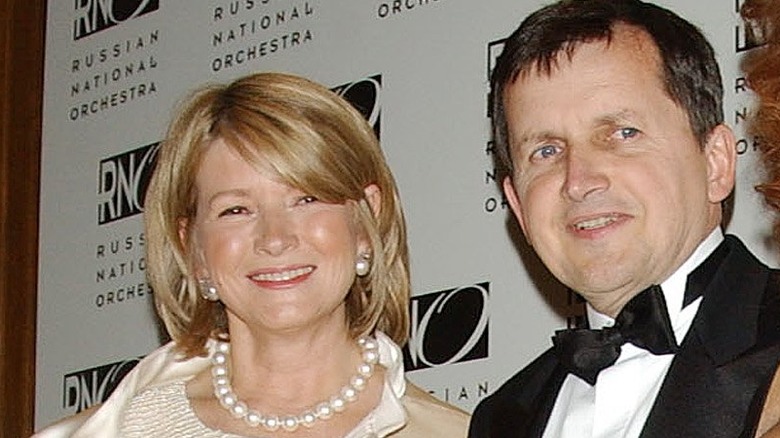 Arnaldo Magnani/Getty Images
Three years after divorcing her first husband, Martha Stewart began stepping out with Charles Simonyi, a Hungarian-American tech developer best-known for implementing Microsoft's applications group. The pair would enjoy each other's company on and off until 2008 when the man dubbed the "Father of Excel" reportedly called things off for good.
And Stewart's heartbreak was compounded shortly after when Simonyi walked down the aisle with a woman more than three decades younger. Yes, in November that same year, the multi-billionaire said "I do" to Lisa Persdotter, a Swedish socialite, in a Gothenburg ceremony which counted Bill Gates as a wedding guest.
Stewart has largely kept quiet about her relationship with Simonyi, although she did allude to him during an appearance on "Today" in 2013 in which she discussed her new-found love of online dating: "I had a longtime boyfriend. That ended a couple years ago. And I haven't found the next Mr. Right."
Martha Stewart lost her mother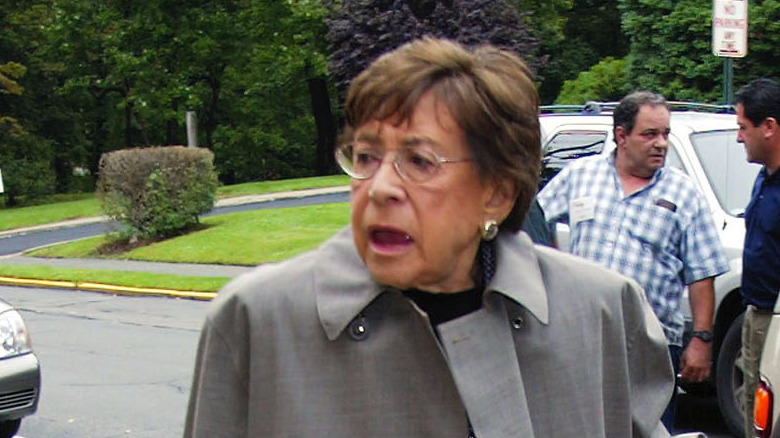 Don Murray/Getty Images
In 2007, Martha Stewart experienced the first of many family heartaches when she lost her namesake mother. The TV chef announced on her blog that Martha Kostyra, a former teacher nicknamed Big Martha, had died aged 93. A notice which later appeared in WestportNow.com stated that she died at Norwalk Hospital some days after experiencing a small stroke.
Later that same year, Stewart commemorated Mother's Day with a heartfelt tribute on her blog, acknowledging that her mom taught her the tools she needed to become a star in the homemaking world. "She sewed my clothes. She edged napkins and tablecloths. I did her pierogi recipe on TV," she wrote (via Page Six). The star also expressed her admiration for how Kostyra lived her life in general: "Mother was 100 percent independent until the day she died at 93. She taught me about living well. I miss her."
Back in 2003, mother and daughter had appeared alongside each other on "Larry King Live" where the former revealed how proud she was: "And you know, the first thing people say to me when they meet me for the first time, they'll say, 'Did you teach her everything she knows?' Well, I'll take the credit, certainly."
Martha Stewart's sister died aged 59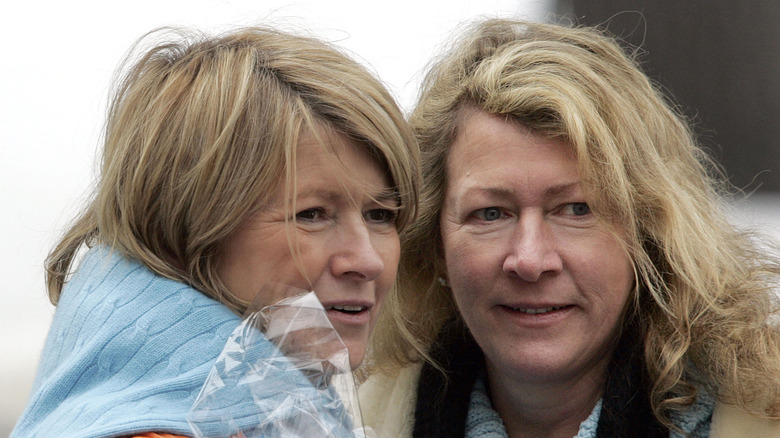 Stephen Chernin/Getty Images
Martha Stewart suffered another heartbreaking loss in 2014 when her younger sister died suddenly from a brain aneurysm at the age of just 59. Laura Plimpton was rushed to Norwalk Hospital after falling ill at her Connecticut home but sadly couldn't be saved by medics.
Stewart and Plimpton also had a professional relationship. The latter had helped to run Martha Stewart Living Omnimedia corporation's daily operations for more than a quarter-century, which explains why the TV chef also described her as an extraordinary employee as well as wife, mother and sister in her confirmation of the sad news. On her blog, Stewart also expressed her admiration that her sister had signed up to be an organ donor.
Speaking to "Larry King Live" in 2004, Plimpton revealed that the 14-year age gap between her and Stewart helped them build a different kind of relationship: "I was five when she got married, and all I wanted to do was be around her, her husband, and then when Alexis was born, I just wanted to take care of Alexis. She was a mother figure in many ways, a teacher, an employer."
Martha Stewart also lost her younger brother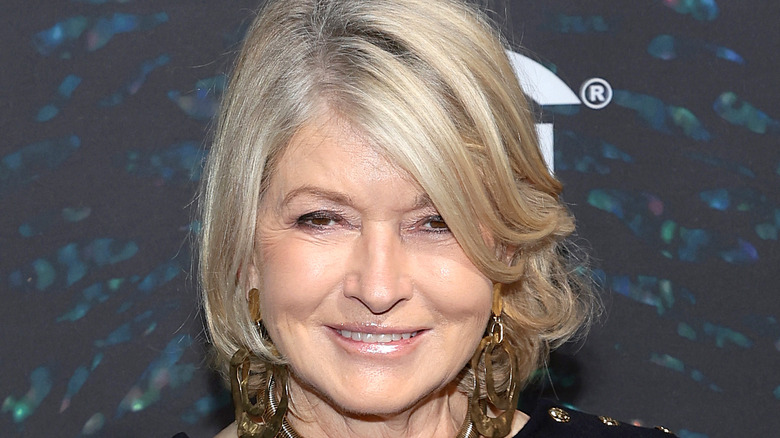 Dimitrios Kambouris/Getty Images
Having already lost her younger sister Laura Plimpton and mother Martha Kostyra, Martha Stewart had to deal with yet another family tragedy in 2017 when her brother George Christiansen died suddenly at his Connecticut home. According to Page Six, the contractor suffered a fatal heart attack.
Like Plimpton, Christiansen also had professional ties with Stewart. His wife reportedly worked in the TV chef's office, while his own Pequot Remodeling company helped to renovate her Turkey Hill home. He also appeared on TV with the domestic goddess, sharing his love of pie making with a blueberry pie made from berries that he'd grown himself.
Christiansen had also contributed to his sister's 2006 book, "Being Martha: The Inside Story of Martha Stewart and her Amazing Life," recalling the idyllic childhood experiences they shared. "It was all about going and finding a piece of land and living off of it, learning how to get back to nature," he said (via Daily Mail). "Listening to banjos, listening to folk music, discovering Leadbelly and the Mamas and the Papas. We used to have the greatest evenings with a bunch of hospitable people. Martha would make pies and other things for the occasions."
Martha Stewart's Chow puppy died in a kennel explosion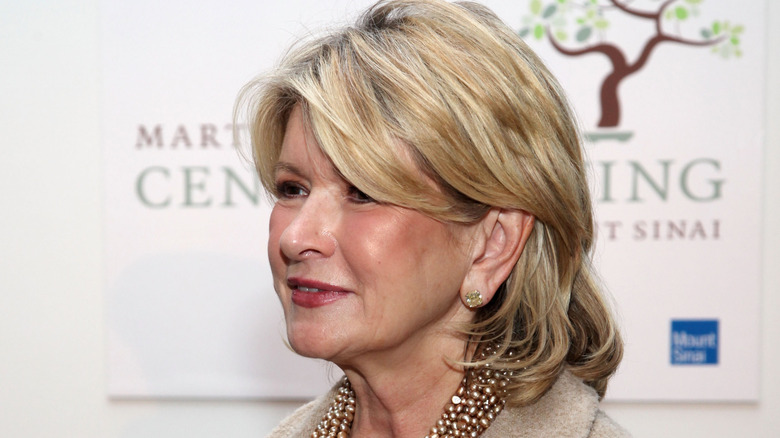 Will Ragozzino/Getty Images
Martha Stewart has had some terrible luck when it comes to her beloved pets over the years. Her first out-of-the-ordinary loss came in 2009 when her Chow puppy Genghis Khan was killed in a propane explosion.
As reported by the AP (via the Pocono Record), the tragedy occurred when a tank delivering propane to the Pazzazz Pet Boarding facility in Pennsylvania suddenly ignited. A total of 17 canines perished in the resulting blaze, while driver Timothy Kleinhagen suffered critical injuries. The latter was later hailed a hero by owner Karen Tracy for managing to rescue a dog during the disaster.
Reacting to the news on her official blog, Stewart wrote, "I am deeply saddened by this story. My heart goes out to Karen Tracy and I am hoping for a speedy recovery for those (both pets and humans) injured in this terrible event." The TV chef also uploaded several pictures of Genghis, the grandson of her former Chow Paw Paw who'd only died the year previously aged 12. She went on to name another Chow Chow after the late pup, and Genghis Khan II won a blue ribbon at the Westminster Dog Show in 2012. 
Martha Stewart's dogs killed her cat
The Martha Stewart pet curse appeared to strike again in April 2022 when she revealed that her beloved 12-year-old calico Persian cat had been fatally mauled by her own dogs. Following the tragic accident, Stewart took to Instagram to share the news, captioning a photo of three men digging a shallow grave, "Burying the beautiful and unusual Princess Peony."
Stewart explained that her four canines, who include French bulldogs Creme Brûlée and Bete Noire and Chow Chows Empress Qin and Emperor Han, evidently didn't recognize poor Princess Peony and went on the attack. "I will miss her very badly," she added.
Just a year earlier, Stewart told Today how much comfort her pets, particularly Princess Peony and fellow cats Empress Tang and Blackie, had given her during the pandemic. The homemaking queen actually used to have nine cats before acknowledging that this was perhaps six too many. She'd also revealed on Instagram that Princess Peony spent her first three years hiding in the basement of her home before eventually plucking up the courage to spend time with the rest of her animals. 
Martha Stewart lost six peacocks in a coyote attack
Martha Stewart's pet woes continued in 2022 when six of her pet peacocks died in an aggressive coyote attack. The TV chef took to Instagram to give her followers the sad news accompanied by a clip of one of the deceased birds.
A grieving Stewart wrote, "RIP beautiful Blue Boy. The coyotes came in broad daylight and devoured him and five others, including the magnificent White Boy." The culinary mogul then asked for advice on how to deal with coyotes with costly tastes in poultry, revealing that she was now being forced to keep the rest of her peafowl in their enclosures.
The year previously, Stewart had spoken of liberating the peacocks, who she described as friendly, sociable and beautiful. She captioned a carousel of the birds, "Having been confined for two years in a half-acre enclosure I decided to grant them daylight freedom, aka the run of the farm! Until they have to return at twilight to their secure Palais for the night when the wild predators make the rounds of the chicken coops, pigeon house and geese yard."
Martha Stewart spent years estranged from her brother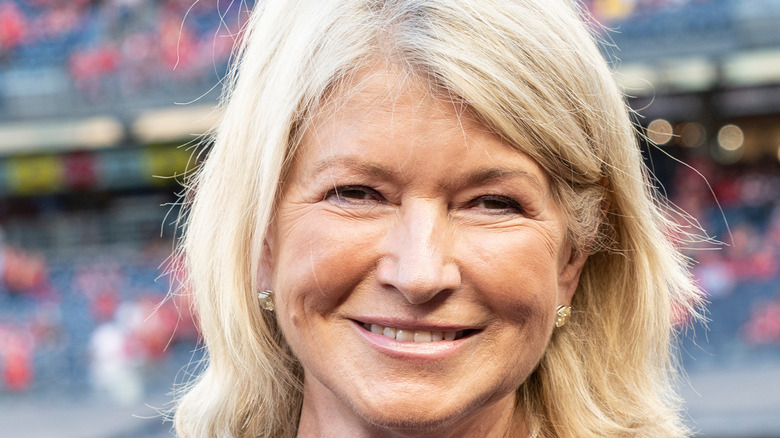 lev radin/Shutterstock
While Martha Stewart remained close with brother George Christiansen and sister Laura Plimpton right up until their untimely deaths, she's spent much of her old age estranged from another of her siblings. Indeed, in 2004, Frank Kostyra revealed that he hadn't spoken to the TV chef for five years.
Appearing on "The O'Reilly Factor," Kostyra was initially coy about the reason behind their relationship breakdown. "It was just a disagreement and I have to honor that. It's something that came between us. And that's just families do that every now and then." But when pressed by host Bill O'Reilly, he acknowledged that the root cause was a rumor that he'd sold a story on his sister to the press, something he firmly denied.
In another chat with New York Post, he disclosed that they'd always had something of a sibling rivalry: "I remember us lying on the floor biting and scratching as kids, trying to get each other to say, 'Uncle,' but she would never give in." Kostyra did briefly get to speak with Stewart outside the courthouse where her insider trading trial took place. But it's not known whether they've kept in touch since. 
Martha Stewart's father reportedly struggled with alcohol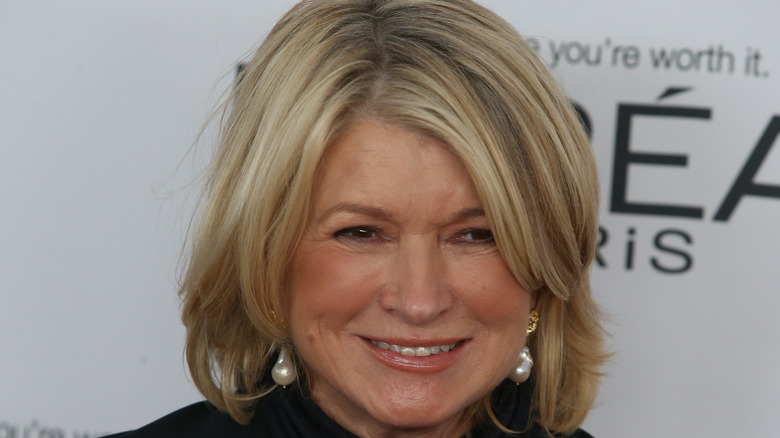 a katz/Shutterstock
In "Martha Inc.," an unauthorized 2002 biography of Martha Stewart penned by financial journalist Christopher Byron, it was claimed that the TV chef's father, Eddie Kostyra, was a man who failed to live up to his aspirations. Not only that but he also apparently struggled with alcohol misuse.
According to Byron, Kostyra had a difficult time with being a pharmaceutical salesman having previously harbored ambitions of being a doctor. "Martha's ex-husband, Andrew Stewart, referred to him as a Willy Loman figure who just sort of stumbled downhill through life until he finally wound up at the ultimate dead-end job," the writer is quoted by CNN as saying.
However, Kostyra, who died in 1979, has been hailed as a source of inspiration by his famous daughter. In 2002, she recalled to "Larry King Live" one particular childhood memory which taught her the value of hard work: "We had this cobblestone path in our garden, and it had weeds in it. And he said, 'Take out all the grass.' I think I was three. So, I sat there all day, and I became his pet because of that."
If you or anyone you know needs help with addiction issues, help is available. Visit the Substance Abuse and Mental Health Services Administration website or contact SAMHSA's National Helpline at 1-800-662-HELP (4357).
Martha Stewart didn't get to see her mom while in prison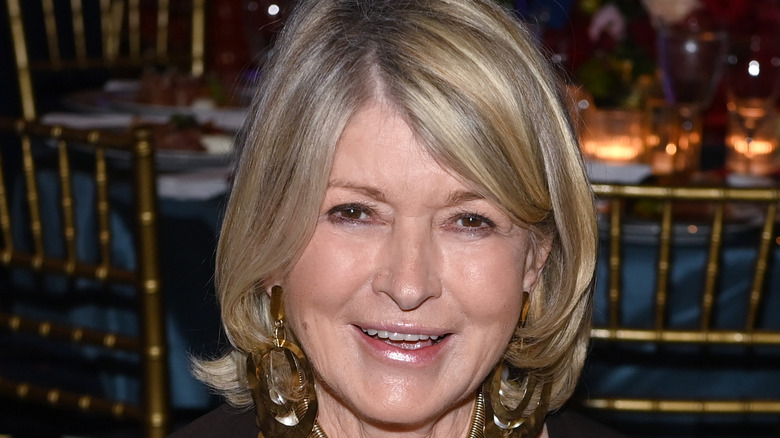 Dave Kotinsky/Getty Images
After being found guilty of several counts of lying to investigators and obstructing justice in the ImClone stock trading case, Martha Stewart was given a five-month jail sentence in 2004. To compound her misery, she was forced to serve her time at Alderson's Federal Prison Camp, a remote facility hundreds of miles from her Connecticut home.
The TV chef had hoped to be sent to Danbury's Federal Correctional Institution, a prison close enough for her nearest and dearest, including her then-90-year-old mother, to visit. But her pleas went unanswered by the Federal Bureau of Prisons, a decision which Martha's daughter, Alexis Stewart, believed was a vindictive one.
"It would have been a lot nicer if, and more fair maybe, I mean, this is an issue for all prisoners that are being sentenced and sent away, they try to be near their families," Alexis told "Larry King Live" after the verdict. "But the Bureau of Prisons likes to assert their control. So even though the judge recommended that my mother be close to home, I think they may have made a point of sending her far away."
Martha Stewart was snubbed by friends during court case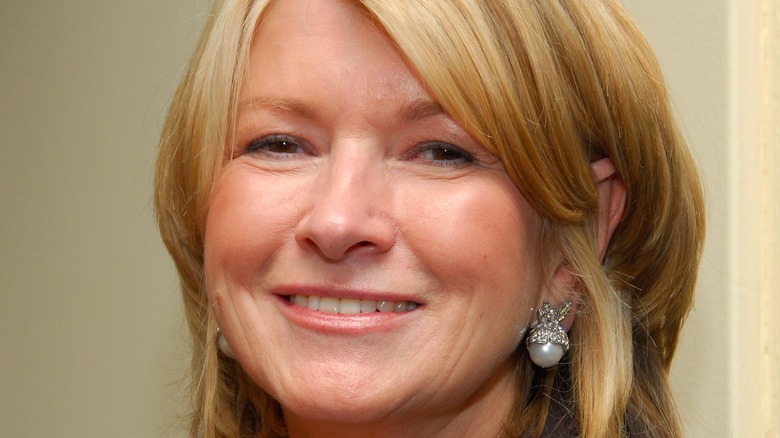 Everett Collection/Shutterstock
Mariana Pasternak wasn't the only so-called friend who apparently turned their back on Martha Stewart once her name became more synonymous with insider trading than home baking. The domestic queen was reportedly snubbed by every single one of her high-profile acquaintances during the 2004 court case which resulted in a five-month prison sentence.
In a chat with ABC News, Hamptons and Gotham magazines' society editor R. Couri Hay claimed that nearly everyone Stewart knew had decided against returning her phone calls: "In recent weeks, she was mostly unsettled by the lack of support from people who claimed to be her friends."
Further proof of Stewart's isolation came when she was spotted alone at a cinema in her Connecticut hometown of Westport. According to writer Steven Gaines, the TV chef has never been one for mingling: "She wasn't terribly social. She wasn't into going to glitzy events." And a resident named Paula Conway claimed, "She has zero friends here," before sticking the knife in even further by adding, "She looked terrible. She had bags under her eyes." Ouch.