Did Karl Lagerfeld's Cat Really Inherit His Money After His Death?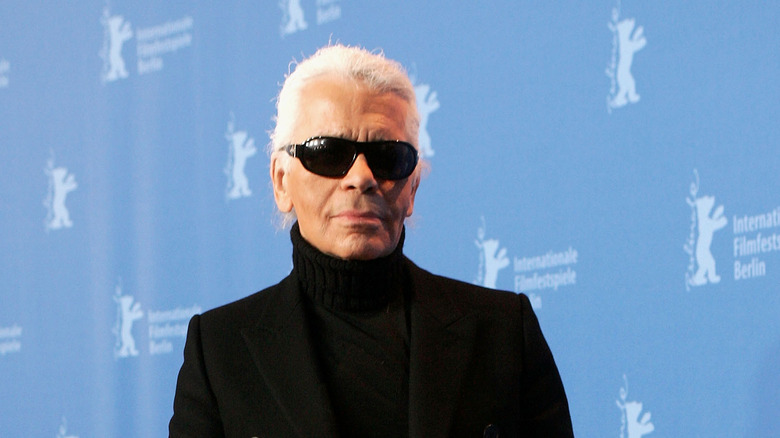 Sean Gallup/Getty Images
Karl Lagerfeld's death in 2019 ended an unparalleled fashion empire built over six decades. Lagerfeld also left behind a fortune. According to Celebrity Net Worth, Lagerfeld was worth $300 million when he succumbed to pancreatic cancer. Of course, leaving behind such a large sum of money makes room for the deceased's loved one to fight for their piece of the pie. Fortunately, the fashion mogul had a will in place at the time of his death, but that hasn't stopped various problems from arising.
According to the Mirror, Lagerfeld named seven total people as beneficiaries of his estate, including his godson and several high-profile fashion professionals. Lagerfeld also reportedly left a significant portion of his estate to his cat, Choupette, whose association with the designer has made her quite famous in her own right. And although Lagerfeld's decision to leave millions to his cat may have confused some people, he addressed the situation before his death. "Don't worry, there is enough for everyone," shared Lagerfeld with Numéro (via CBS News). "She has her own little fortune, she is an heiress: If something happens to me, the person who will take care of it will not be in misery," Lagerfeld added. "She's a rich girl!"
Unfortunately, Lagerfeld's wishes for his beloved cat haven't exactly panned out the way he probably wanted.
Apparently, Choupette is still waiting on her payout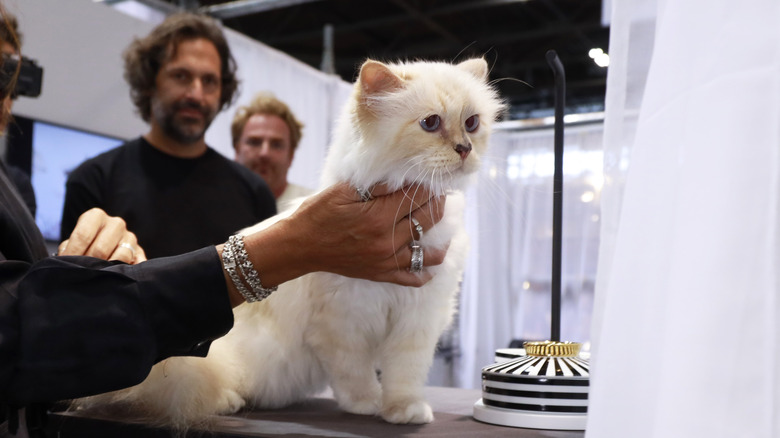 Julien M. Hekimian/Getty Images
It seems that Choupette hasn't actually been handed over her slice of Karl Lagerfeld's fortune. There appears to be two reason for this: first of all, Lagerfeld's accountant, Lucien Frydlender, went out of business following his death and hasn't cooperated in helping to divide the money, per the Daily Mail. 
And while that certainly sounds fishy, Frydlender's wife claims that it was due to an unspecified illness on his part — not fraud. As of 2023, Lagerfeld's assets still haven't been properly allocated to Choupette or his other beneficiaries, who are reportedly working hard to secure their own part of the plentiful riches. The second reason, in Choupette's case, is that French law prohibits people from leaving money to animals in the event of their death, per USA Today. This means that even if Lagerfeld's surviving loved ones can reach an amicable resolution, the beloved cat still may not walk away with any money. Fortunately, Choupette doesn't even need it.
Choupette is doing A-OK
Even though Karl Lagerfeld is no longer here, his beloved feline companion continues to live better than 99 percent of the population. While it's unknown whether or not any of Lagerfeld's money is currently helping Choupette continued to enjoy life's finest luxuries, the cat rakes in a fortune on its own. In addition to having an Instagram account with over 140,000 followers, Choupette regularly appears in various ads and sponsored content. "Choupette became the most famous cat in the world, and the richest," Lagerfeld shared with The Cut in 2015.  "She did two jobs and made 3 million euros last year. One was for cars in Germany and the other was for a Japanese beauty product." 
In 2020, Lagerfeld's former communications director Caroline Lebar shared with the New York Times that Choupette "lives with her nanny. Here in Paris. She is in good shape, and is surrounded by love." That's not all, though. Choupette will also be one of those in attendance at the 2023 Met Gala, which focuses on Lagerfeld's fashion dynasty, per the New York Post. Choupette also graced the sleek pages of Vogue in April, alongside the iconic Naomi Campbell. Never have we ever felt more envy towards a cat!