What We Know About Kris Jenner's Mom Mary Jo 'MJ' Campbell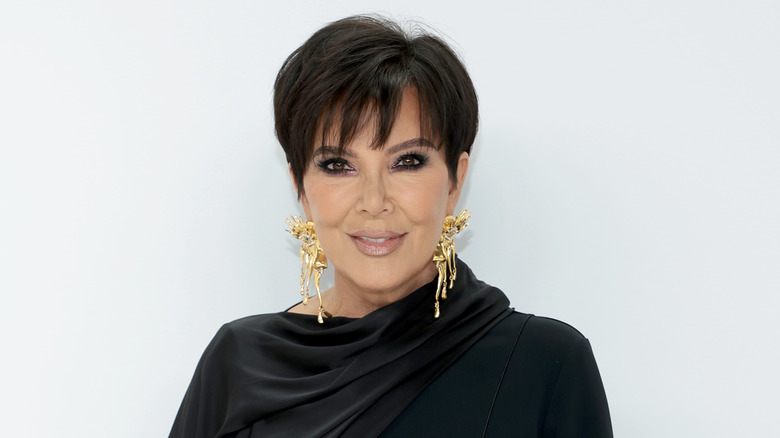 Dimitrios Kambouris/Getty Images
"Keeping Up With the Kardashians" fans know Kris Jenner as the momager (mom and manager) to all her kids, but she learned it all from her own mother, Mary Jo Campbell, otherwise known as "MJ." Throughout the Kardashians' time on television, there have been many people who have made an appearance on the show. But none quite like MJ. Her humor and positive outlook on life have made her a fan favorite on the show.
From her first episode, it was clear that MJ had a close relationship with her grandchildren and daughter. And as much love as MJ gives to the Kardashian-Jenners, they give it right back. In honor of her 88th birthday, Jenner shared a sweet Instagram post celebrating her mom on the special day. She said, "Happy birthday to my very beautiful mommy M.J.! You are my best friend, my heart and my hero! Thank you for all you have done for me and every single memory we have made together!" Kim Kardashian joined the celebration, sharing a cute post for her grandma. She said, "I love you so much grandma and so so so lucky to have you to up to look up to."
Despite her making several appearances on the show, MJ keeps her personal life pretty private. That said, more and more people are curious about the women who started it all, and we're here to fill you in on all the details.
Mary Jo 'MJ' Shannon was married several times
Kim Kardashian isn't the only one in the family who has been married more than once. The SKIMS creator's grandma, Mary Jo "MJ" Campbell, has also walked down the aisle several times. According to the Daily Mail, Kardashian sat down to interview MJ for her website, and it was during the interview that MJ revealed she was just 18 years old when she first got married. She shared, "I was married for two months at 18. Right out of high school, I was given an engagement ring. Guy I had been going with for four years."
However, similar to Kardashian, her marriage didn't last long. MJ shared, "I just thought, 'This really isn't that much fun,' so I got out of it. Once you got married you realized, 'Oh what did I do?' You know, and you try to stay in there for a month or so." After MJ divorced her first husband, she moved on to Kris Jenner's father, Robert Houghton. According to Biography, the couple welcomed a young Jenner and her sister, Karen, before they divorced in 1962. After her divorce, MJ went on to marry Harry Shannon, per The U.S. Sun. Unfortunately, after 40 years of marriage, Shannon tragically died in a car accident in 2003. Shannon and MJ's daughters were incredibly close, and Jenner shared that his death was "devastating" for the entire family, per Haute Living. After his passing, MJ remained unmarried.
Mary Jo 'MJ' Campbell is a business woman
SKIMS, Kylie Cosmetics, Good American; building a business in the Kardashian-Jenner family is not uncommon and has been going on for longer than you think. Their grandmother, Mary Jo "MJ" Campbell, was one of the first in the family to have a business. According to Haute Living, the matriarch opened a clothing store decades ago. In 2017, Kris Jenner shared with the outlet, "My mom has a children's clothing store — for 45 years. It's called Shannon & Company, and I used to work there when I was young." Even when MJ wanted to close the store after her third husband's accident, Jenner pushed to keep it open and continued to work there.
MJ has always been passionate about her business and detailed her store to La Jolla Light. She said, "I've had the same people stop by, who used to shop for their children and are now shopping for their grandchildren. It's a family tradition for some." The store, located in San Diego, California, has been MJ's pride and joy as she described it as a "happy atmosphere" for children. MJ was passionate about the store and running her business, but unfortunately, they have reportedly closed, per Yelp. Although the store is no longer open, MJ's business skills have definitely been passed on throughout generations.