What Magic Johnson Did After Son EJ Came Out To Him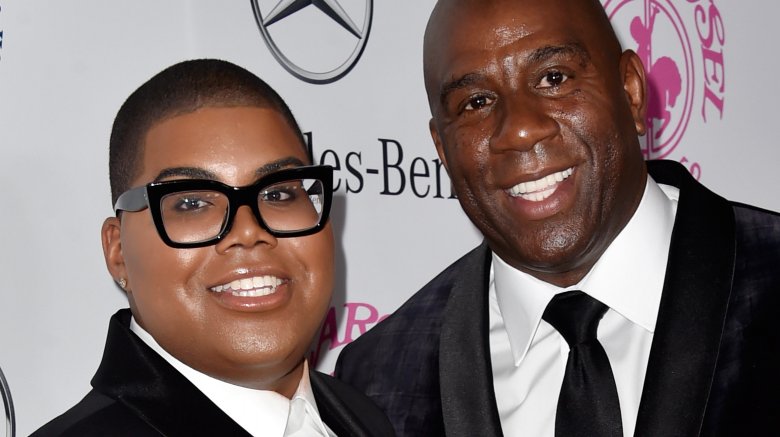 Getty Images
It took some time for Magic Johnson to fully accept his son EJ's sexuality.
On Monday, June 18, 2018, the Rich Kids of Beverly Hills alum and his mom, Cookie Johnson, opened up about his coming out experience during their joint appearance on Facebook's Red Table Talk show. 
"We had the talk with Dad and that was a little tough," Cookie, 59, began, explaining that she'd asked her son, who publicly came out as gay in 2013, about his sexual orientation, before they decided to tell the 58-year-old basketball legend together. "My husband is the kind of person like he reacts quickly. Everything that came to the top of his head, he just let it out."
She continued, "It hurt my feelings and I know it probably hurt [EJ's] feelings," adding that Magic had said, "This is not what I wanted for my son. And do you realize what you're saying because the world is not going to like that and do you want to live this life?"
"Afterwards, I told him ... 'I thought that was a little tough. That wasn't right,'" Cookie went on. "Then he didn't say anything."
According to EJ, he and his dad shared a heartfelt conversation the following day. "[He] was like, 'We're going to get through this and I just need time,'" the 26-year-old recalled. "And we both started crying a little bit."
The EJNYC star later moved across the country to attend college in New York, which helped the father-son duo reach a turning point in their relationship. "When he came back to visit he picked me up for dinner. He hugged me so hard. He almost like broke my back," EJ said. "At that point, I was like, 'We're going to be ok.' I could really feel the love."
The reality TV star also opened up about his gender fluidity during the interview, saying, "I guess you're just floating in the spectrum, you're not really defined by any gender confines if you will. I'm just EJ."
As Nicki Swift previously reported, Magic shared some important advice for parents who have a child who identifies as LGBTQ during a 2017 appearance on The Ellen DeGeneres Show. "I think it's all about you not trying to decide what your daughter or son should be or what you want them to become," he said at the time. "It's all about loving them no matter who they are, what they decide to do. When my son came out, I was so happy for him and happy for us as parents. We love him. EJ is amazing."