Are Zac Efron And Vanessa Hudgens Still Friends After Their Split?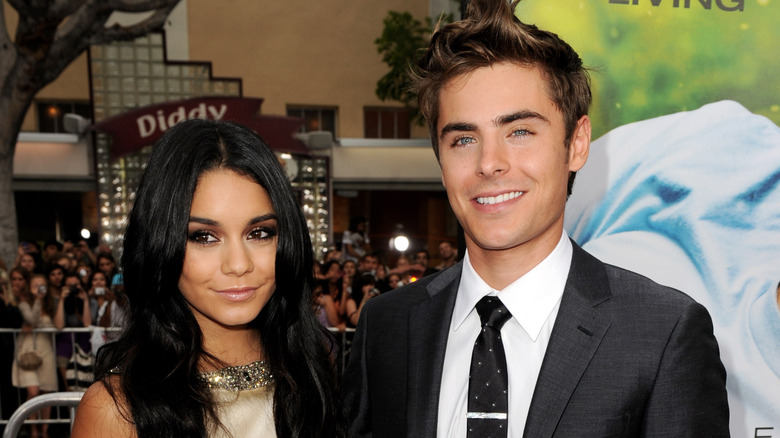 Kevin Winter/Getty Images
For teens and tweens of the 'aughts, "Zanessa" (aka Zac Efron and Vanessa Hudgens) was proof that dreams really do come true — so naturally, everyone wanted to know if they stayed in touch after their breakup. 
The actors played love interests Troy Bolton and Gabriella Montez in all three installments of Disney's smash-hit "High School Musical" franchise and took their love offscreen shortly after the first film. "We kind of clicked from the very beginning," Efron told People in 2007. Hudgens agreed. "[Zac and I] created a bond right from the start," she said during a 2019 appearance on the "Awards Chatter" podcast. "We were like, 'We're doing this, it's us or nothing.'" Cue five years of Zanessa, full of romantic beach getaways, red carpet appearances, and sweet PDA. 
The public nature of the romance made us believe "[We Were] All In This Together," so when Efron and Hudgens split, they broke our collective hearts. Maybe that's why fans took so long to accept it. In 2011, Efron's rep was forced to clear the air when rumors of a possible reconciliation swirled. "I don't know how [Zac and Vanessa] were at a Hollywood nightclub when [Vanessa] isn't in town," Gina Hoffman told E! News, shooting down reports that the one-time couple was "bopping around" together. Still, we can't blame all those teeny-bopper hearts for hoping. Thankfully, unlike some other former celebrity power couples, Efron and Hudgens kept things cordial after the breakup. How cordial are we talking, exactly?
Zac Efron and Vanessa Hudgens are grateful for each other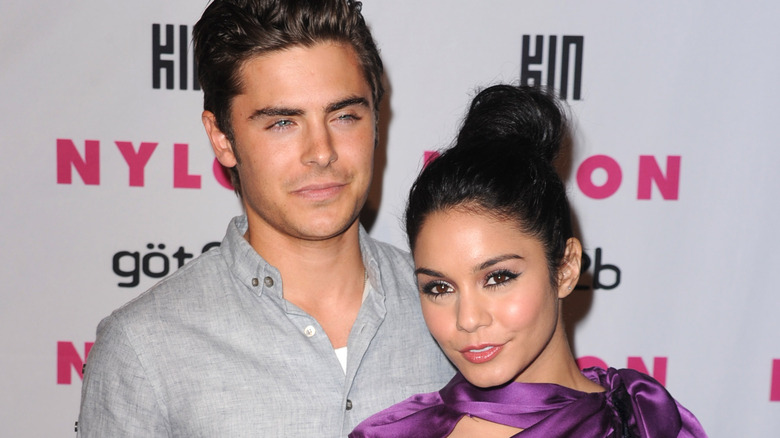 Frazer Harrison/Getty Images
Five years of dating early on in their respective careers gave Zac Efron and Vanessa Hudgens a lifelong love for each other, even if it is platonic. "We grew up together," Hudgens told Shape in 2011 (via People), reflecting on her gratitude for her ex. "It was nice to have someone to share all of those experiences with." She added, "It was a good thing. The relationship kept me grounded, and because I was with someone who knew me so well, I didn't need to try to be someone I'm not." But as is natural when people break up and move on with other partners, Efron and Hudgens gradually fell out of touch. "I completely lost contact with [Zac]," the "Spring Breakers" star told Access Live in 2017. (At the time, she was dating Austin Butler.)
Efron and Hudgens might not be close, but there are no hard feelings. Actually, quite the opposite. "[Vanessa] was a really interesting, sweet person," Efron said in a 2019 interview with The Hollywood Reporter, adding that his time filming "HSM" with her was "the most honest, carefree, passionate experience of my life." That same year on "Awards Chatter," Hudgens again reiterated how Efron kept her "stabilized and grounded" when she was still learning how to navigate fame in her youth. 
Is Zanessa getting back together?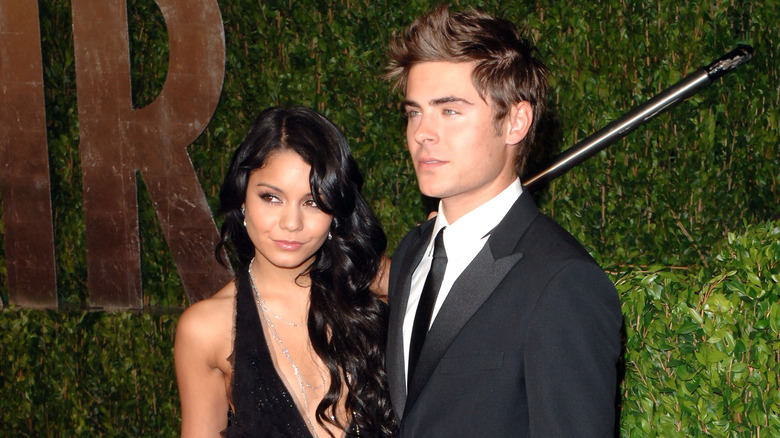 Craig Barritt/Getty Images
Any hope of a "Zanessa" reunion has gone out the window now that Vanessa Hudgens is engaged to MLB player Cole Tucker. But Zac Efron did give fans a reason to wonder when he followed his one-time love on Instagram as of March 2023. Whether this is a last-ditch attempt to win Hudgens back, a nostalgic follow, or merely an attempt to keep Hudgens on his radar remains to be seen, it was enough to send Twitter into a full meltdown. "T as [in] Troy? Not T as in TODAY ZAC EFRON FOLLOWED VANESSA HUDGENS ON INSTAGRAM," one fan tweeted, alluding to that infamous necklace Troy gave Gabriella in "HSM 2." Another person was all of us when they wrote, "Zac Efron followed Vanessa Hudgens on Instagram and I'm losing my mind."
As of this writing, Hudgens has neither commented on her new follower nor followed Efron back. And it feels notable! Following or unfollowing a fellow celebrity can give weight to a relationship or put a feud to bed. In the case of the latter, just ask Selena Gomez and Hailey Bieber. Additionally, a quick scan of Efron's account reveals that he is quite judicious when it comes to following others. Maybe there's a "High School Musical 4" in the works that we don't know about yet? Stranger things have happened, so we're keeping our minds open and our dancing shoes ready.