Are Hallmark Stars Eloise Mumford And Brett Dalton A Real-Life Couple?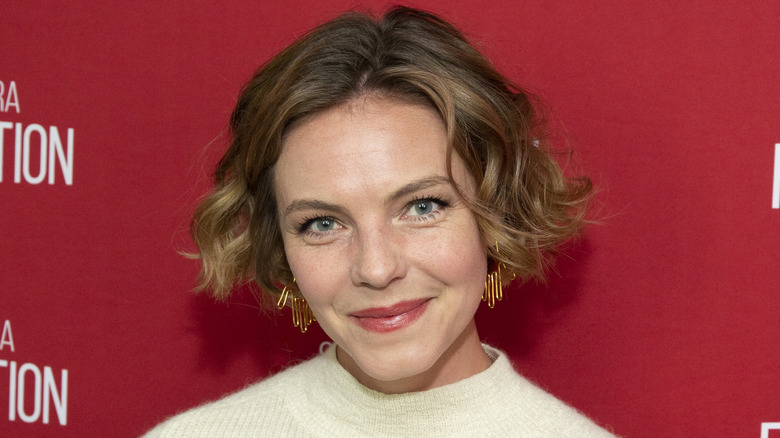 Vincent Sandoval/Getty Images
The Hallmark Channel has a huge roster of stars for their many holiday movies, whether celebrating Christmas, Valentine's Day, or wedding seasons in general. Despite frequent Hallmark appearances opposite different actors, it's common for romance fans to wonder whether the leads are dating in real life. Hallmark stars do sometimes date, or even marry their costar, especially if the chemistry is good. One example of this fiery chemistry happened between Eloise Mumford and Brett Dalton in the 2021 movie "One December Night."
Despite both appearing on NBC's "Chicago Fire," Mumford and Dalton didn't meet until filming together for Hallmark in September 2021. Mumford ended her "Chicago Fire" role as Hope Jacquinot in 2019, two years before Dalton joined the cast as Jason Pelham. The actors have had multiple movie roles at Hallmark, including Mumford's multiple appearances in films like "Just in Time for Christmas" and her 2012 debut, "Christmas with Holly." Dalton rose as a star on the network with films like "Cooking with Love," in 2018, and "Just My Type." 
However, they're perhaps also known for instigating dating rumors after their Hallmark Movies & Mysteries film together. However, fans have been clamoring to know whether or not they're a real couple.
Eloise Mumford and Brett Dalton went Instagram official... for a while
While both Eloise Mumford and Brett Dalton primarily keep their private lives private, they both are active on Instagram, frequently sharing photos of themselves and their activities. Despite their appearance in "One December Night" immediately setting off dating rumors, they were fairly quiet about it until fans started noticing a few photos on their social media accounts.
"Love is in the air. And now in my heart with @eloisemumford," Dalton had said in a since-deleted Instagram post in June 2022 (tweeted by a fan), apparently declaring his feelings for Mumford. Mumford also came to Dalton's rescue on a trip to Universal Studios, where Mumford took Dalton's daughter (with ex-wife Melissa Trn) on the Harry Potter ride an astonishing five times in a row after Dalton got motion sickness. "Easily one of the best weeks of my life," Dalton captioned his photos, which included Mumford. 
Though Mumford hadn't posted anything as quite as assertable, she tagged Dalton in a photo of their feet and posted a sweet selfie of them in August 2022. In October, Mumford also wrote a loving message on Instagram (via Distractify), saying "I love being by your side, through thick and thin and every version of your facial hair." Alas, that post seems to have been deleted. This is one of a few reasons fans suspect the two lovebirds are no longer a couple.
Eloise Mumford and Brett Dalton's relationship was seemingly short-lived
While it's true Brett Dalton and Eloise Mumford are hush about their private lives, it still appears any relationship between the two is over, sadly. Investigative fans had a conversation on Mumford's Instagram post after one of them asked "Is this her bf?" One fan said, "I don't think anymore [because] they haven't posted pictures of each other in a while." When someone mentioned that is not proof, especially given their secrecy, another fan pointed out that the two no longer follow each other's accounts.
Add to this proof. The IG posts declaring their love have since been deleted. Gone is Dalton's post saying, "Love is in the air," and Mumford's post that said, "I love being by your side." Us Weekly also said she tagged him in a photo for her September 2022 birthday dinner, but the tag is no longer on the photo.
Exhibit C could be a January 2023 Instagram post from Dalton captioned, "2022 was the best and worst year of my life. I seriously don't know how I got through it at times." Alongside a photo of him and his adorable daughter, he added, "So don't believe everything on Instagram. Behind all the filters, we're all real people going through real things." While he didn't discuss what those things were, it could be that a breakup with Mumford was one of them.