Where Is Jury Duty Star Ronald Gladden Today?
"Jury Duty" is like the "Impractical Jokers" of the courtroom, as the Amazon Freevee show gives an inside look at jury duty in California, per Today. Brimming with outlandish humor, the highly entertaining show has captivated the internet. And there's a notable reason for that. The jurors are actually paid actors — well, everyone but one. Ronald Gladden, who isn't an actor, is the only juror who thinks that the case is real. Yup, the celebrities function as pranksters. Cue the bizarre courtroom antics that continuously catch Gladden off guard! Yet, Gladden has become beloved on the show, winning over the hearts of viewers with his sincere personality.
As it turns out, Gladden actually found out about "Jury Duty" through a Craigslist ad — but, of course, he had no idea what he was getting himself into. During an appearance on Access Hollywood, he said, "I signed up for what I thought was a documentary. I didn't really know what was going on 'til the end." We know all about Gladden's journey during his "Jury Duty" breakthrough, but what is the star up to today?
Ronald Gladden still works as a project manager
Despite his claim to fame, Ronald Gladden has stayed away from the spotlight in certain ways. According to Primetimer, he returned to his job as a project manager in construction following filming. He said, "I'm not the type of person where I'm used to the focus being on me, so I didn't want to bring it up weeks in advance and talk about it all the time. I didn't tell anyone about it, I didn't post about it, I've literally just kept living my life as if it didn't happen." With that said, Gladden has recently been busy promoting "Jury Duty" on Instagram.
In an interview with GQ, Gladden admitted he was surprised that the show was so instantly popular. And while he explained that his life has pretty much stayed the same, he also mentioned that he's open to piggybacking on his success by taking new opportunities. One such venture he's taken up is creating personalized videos for fans on Cameo.
Ronald Gladden developed a friendship with James Marsden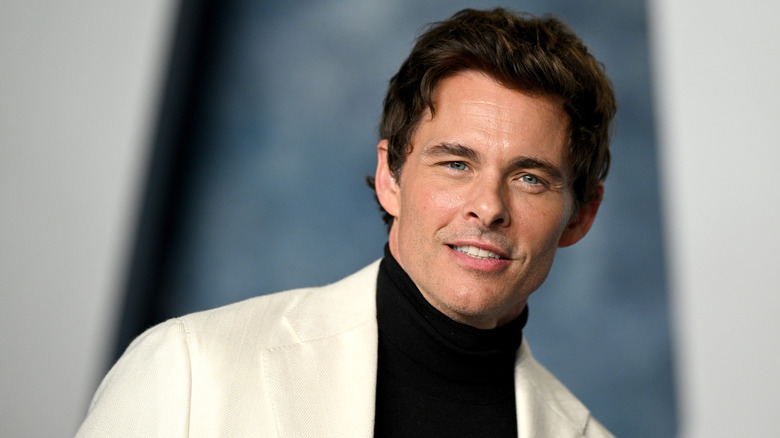 Lionel Hahn/Getty Images
Ronald Gladden has had some exciting relationship developments as a result of his appearance on "Jury Duty." Yup, the star has remained friends with some of the cast and crew on the show — including James Marsden. In his GQ interview, Gladden showered Marsden with praise, noting that he's a big fan of his on-screen performances.
The pair's chemistry can be witnessed in a post on Gladden's Instagram page. In April, he shared four photos of him and Marsden. The first picture is a screenshot of them during "Jury Duty," featuring Gladden crossing his arms and listening to the actor talk. The next three images show the dynamic duo goofing off at a bar. Grinning ear to ear, they look like they're the best of friends. Gladden captioned the set, "How it started vs how it's going."
The feeling is clearly mutual for Marsden. In an interview with Gladden and Marsden on Access Hollywood, the "Enchanted" star shared, "At first, I was like, 'Wait, we're fooling this guy for three and a half weeks of his life.' I started questioning the morality of this, but he was such a good human being."