Scott Disick And Sofia Richie: Strange Things About Their Relationship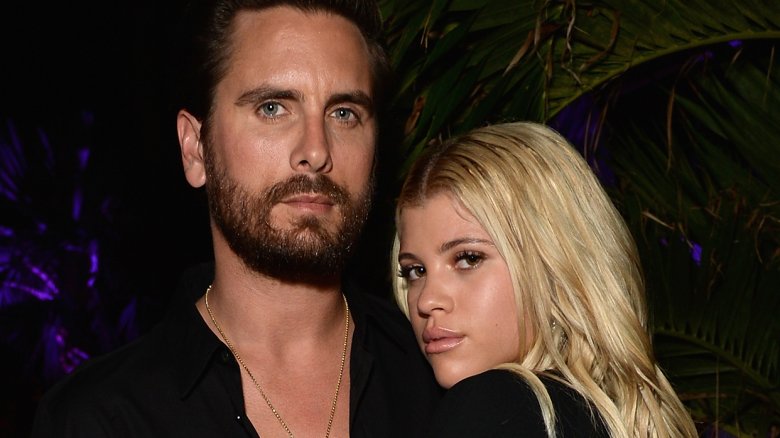 Getty Images
Scott Disick and Sofia Richie are in a league of their own when it comes to weird and wacky celebrity romances, especially because there's a 15-year age gap between them.
The dynamics of the couple's unorthodox relationship began back in May 2017 when they were spotted canoodling on a yacht in Cannes. The supermodel initially brushed off the encounter by writing in a since-deleted tweet, "Just so everyone can get their panties out of their a**es, Scott and I are just homies" (via People). Yeah, sure.
No more than four months later, they were spotted in Miami sharing a smooch at a restaurant. In front of them was a cake that read, "Congratulations Scott & Sophia (sic)." It wasn't apparent what they were celebrating exactly but, soon thereafter, their whirlwind romance hit some major speed bumps.
From family disapproval to rumors of incessant arguments, alleged cheating, and breakups, here are all the strange things about Scott Disick and Sofia Richie's relationship.
Harsh words from dad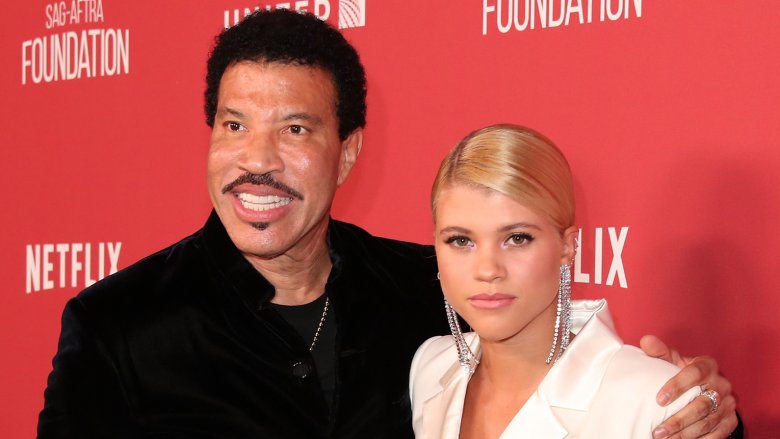 Getty Images
After going public with their romance, Richie's father, singer and American Idol judge Lionel Richie, was apparently less than pleased about his daughter getting hot and heavy with a man who was much older than her. A source told People magazine, "Lionel knows Scott's playboy ways and he doesn't want to see his daughter get hurt."
Insiders' accounts aside, Lionel himself confirmed he was very uneasy about his daughter's new flame in an interview with Us Weekly in October 2017. When asked for his thoughts about her being a source of tabloid fodder due to her brand spanking new relationship, Lionel answered, "Have I been in shock?! I'm the dad, come on."
But that wasn't all. When he was asked if he was happy for the new couple, he dropped a major bombshell. "I'm scared to death, are you kidding me?" he said.
Get in line, Lionel. We're worried, too, especially since Disick doesn't really have the best reputation.
Is she more invested than he is?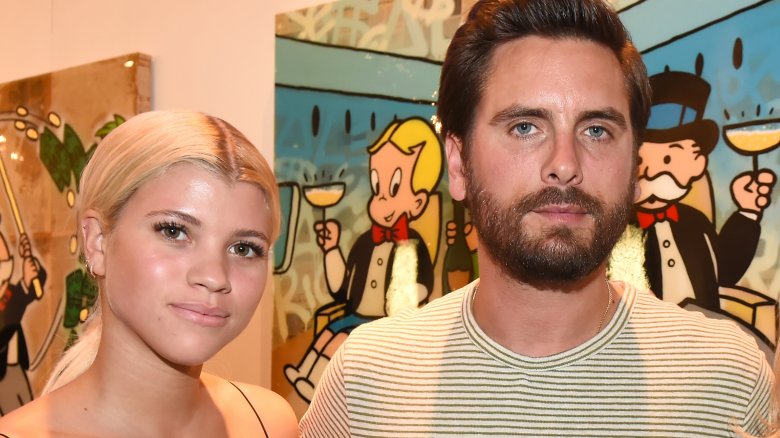 Getty Images
According to an article published by People magazine, a source said Richie was "much more invested in the relationship than Scott." Another source repeated this rumor to E! News, making it seem that much more believable. "Scott isn't treating this as a long-term relationship whatsoever," the insider said. "Sofia wanted commitment from him, so he committed to be her 'boyfriend.'"
Just a few weeks after going public, their relationship was already hanging by a thread, according to People. A source close to the duo said, "They're starting to argue more, and it's bothering Sofia." 
When one partner sees a relationship as a short-term fling while the other is trying desperately to make things long-term, it's a red flag. However, Richie and Disick appear to have mastered the art of pulling their romance back from the brink of doom several times, as reports would later hint at the pair's constant breakups and reconciliations.
Is he still keeping up with Kourtney?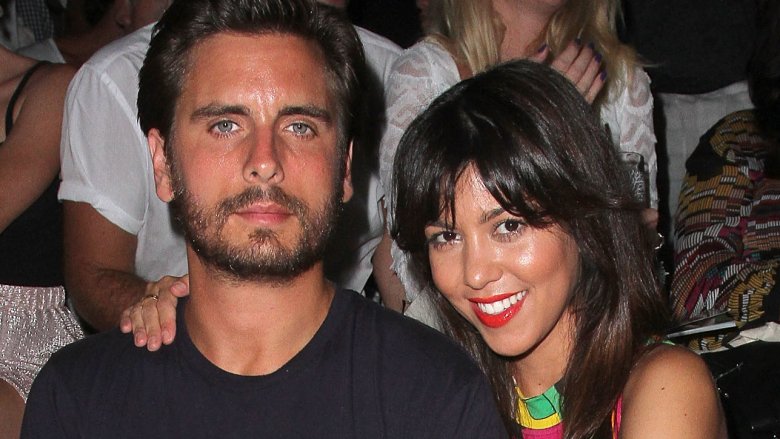 Getty Images
Disick's claim to fame is being the boyfriend-turned-baby daddy of reality TV maven Kourtney Kardashian. After having three children together and being on-again, off-again for years, Kardashian documented the end of their relationship by confirming they were keeping things friendly and platonic for the sake of their kids. "MOM and DAD back at it again with the coparenting [sic] skills," a caption on one of her Instagram photo's read.
Even with the amorous side of their former relationship put on the back burner, Disick continued filming alongside Kardashian and her family on the E! series Keeping Up With the Kardashians. During an episode that aired in September 2017 (via Page Six) — when he and Richie were very much together — Disick said, "[Kardashian's] the only person I've ever loved in my life, so I think she's cute and stuff — I try to f**k her, like, once a week." Whoa. T.M.I.!
Those who thought Disick was just joshing soon found out there was some truth behind his bold declaration after a source told People magazine in October 2017, "He still has Kourtney at the top of his mind all the time, and he is still texting and flirting with other girls." 
Wait a second. Other girls? This could be worse than we thought.
Co-parenting a pup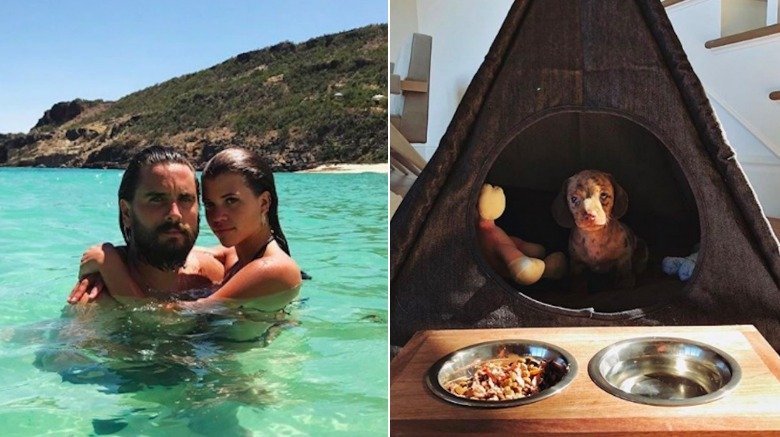 Instagram
Before their relationship had even hit the one-year mark, Scott Disick and Sofia Richie decided to take things to the next level by becoming co-owners of an adorable little puppy in February 2018. Richie caught up with People magazine in February 2018 and was asked about her then-5-week-old wiener dog. "Her name's [Hershela]," Richie said. "My boyfriend named her ... I kind of just ran with it. It made me laugh. I liked Hershey and he liked Hershela, so it was like a middle ground."
She went on to say Disick wanted the dog for a while, but he ended up surprising her with the pet as a gift. So, although the dog appears to technically be Richie's, it's clear that they're both taking responsibility for their furry friend after she captioned a video of the pooch with, "Our newest family member" (via People).
Don't get us wrong — the dog is as cute as a button. But it's a little soon for them to go halfsies on a fur baby, no?
Considering how the Kardashians' pets seem to disappear into thin air following a breakup and how Disick is Kardashian-adjacent, we sure hope Hershela doesn't vanish if Disick and Richie's relationship ever hits the skids. 
He was caught getting flirty with a mystery woman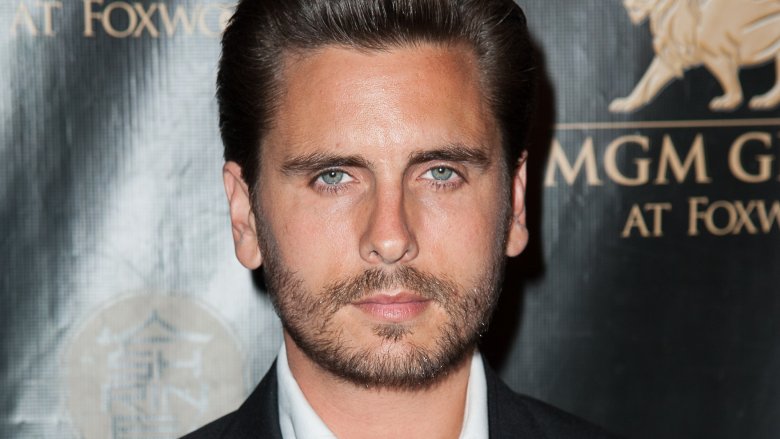 Getty Images
With some friends and security in tow, Disick flew out to Jackson Hole, Wyo. in June 2018 to attend Kanye West's album listening party. And Disick appeared have fun ... maybe too much fun. 
He was photographed hugging a mystery woman. It definitely wasn't Richie who was cradled in his arms, because the model posted a photo to her Snapchat that was geotagged for Malibu, Calif. at the time of the listening party, according to TMZ. To make matters even worse, the father of three was reportedly overheard saying he was single, and he was allegedly behaving like he was back on the market.
Following his night of fun, the couple's relationship was allegedly in need of some major mouth-to-mouth resuscitation. Sources reported Richie had packed up and left Disick's home, seeking shelter at her dad's pad for a few days. 
Days later, they had apparently kissed and made up and were spotted grabbing a bite to eat like it was no big deal. "Scott and Sofia did break up for two whole days, and are now back together," a source told E! News before stating that Richie only stayed with her dad to "clear her head."
Are we the only ones who are noticing a pattern with Disick? This is similar to the type of non-stop betrayal Kardashian reportedly had to deal with when she was romantically linked to him, too!
Jammin' with the Jenners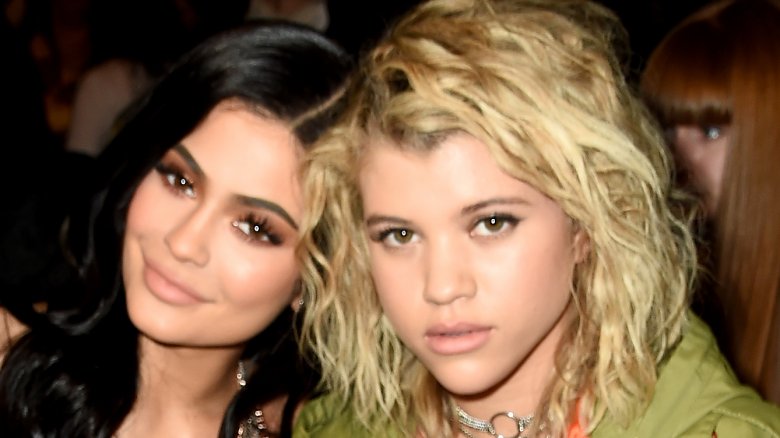 Getty Images
As if this entire situation wasn't messy enough, Scott Disick and Sofia Richie have some indirect history together. Prior to their romance together, Richie was really good friends with Kylie and Kendall Jenner — you know, the same two women who are the aunts of Disick's children. Yikes.
In the past, Richie has been photographed looking rather chummy with the Jenner girls. She was even partying the night away at Kylie's 18th birthday party at a Hollywood night club back in 2015. However, despite their past friendship, Kendall revealed she wasn't on board with Richie's strange romance with Disick when she left a comment on one particular Instagram photo. The picture showed Richie riding shotgun in Disick's car, while the three children he shares with Kardashian were in the backseat. Kendall's comment read, "Awww Scott and his kids" — an apparent dig at Richie's age. Oh, and, might we add, Kendall ended her comment with a laughing face emoji. The shade!
Hollywood Life spoke to a source who added, "Kendall was really pissed when Scott started dating Sofia, she was a friend of hers and thought it was just wrong."
The source also stated that Disick had met Richie "a bunch of times when she was younger and hanging out with Kendall and Kylie," which certainly makes their seem relationship ten times creepier! 
Is it 'just a phase?'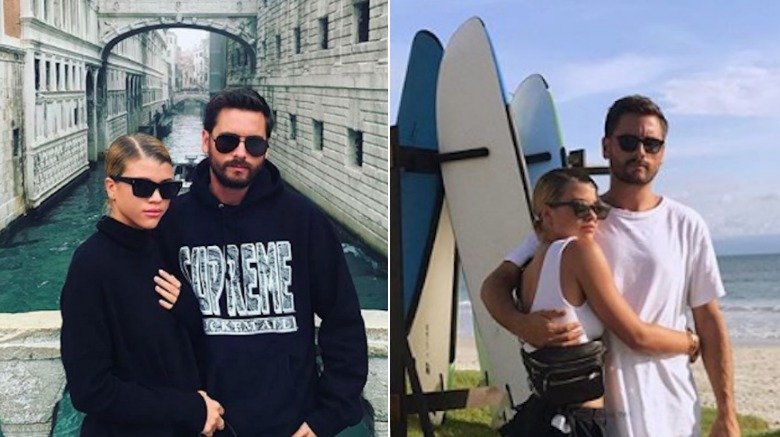 Instagram
In an interview with The Daily Telegraph, Richie's dad, Lionel, had this to say about his daughter's relationship: "When you're 19 you know everything. Is it going to be for life? I don't know. But for right now it's just a phase and I'm going to stand real still in the corner, get me a good drink and not make too much noise." 
Lionel also took a dig at Disick's reality TV history. "When you hang around the reality world, who knows what you are really doing?" he said. "This is a well-oiled machine, the Kardashian machine. I don't really know what to think. I told Sofia I will have no opinion. I'll continue to be my cheerful self and move on."
It sounds like Lionel is being super supportive, but he clearly doesn't think that this particular relationship will be his daughter's happily ever after. And can you really blame him?
Disick has a ton of baggage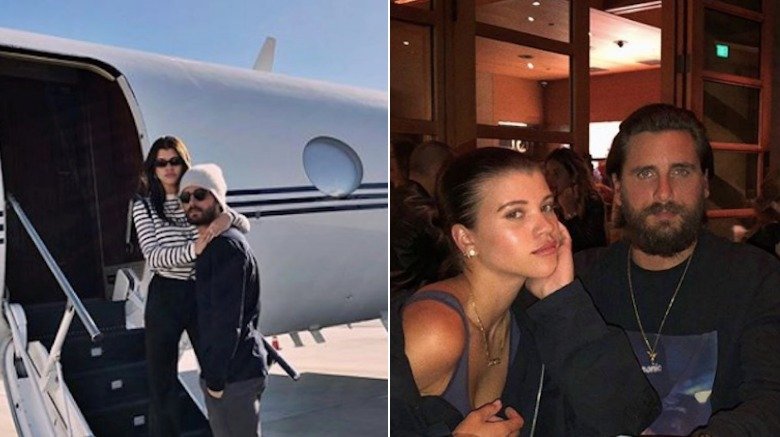 Instagram
Perhaps their relationship is so rocky because they're more alike than we could've ever imagined. Well, that's what Richie claims, at least. While speaking with E! News, the socialite was asked what makes her relationship with Disick so special. "I just think he's the male version of me. Our humor. We have very similar humor," she said.
Hopefully that's where the similarities end. Disick has a criminal record that includes a 2001 arrest for driving under the influence. And not only that, he was also placed under an involuntary 72-hour psychiatric hold in August 2017, following an apparent alcohol binge. 
His struggles of being a party boy and falling into a downward spiral of drug and alcohol abuse may deem him undateable to some. However, it's obvious that Richie is looking beyond his past and sticking by him in the meantime, despite all of his baggage. 
We're rooting for these two, but we're shooketh just thinking about Disick's past in combination with Richie's age and lack of experience 
So many ups and downs
An insider spoke to E! News and revealed Richie had broken up with Disick after the model saw reports that he had cheated on her at Kanye West's album listening party. A second source added, "It's not the first time [a breakup] has happened and its becoming a pattern. Scott didn't even flinch and knew she would come around."
According to the all-knowing insider, Disick blamed his flirty actions on booze and reportedly ensured Richie that nothing serious happened on that fateful night. "He gave Sofia some space to calm down and then told her how much he loves her and wants to be with her. Sofia believes it and is very committed to Scott," the source said.
Richie's probably hoping this relationship turns into an endless love, but the reported breakups and rumors of Disick's infidelity show that the cards are severely stacked against them. 
The Lord is always with her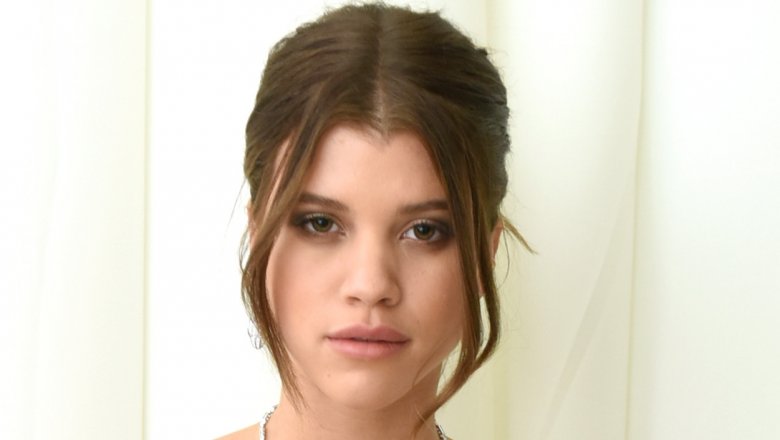 Getty Images
Richie appears to be head-over-heels in love with her beau, and she's no longer trying to hide how smitten she is from the public. During a night out with friends in London, E! News spotted her carrying her iPhone, covered in a snazzy phone case with her boyfriend's face plastered on it. The text on the case read, "Lord Disick b***h," an ode to Disick being knighted a member of British royalty — a moment that was captured on an episode of Keeping Up With the Kardashians (via Us Weekly).  
Some celebrities love to solidify their relationship with a tattoo in honor of their partner, so we have to give Richie some props for going with a less permanent form of public adoration. If their relationship crashes and burns, she could always ditch the phone case and pretend their relationship never happened. But for now, we think it's super strange that every time she texts and talks on the phone, she literally has Disick in the palm of her hands.
She's been interested in him 'for a long time'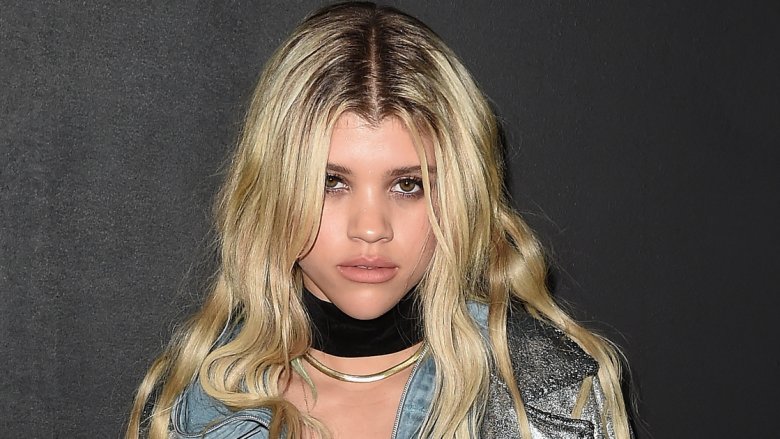 Getty Images
Is it possible that Scott Disick and Sofia Richie's romance could be the real thing? A source told E! News that Disick liked Richie's company "because she is mature for her age and doesn't party much." The reality star was apparently more than happy to do "low key" and "mellow" things with his new girlfriend, such as go for coffee runs and go shopping. 
It's hard to believe that two people with such a huge age gap are able to relate to each other on a romantic level, but being born in two totally different decades obviously doesn't affect these love birds' relationship. In fact, Richie reportedly felt she was the perfect match for Disick some years prior, with a source telling E! News, "Sofia has been interested in him for a long time." A long time? How long exactly? Hmmm...
If Richie was 19 years old when they went public with their relationship, had she had her eye on him as she first entered her teenage years?