The Strange Dating Rumors That Once Swirled About Ryan Phillippe And Rihanna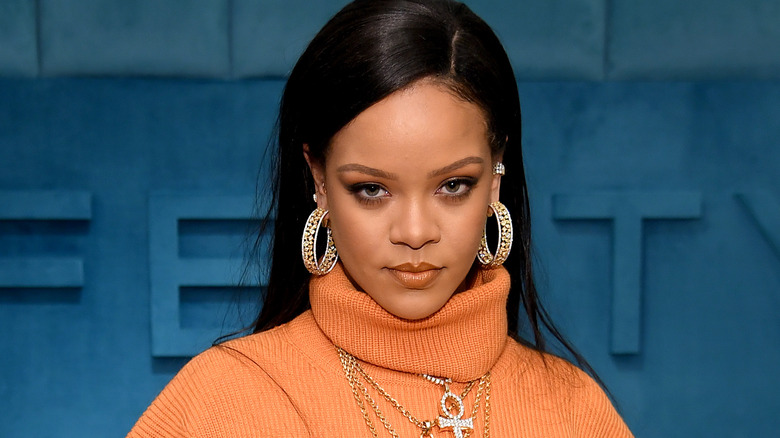 Dimitrios Kambouris/Getty Images
When it comes to celebrity couples, 2011 was a pretty iconic year. Selena Gomez and Justin Bieber's romance had just started to inspire heart eyes (and hatred) in their legions of fans. Meanwhile, Taylor Swift and Jake Gyllenhaal broke up after a courtship that left the Grammy award-winner with a broken heart and material for her smash hit, "All Too Well." 
Later that year, Beyoncé and Jay-Z announced that they were expecting a new addition in their little family. And 2011 was also the year that Rihanna and Ryan Phillippe were rumored to have dated. If this particular slice of celeb hookup history feels like a fever dream, it's probably because neither were each other's most memorable suitors. Most people think of A$AP Rocky, Drake, or Chris Brown with regard to Rihanna's dating history. Of course, Phillippe was Reese Witherspoon's first husband, and has courted several famous women since their 2006 divorce. Plus, the news surrounding Rihanna and Phillippe's supposed dalliance overlapped with their other confirmed romantic dealings at the time.
Regardless, we've rounded up the all the details about their rumored romance.
Ryan Phillippe and Rihanna may have hooked up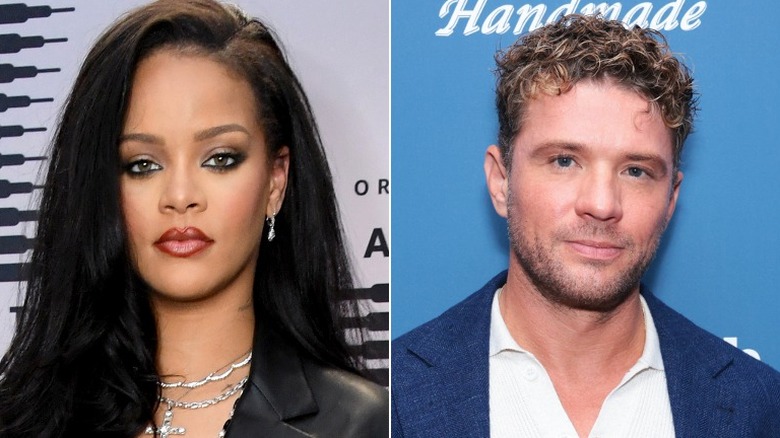 Tiffany Rose/Getty & undefined & Kevin Mazur/Getty Images
In February 2011, Us Weekly reported that Rihanna and Ryan Phillippe were involved in a secret relationship. "She thinks he's hot," shared an insider. "They totally had sex. And it wasn't even the first time!" A second source added, "They initially hooked up when things were strained with [Rihanna's ex] Matt Kemp back in early December." Later, the R&B hitmaker and actor reportedly met up at a charity event, "There was no PDA," according to the lucky source in attendance. "They hung out a bit, but were discreet. It is still very casual." 
Hmm! It certainly has all the makings of a secret celeb fling. However, It would also mean Phillippe was cheating on then-girlfriend Amanda Seyfried, who he dated from 2010 to 2011. But, before you bust out your ship names for the long-over pair, Phillipe actually killed these rumors long ago. Well, sort of. One month later, Phillippe alluded to being in a relationship. "I'm dating. Not nearly as voracious as the magazines like to make out, [but] I am dating," said Phillippe (via Cosmopolitan UK). 
Seyfried also denied the rumor. "That Rihanna story is not true," shared the actor (via the New York Daily News). "It is so f***ng not true. I feel bad for him." Rihanna has never addressed the rumors one way or another.
Ryan Phillippe was totally down to work with Rihanna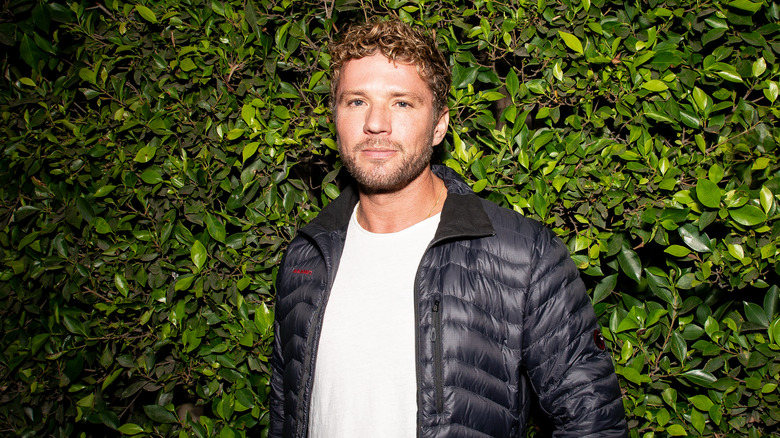 Kelly Lee Barrett/Getty Images
Even though it's not clear whether or not Rihanna and Ryan Phillippe hooked up, they're obviously not on bad terms. In 2017, Phillippe even expressed his desire to work with the singer. Thankfully, Philippe wasn't attempting to kickstart a recording career. He wanted to film a movie with her. If you don't remember the context, don't worry! Back in 2014, the internet totally fangirled over a photo of Rihanna and Lupita Nyong'o wearing chic, colorful clothes at a fashion show. This then inspired a Twitter user to conceptualize a heist film for the stars. "Rihanna looks like she scams rich white men and lupita is the computer smart best friend that helps plan the scans," tweeted one fan. 
Years later, E! News confirmed the movie was actually going to be made. Of course, Phillipe wanted in! The actor tweeted, "I'm down to play the rich white men, jus sayin..." Unfortunately, Philippe seemed slightly less serious when speaking with PopSugar. "I don't think they're looking for me [laughs]!" said Phillippe. "But I thought [asking for a role on Twitter] was a funny joke. He added, "I love how people [on social media] are, though — you'll say, 'Oh, this could be a funny thing to say.' And then people's response is, 'Oh, look at you, desperate [laughter]!' By the way, I'm doing OK." We'd be bummed if it seemed like the movie still had any steam left behind it.