RHOBH: Why Lisa Rinna And Kyle Richards Aren't Close Anymore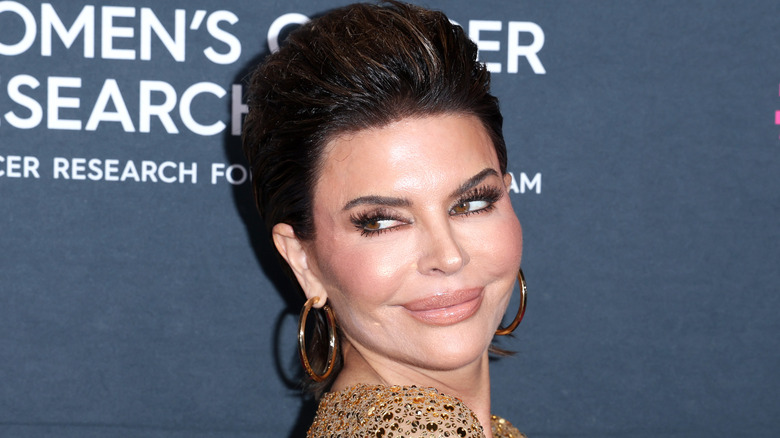 Phillip Faraone/Getty Images
There's no question about it: Lisa Rinna and Kyle Richards make for entertaining television. Loud-mouthed, energetic, and funny, the pair has drawn in reality TV viewers for several seasons of "The Real Housewives of Beverly Hills." The co-stars have had a solid friendship over the years, sprinkled with some spats along the way. But nothing quite holds a candle to the drama that has unfolded between Rinna and Kyle's sisters.
Fans recall the Amsterdam trip that unleashed a firestorm between Kim Richards and Rinna. An emotional Rinna revealed that the topic of substance use hit close to home, as her sister died from a drug and alcohol overdose when she was young. When Rinna apologized to Kim for getting involved with her own struggles with alcohol use, Kim snapped, "Well, you have." Kim continued to defend herself and called Rinna out for gossiping. Rinna explained that she was merely concerned. Then, Kim scolded Kyle for not having her back, leaving her sister in tears. Things took an even more dramatic turn when Rinna pointed out Kim's nasty behavior. Kim told Rinna, "Let's talk about the husband." Rinna angrily came towards Kim, throwing a drink at her and shattering a wine glass on the table.
This wasn't the first time that Kyle was in the middle of drama between Rinna and the "Halloween" star's siblings. There's a reason that Rinna and Kyle aren't close anymore — cue Kathy Hilton.
Kathy Hilton's meltdown caused a rift between Kyle Richards and Lisa Rinna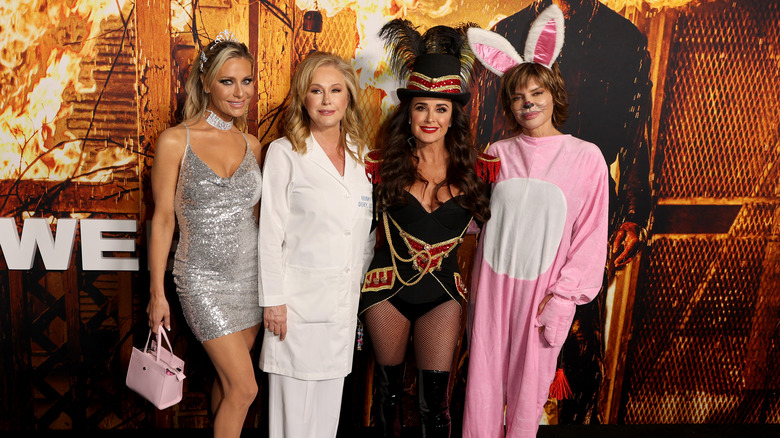 Kevin Winter/Getty Images
The Season 12 drama between Lisa Rinna and Kyle Richards boiled over when the "RHOBH" ladies took a trip to Aspen. According to Rinna, Richards' half-sister Kathy Hilton had an explosive breakdown at a club, per Us Weekly. Rinna revealed, "She's screaming she 'made' Kyle. Kathy's responsible for Kyle and she said, 'I will destroy Kyle and her family if it's the last thing I ever do.'" Needless to say, this purported incident caused major tension between Hilton, Richards, and Rinna. According to Page Six, Richards begged Rinna to quit referencing Hilton's reportedly ruthless remarks, as it worsened the longtime feud between the sisters. The drama spilled over into the reunion, as Hilton called Rinna "the biggest bully in Hollywood."
Hilton and Rinna's icy interactions clearly had an impact on Richards and Rinna's dynamic. In April, Richards told Page Six, "Uh, well, we had sort of a falling out last season with what happened with my sister, so obviously, that changed a lot of things. I haven't seen her, but we've sent each other text messages and DMs. I reached out to her when I found out she wasn't coming back." Richards added that she would like to move forward.
Kyle Richards is focused on the good times with Lisa Rinna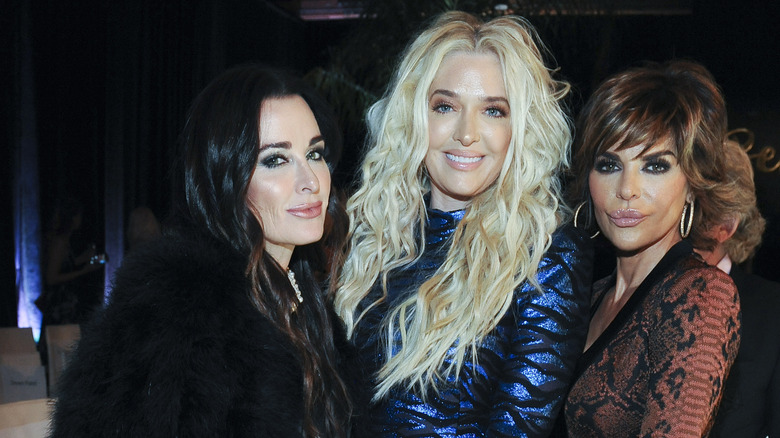 Amy Graves/Getty Images
To many fans' disappointment, Lisa Rinna will not be coming back to Season 13 of "The Real Housewives of Beverly Hills." In an interview on E! News, Rinna expressed her gratitude for the opportunity, adding that she'll miss the ladies. When asked about her thoughts regarding the infamous Aspen trip, Rinna replied, "All of it really sucked, to be honest with you. Do I regret it? No, because I am there to tell the truth. I am there to tell what happened."
While Kyle Richards has had her issues with Rinna, she admitted that she'll miss the soap star. During an Amazon live stream (via People), Richards praised Rinna for being an incredibly supportive friend. She added, "Lisa brought a lot to the show on her eight years of being on, and regardless of what happened last year – people have very strong feelings about what happened last year – regardless of that, she brought a lot to the show." Not one to hold a grudge, Richards remarked on the positive aspects of their relationship. She continued, "And we had a lot of great times, and that's what I'm choosing to think about and remember, even though that also makes me sad."