Kaley Cuoco's Relationship With Tom Pelphrey Moved Quickly After They Met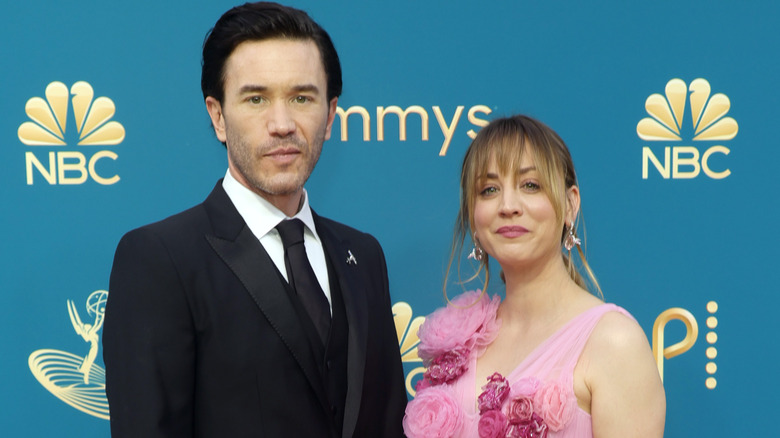 Momodu Mansaray/Getty Images
Kaley Cuoco has always put the pedal to the metal when it comes to her relationships. According to Life & Style, "The Big Bang Theory" actor got engaged to her first husband just months after their first meeting, and in her second marriage, she got engaged within a year. Both marriages, unfortunately, didn't work out, but that didn't stop the actor from finding love again. And just like her past relationships, Cuoco's romance with fellow actor Tom Pelphrey moved quickly.
In April 2022, the couple met with the help of their manager as the actor shared their sweet meet cute with USA Today. She said, "We have the same manager and we were set up by [her], which is so Hollywood. She's like, 'Oh my God, I think you guys are perfect for each other." From the moment Cuoco met Pelphrey, she knew he was the one for her. She recalled, "We were immediately connected. I do feel like I've known him my whole life, but I wasn't ready for him. We're ready to build a life together."
From that point on, the two actors were attached at the hip as they embarked on their new relationship with one another. And although it has only been a year since they first got together, the couple has already crossed some serious milestones.
Kaley Cuoco and Tom Pelphrey have taken their relationship from red carpets to around the world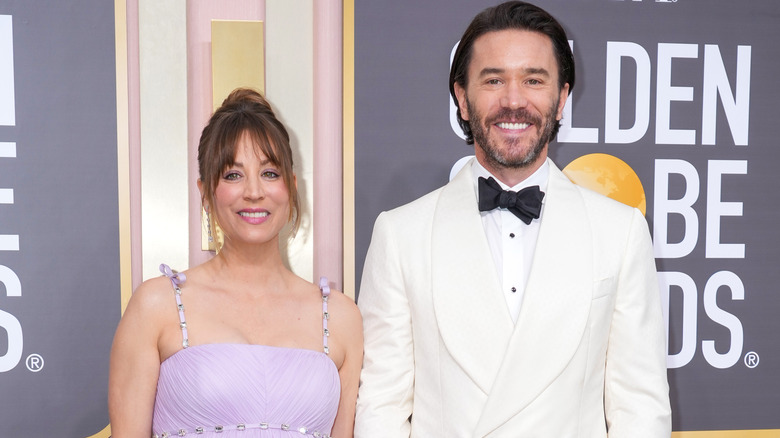 Kevin Mazur/Getty Images
From the jump, Kaley Cuoco and Tom Pelphrey have been vocal about their relationship. Just a month after their initial meeting, the two actors made their romance Instagram official. The "Mank" actor broke the news by sharing a few Polaroids of the two lovebirds on his social media. By June 2022, the couple had taken their love across the globe as Cuoco had to work overseas in Berlin. Of course, nothing seems truly official in Hollywood until you walk the carpet together, and it didn't take long for Cuoco and Pelphrey to do so.
In July 2022, Pelphrey shared a sweet clip on Instagram of the two discovering Cuoco was nominated for the upcoming Emmy Awards. Funnily enough, the "Ozark" actor was also nominated for the award show, but he made sure all the focus was on Cuoco. He captioned the post, "CONGRATULATIONS TO MY FAVORITE ACTRESS!!! Such beautiful, brave work. Beyond grateful to share this with you today."
Naturally, it was only fitting that the two nominees would grace the red carpet as a couple, hand in hand, exuding an air of pure joy and affection. From that point, it was evident the couple was head over heels for one another as their relationship appeared to be moving at a breakneck speed. However, the freshly minted couple had one more shocking surprise in store for fans. 
Kaley Cuoco and Tom Pelphrey welcomed their first child
In their whirlwind of love, Kaley Cuoco and Tom Pelphrey had fans absolutely losing it when they announced they were expecting their first child. "The Big Bang Theory" actor took to Instagram to share the news with an adorable carousel of photos of the two learning their baby's gender. They also posted shared shots from early on in Cuoco's pregnancy. She captioned the post, "Baby girl Pelphrey coming 2023 beyond blessed and over the moon... I [love] you @tommypelphrey!!!" Pelphrey shared the excitement by sharing several of the same photos on his Instagram.
As the due date approached, the couple joyously shared pregnancy photos, counting down the days until the arrival of their little bundle of joy. Finally, on March 30, 2023, their daughter, Matilda Carmine Richie Pelphrey, made her grand entrance into the world. Cuoco shared sweet photos of their growing family on Instagram, which could just about make anybody catch baby fever. The actor captioned the post, "Introducing, Matilda Carmine Richie Pelphrey, the new light of our lives! We are overjoyed and grateful for this little miracle...We are blessed beyond belief. @tommypelphrey didn't think I could fall even more in love with you, but I did." So, despite how fast people may think their relationship has gone, it's clear that Cuoco and Pelphrey are madly in love with one another.