The Hottest Celebrity Summer Flings Ever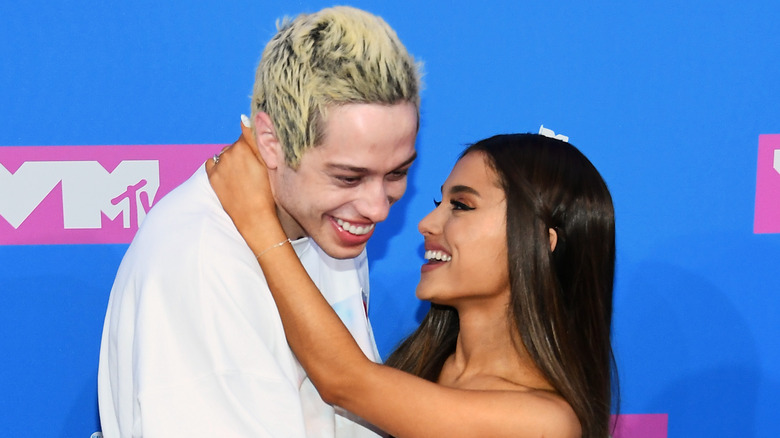 Nicholas Hunt/Getty Images
The lives of the rich and famous make for great entertainment — providing us with endless tabloid headlines that only pique our curiosity further. It's no question that we are more than curious about the private lives of Hollywood stars. The personal lives of the powerful have always sparked debate, going back to the times when monarchies ruled all over the world. Although we've gone from gossiping about which mistresses the King is seeing to the girlfriends of Pete Davidson — the concept remains the same. Those who live their lives in the limelight have opened up their life to the opinions of the outside world, and whether they like it or not — their business is our business.
When it comes to flings between famous stars, things seem to get hotter in the summer months. Whether it be Rihanna sharing a kiss onstage with Drake during his Summer Sixteen tour, or Blake Lively vacationing around the world with Leonardo DiCaprio, there's something about short and sweet romances that have us hooked. Though these relationships often fade out like the tide on the shore, they leave their mark on pop culture (Ariana Grande's "Thank You Next" anyone?)  From Taylor Swift to Scott Disick, we're taking a walk down memory lane at some of the stars' most enticing whirlwind romances yet. Grab something cold, because things are just heating up. These are some of the hottest celebrity summer flings we've witnessed over the years.
Taylor Swift and Tom Hiddleston's whirlwind romance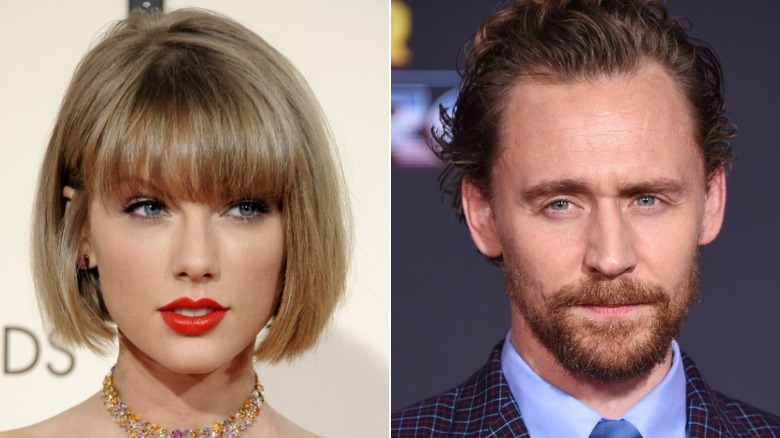 Tinseltown & DFree/Shutterstock
It's obvious you wouldn't want to be on Taylor Swift's bad side — given her infamous track record of breakup ballads. But would a summer tryst with the Grammy-award-winning artist be enough ammo for Swift to put pen to paper? We would have to ask the actor Tom Hiddleston — who got cozy with the "Lover" singer during the summer of 2016. The two sparked romance speculation that year in May after they shared a dance together at the Met Gala.
Swift was on the heels of her breakup with Calvin Harris, with whom she was with for a year prior. It didn't take her long to fall into the arms of the "Thor" actor, however. Sources told Us Weekly at the time that Hiddleston used every opportunity to put on the charm for the "Red" singer. Though Swift never spoke publicly about their summer fling, Hiddleston was quite the opposite. From sporting an "I Heart T.S." top to publicly claiming that "[Taylor] is amazing" just mere days after the Met Gala, it seemed the actor was smitten with the singer.
Their romance was short-lived, but it seems there was no "Bad Blood" after all. The two split up in September 2016, but the "Crimson Peak" actor had nothing but kind words for his former flame. "Taylor is an amazing woman. She's generous and kind and lovely, and we had the best time," Hiddleston told GQ following the split, adding, "Of course, it was real."

Drake's summer love with Rihanna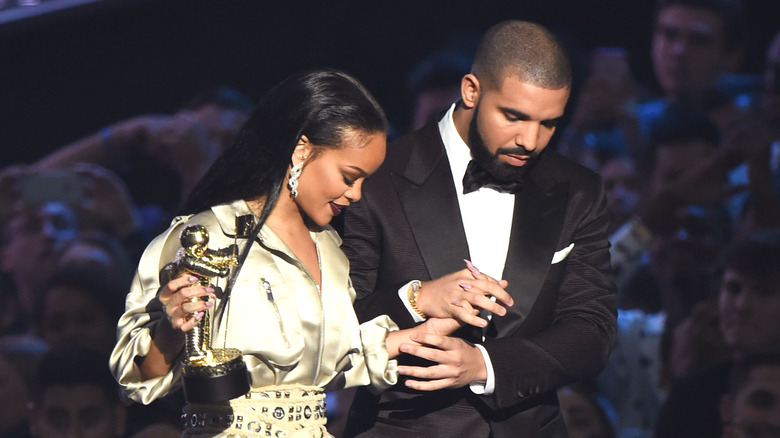 Michael Loccisano/Getty Images
Drake and Rihanna had a longstanding friendship that morphed into a relationship that fizzled into a mere acquaintanceship. Their complicated history began in 2009 when Rihanna was seen getting cozy at a bowling alley with the "Take Care" artist following her split with Chris Brown. Rihanna shut down rumors that the two were anything serious, however, admitting that the two had nothing romantic at the time. Drake seemed to think differently, however. In his track "Fireworks", he raps, "I could tell it wasn't love, I just thought you'd f*** with me/ Who could of predicted Lucky Strike would have you stuck with me?"
Though Drake admitted to the New York Times in 2010 that he felt ghosted by the "Umbrella" singer, the artists collaborated on "What's My Name," and "Take Care," that year, and later joined forces for "Work" in 2016. The latter stirred up romance rumors when fans got wind of the steamy music video for the joint track, which had the "Needed Me" singer dancing on the "Summer Sixteen" artist. 
The pair got matching shark tattoos, and Drake professed his love for her at that year's MTV Movie Awards, but not even permanent ink could save this summer fling. A source revealed to E! News in October 2016 that "...They are just close friends who are always in each other's lives." Rihanna went official with A$AP Rocky in 2020 and is pregnant with their second child as of the time of writing. As for Drake, he's still everyone's favorite "Certified Lover Boy." 
Zac Efron's Sardinia vacation with Michelle Rodriguez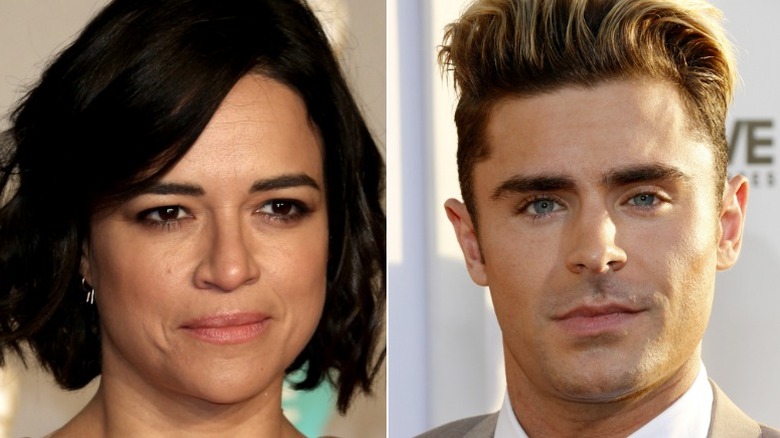 Fred Duval & Tinseltown/Shutterstock & undefined
Out of all of Hollywood's most eligible bachelors, Zac Efron has been topping the list ever since he stole our hearts in "High School Musical." The actor has had his fair share of arm candy, but as far as summer flings go, his whirlwind Italian rendezvous with Michelle Rodriguez was one to be remembered. Rodriguez is nearly ten years Efron's senior, but age played no factor as the summer heat did its magic on this pairing.
Romance rumors were confirmed after pictures obtained by the Daily Mail showed the two lip-locked on a Sardinia vacation in July of 2014. Maybe it was something in the water in the Adriatic Sea, but the two looked as blissful as ever sharing smooches atop an Italian yacht. As per Refinery29, the two have spent weeks getting to know each other after sharing a mutual friend in common, Italian entrepreneur Gianluca Vacchi, who also joined them on their Italian vacation. 
While doing backflips off luxury boats and cozying up under Italian sunsets might have worked for a while, this romance fizzled out by August. Sources told Us Weekly at the time that the "Lucky One" actor could have been harboring more feelings for her than she was for him. As per Rodriguez, the short fling makes sense, as she told Interview Magazine in 2015 that she avoids commitment. "I've got lots of really great friends, but the thought of being in a long-lasting relationship? Psh, I couldn't last more than six months with somebody..." she revealed.
Justin Bieber and Hailey Beiber's first summer fling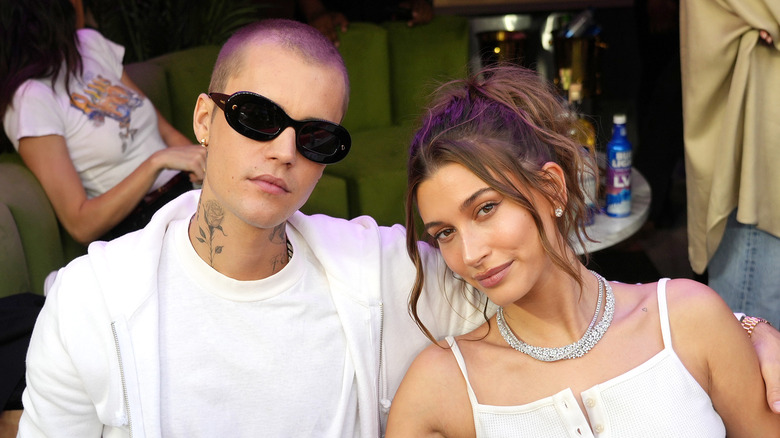 Kevin Mazur/Getty Images
Before Hailey Baldwin became Hailey Bieber, she was one of Justin Bieber's many romances. After meeting as just kids in 2009 on the set of the Today Show, Justin and Hailey went on to run in the same circles for years — maintaining a close friendship. Bieber's nearly decade-long relationship with Selena Gomez took center stage starting in 2011 and saw plenty of ups and downs before they called it quits in 2018. It wasn't until one of Bieber's brief splits with the "Wizards of Waverly Place" actor that Hailey began to appear as less of a friend and more as a potential lover. 
In November 2014, while the "Intentions" singer was on a break from Gomez, he was seen attending church with Hailey and Kendall Jenner. Justin tried to quell the rumors by writing in an Instagram post, "People are crazy. I'm super single and this is my good friend u would know otherwise." It did little to tame speculation, as the model was later spotted vacationing with Justin and his family in Anguilla in 2015, and Justin shared an Instagram photo of him and Hailey lip-locked following New Year's 2016. 
The two ended their summer fling in August of 2016 following Justin moving on to model Sofia Richie, but the two found their way back together again. After two years apart, the two declared their love for each other in July of 2018 and went on to get married not long after. 
Pete Davidson inspired Ariana Grande's Thank You Next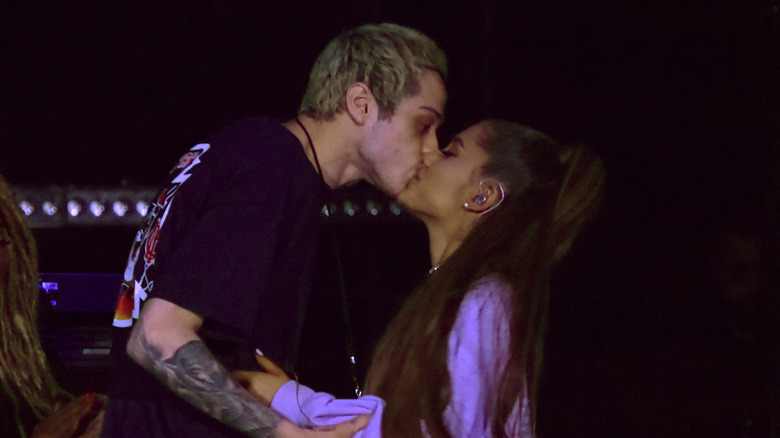 Kevin Mazur/Getty Images
Pete Davidson has a long list of beautiful girlfriends — but no one can forget Ariana Grande. Their brief summer romance may have fizzled out, but the singer's ultimate breakup ballad "Thank U, Next," inspired by Davidson, plays on. The duo's passion-filled fling began in the Spring of 2018, years after the pair first met. In a full-circle moment, the two crossed paths first in 2014, when Davidson made his debut as a comedian on "Saturday Night Live" the same night that Grande was the show's guest artist.
Four years later things heated up between the pair, after they were spotted getting cozy backstage at the 2018 Billboard Music Awards. Shortly after they made their relationship public, packing on the PDA and even getting matching tattoos. After just weeks after they first went Instagram official in May of that year, Davidson and Grande went on to get engaged that June. 
Following Grande grappling with the loss of her ex-boyfriend Mac Miller's suicide in September, Davidson and the "7 Rings" star officially called it quits in October 2018. "It was way too much too soon," a source told People at the time. We have their passionate whirlwind summer matchup to thank for Grande's hit track "Thank U, Next" in which the singer sings, "Even almost got married / And for Pete, I'm so thankful." It seems like there's no hard feelings on Grande's end, especially when the paychecks started rolling in. The track broke the record for the most streams in a single day following its release. 
Blake Lively's jet-setting summer with Leonardo DiCaprio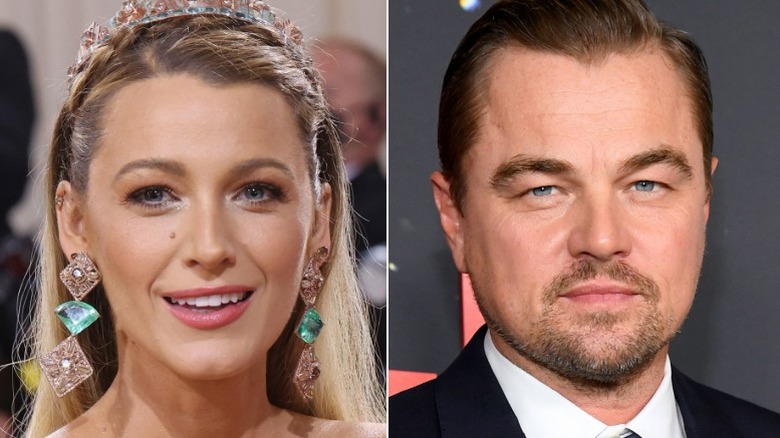 Taylor Hill & Kevin Mazur/Getty & undefined
Before Blake Lively fell in love with Ryan Reynolds, she was an eligible bachelorette who Leonardo DiCaprio had his eyes on. Lively first crossed paths with DiCaprio in 2010 when she was considered for the role of Daisy Buchanan in the film "The Great Gatsby." Though she didn't snag the part, she did capture the "Titanic" star's attention. The two stars were first seen together romantically in May 2011 — getting friendly aboard Steven Spielberg's yacht in Monte Carlo no less. It was a fitting cozy encounter that led to many more worldwide adventures during their five-month-long fling. Both the actors had called it quits with their previous long-term loves, with Lively splitting with actor Penn Badgley in 2010 and DiCaprio ending things with model Bar Refaeli not long after. 
Airlines miles were just a number for the pair — as Lively flew all the way to Sydney for a weekend to visit her beau while he filmed "The Great Gatsby" that summer. The duo lasted five months together, spending lots of time in DiCaprio's Los Angeles home. Sources told Us Weekly that Lively spent a lot of time baking for her beau. Though the "Wolf of Wall Street" star seemed smitten with his then-girlfriend, the two called it quits by October 2011 on good terms. Insiders revealed to E! News that the breakup was due to long distance and ill-fated timing. Lively mended her broken heart quickly, however, after she was spotted the same month getting close to her future husband Ryan Reynolds. 
Madison Beer couldn't do long distance with Brooklyn Beckham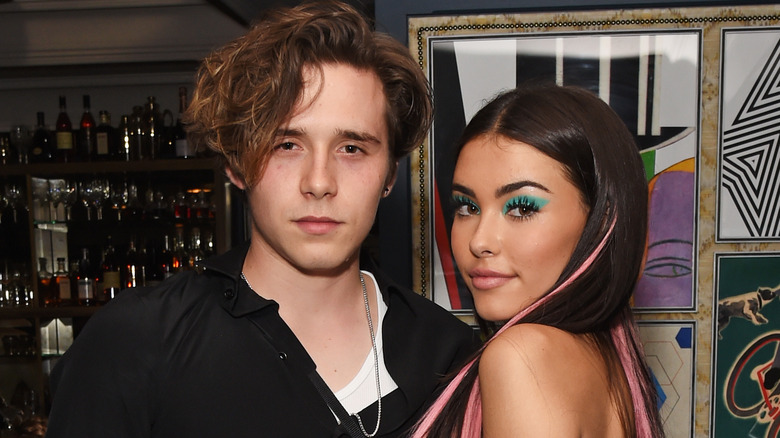 David M. Benett/Getty Images
Brooklyn Beckham and Madison Beer's teen romance sparked buzz during the summer of 2017. The son of soccer star David Beckham started seeing the artist in July of that year after the two were seen enjoying a show together in California. Beer is most notoriously known for being a prodigy of Justin Bieber after he discovered her singing covers on YouTube. 
The pair's summer fling seemed to heat up quickly, with Beer meeting Beckham's mother Victoria for dinner in West Hollywood a few weeks after she first met Brooklyn. The singer previously dated fellow musician Jack Gilinksy, but their breakup made headlines after a leaked recording surfaced. The audio had fans accusing Gilinsky of verbally abusing his former girlfriend, which Beer later claimed was true. Brooklyn has been linked to actor Chloe Grace Moretz as well as model Sofia Richie. "...We're definitely like crushing on each other," Beer revealed in a July AOL Build Series interview (per People) at the time. "But we're both very busy. He's great, though. He's a cutie, literally one of my best friends."
The two spent a few months together but ultimately called it quits by the end of August, with Beer admitting she couldn't handle a long-distance relationship. Brooklyn was based at the time in New York studying photography, and Beer was based in Los Angeles for her music career. She went on to reveal their tight schedules made it difficult to make things work.
Kaley Cuoco dated Superman Henry Cavill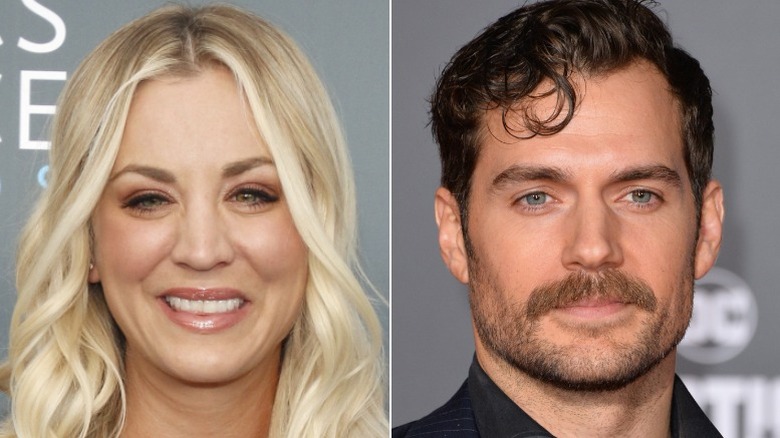 Tinseltown & Featureflash Photo Agency/Shutterstock
Who wouldn't want to date their own personal Superman hero? It's a question Kaley Cuoco knows all too well — as she had a brief fling with actor Henry Cavill in 2013. The news broke that the two were starting to see each other in July of that year, with sources revealing to Us Weekly that the "Man of Steel" actor has had his eye on Cuoco for a while. According to the insiders, Cavill is a huge "Big Bang Theory" fan, and it's fitting — since Cuoco is a fan of Cavill. The actor first sparked rumors in June when she posted a photo alongside a poster of Cavill for "Man of Steel" telling fans "It's fantastic in every way."
Almost as quickly as they were linked, however, the duo called it quits. Just nearly two weeks after tabloids reported they were seeing each other, the actors called it off. Though their romance may have been cut short, it didn't stop fans from speculating what Cuoco thought of her real-life Superman. On an episode of "Watch What Happens Live with Andy Cohen" Cuoco was pressured by Cohen to reveal if Cavill was really a "man of steel." The "Big Bang Theory" actor replied cheekily, "Oh my God, I don't know. I never say, 'I don't know' — I always have an answer — but I don't know." Cuoco went on to wed Karl Cook in 2018 and Cavill is dating Hollywood Executive Natalie Viscuso as of the time of writing.
Ed Sheeran caused Ellie Goulding trauma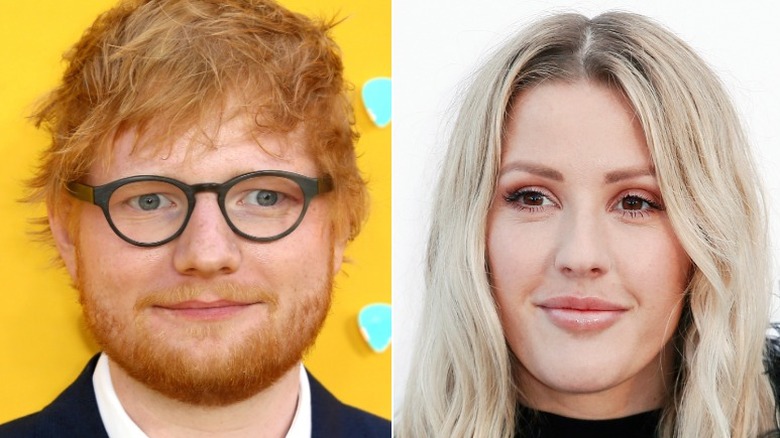 Fred Duval & Andrea Raffin/Shutterstock & undefined
Ed Sheeran had a lot to say about singer Ellie Goulding for someone who allegedly (according to Goulding) was never exclusive with her. The musical duo was first linked in August 2013 when they were spotted holding hands at that year's MTV Video Music Awards. "I love that holding hands with my friends means we're an item," she wrote in a since-deleted tweet at the time. "In that case, I am in many relationships. Lover, not a hater."
It may have had a bit more significance for Sheeran, who went on to write a song about whatever they had — or didn't have. He admitted his 2014 track "Don't" was written about Goulding moving on from him to former One Direction star Niall Horan. Lyrics seemed to paint Goulding as a cheater, with Sheeran writing, "I never saw him as a threat/'Til you disappeared with him to have sex." 
Though the "Love Me Like You Do" singer denied the rumors, ultimately admitting that she was never in a relationship with Sheeran. She spoke to the Daily Mail about the aftermath of the "Don't", revealing, "You know, completely honestly, it caused me a huge amount of ... stress is not the word. It caused me a lot of trauma, actually." She went on to add, "I envy the fact that my friends just spent their 20s having flings and one-night stands ... But every single thing I did was written about. I was made to feel like a terrible person and I really struggled with that because I know I'm not."
Justin Bieber's romance with Sofia Richie caused an Instagram war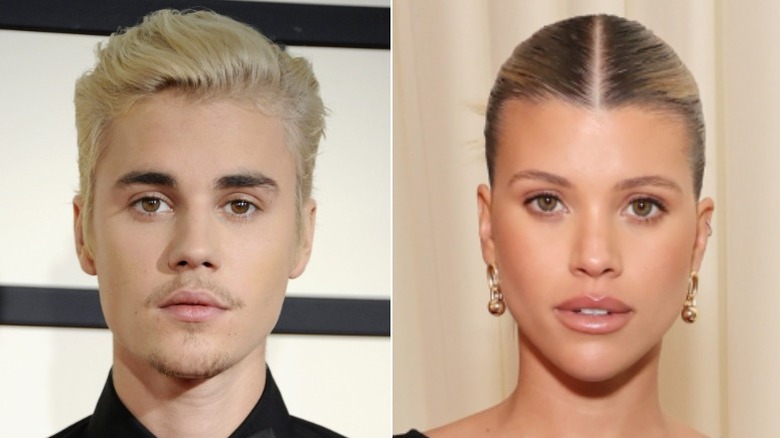 Amy Sussman/Getty & Tinseltown/Shutterstock
Justin Bieber made headlines off the heels of one of his many breaks with former girlfriend Selena Gomez when he moved on with model Sofia Richie. The couple sparked rumors in July of 2016 when Beiber took the model on a trip to Cabo San Lucas for her 18th birthday. Their romance lit up Instagram that summer when Selena Gomez fans started backlashing the "Baby" singer for moving on so quickly. Bieber posted a black and white Instagram photo of him and Richie at the time, writing, "I'm gonna make my Instagram private if you guys don't stop the hate this is getting out of hand," adding, "If you guys are really fans you wouldn't be so mean to people like that."
Even Gomez gave her two cents on the coupling, writing in a since-deleted comment, "If you can't handle the hate then stop posting pictures of your girlfriend lol – it should be special between you two only. Don't be mad at your fans. They love you." Regardless of the drama, Richie opened up about her relationship with Bieber in an interview with Billboard in September of that year, revealing, "We have a special relationship. Justin is very easy to talk to, and that's hard to find with people in Los Angeles."
Ultimately Richie and Bieber weren't much more than a summer whirlwind romance, as the two called it quits that Fall. Richie went on to get engaged to British music executive Elliot Grainge and the "One Time" singer married Hailey Bieber in 2018.
Bella Thornes' Cannes fling with Scott Disick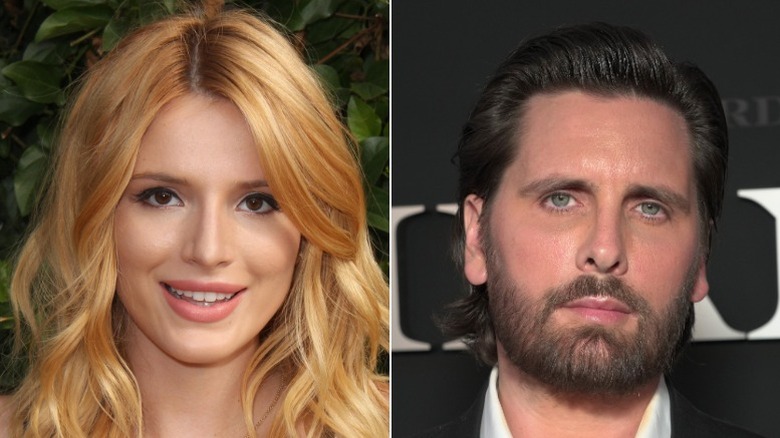 Kevin Mazur/Getty & undefined & Kathy Hutchins/Shutterstock
Bella Thorne and Scott Disick's short summer romance caused quite a stir in the tabloids during the summer of 2017. The "Keeping Up With The Kardashians" star was spotted with the "Time Is Up" actor in France during the Cannes Film Festival. The two were spotted lounging in the sun together looking every bit of a couple until Disick had his eyes on several other bikini-clad beauties just hours later. Perhaps the 15-year age difference between the pair may have sparked some miscommunication.
During an episode of "Keeping Up With The Kardashians" (per Elite Daily), Kourtney opened up about her relationship with then-boyfriend Younes Bendjima, who she claimed threatened Disick and led him to take revenge by dating Thorne. "He was like, 'You're gonna have a great time,'" Kourtney said of her conversation with Disick, adding, "And then he's threatening me now. He's like, 'Your little friend is gonna get beat up every single day when [me and Thorne are there.]' He goes, 'Enjoy yourself. Walking around, you better watch your back.'"
After photos had the internet speculating on Thorne and Disick, the actor revealed she had nothing serious with the reality star. "I was never with him sexually," Thorne revealed on the Jenny McCarthy Show (per People.) The actor also revealed that there is no bad blood between her and the Kardashian-Jenner clan, despite what the show may want viewers to believe. "I'm very friendly with Kylie and Kendall," she said. "Kylie and I used to be very close."