Why Barron Trump Didn't Move Into The White House Right Away With His Dad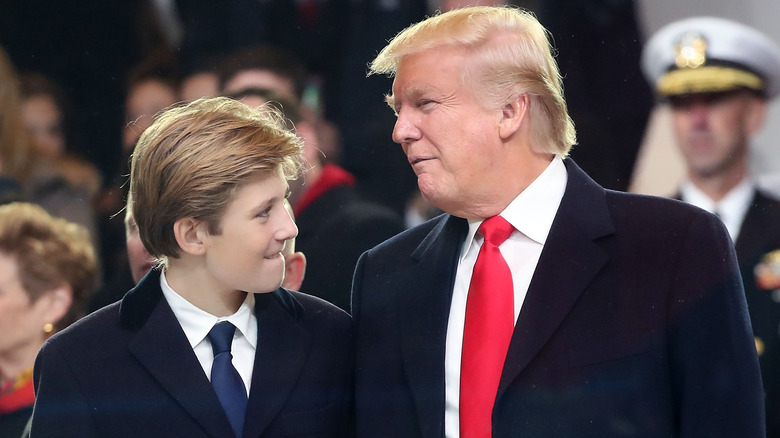 Mark Wilson/Getty Images
Being the kid of the president of the United States has its fair share of perks. Sure, you may have Secret Service breathing down your neck pretty much 24/7, but the tradeoff is experiencing things no other child can. It's curious, then, why Barron Trump did not move into the White House with his father, former President Donald Trump, right off the bat.
Susan Ford, daughter of former President Gerard Ford, told People that while she had been forced to "live a public life," she was able to enjoy some privileges, such as hosting a prom at the White House. "It's really fun and hasn't been done since," she shared of the experience. "I went and talked to the head usher and he said, 'Yes, as long as you all pay the expenses.'" Meanwhile, Luci Baines Johnson, daughter of former President Lyndon Johnson, witnessed history unfolding on her 17th birthday when the Civil Rights Act of 1964 was finalized. "It was an act of fate because of no achievement of my own," she told the outlet. "I was an eyewitness to history, and it changed my life for always and forever for the better."
Other perks of being an executive offspring include gaining access to a private movie theater and basketball court, riding the Air Force One and Marine One, and much more. And while Barron had all these within arm's reach, he still delayed moving into the White House when his dad was voted into the Oval. But as it turns out, it was for his own good.
Barron Trump had to finish school prior to moving to the White House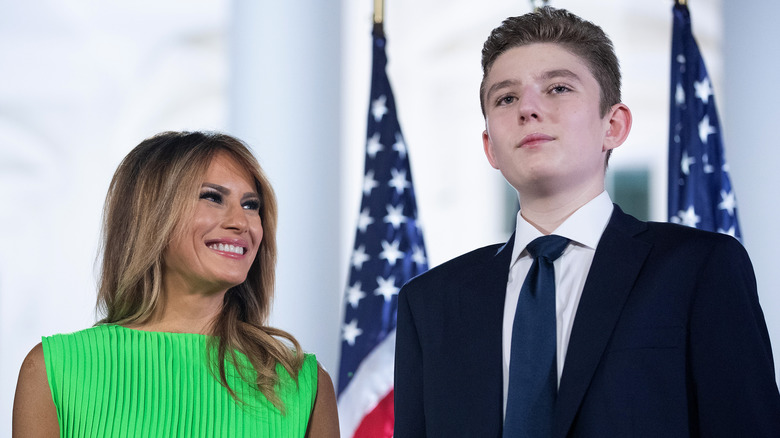 Chip Somodevilla/Getty Images
Both Barron Trump and his mother, Melania Trump, took their time before making the White House their home. Even though Donald Trump was sworn into office in January 2017, it wasn't until half a year later that the mother and son left their home in Manhattan.
At the time, a spokesperson for the Trumps said in a statement that the postponement was for the benefit of Barron. He was still finishing the remainder of the school year, so they opted to wait until he finished lest they disrupt his routine. "No official statement has been released by the Trump family regarding transition timing, but like any parents, they are concerned about pulling their 10-year-old son out of school in the middle of the year," Jason Miller said. This could have been a non-issue, but many eyebrows were raised after it was revealed that security for the mother/son duo cost somewhere between $127,000 and $145,000 per day, York City Police Commissioner James O'Neill told Reuters.
But alas, both Barron and Melania finally settled into the White House in June 2017, with Melania commemorating the day with a tweet. "Looking forward to the memories we'll make in our new home! #Movingday," she wrote, along with a photo of the view from the Red Room.
Barron Trump is used to the lavish life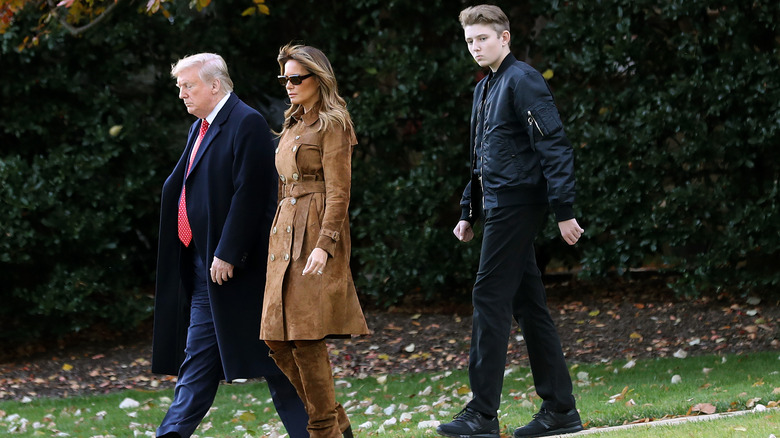 Chip Somodevilla/Getty Images
Barron Trump tends to steer clear of the spotlight and hasn't shared anything with the public about his time at the White House just yet. And while he's no longer roaming the halls of the presidential residence, it's not like he had to trade it for a less cushy home. According to his mom, Melania Trump, he has an entire floor at the Trump Tower to himself — one that he's free to play around with and decorate.
"In his space the décor style of the rest of our home is mixed with what he is into: planes and helicopters. We let him be creative; let his imagination fly and do whatever he wants," she told Parenting. "He also has his playroom and he has his pictures and art and all of his stuff. And since he has his own floor, he can also put those things on his living room and on his own walls."
Barron is reportedly spending his days completing his high school education at the Oxbridge Academy in Florida. There, he gets to be a normal teenager — save for the presence of the Secret Service. "A small contingent of agents will be present during each school day," Ralph Mauer, the school's head, said in a statement addressed to the students' parents. "We are working directly with the Secret Service to ensure that logistics and security work smoothly and discreetly with little impact on students, faculty, staff, or day-to-day operations."